Viagra Maker Should Learn to Love America Again
Pfizer and its directors seem to be forgetting the great things America gave them. 
by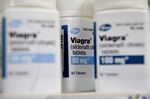 Pfizer Inc., the maker of Lipitor, Viagra and so many other drugs that have improved lives, is a great American company -- and it owes America a great deal. The U.S. has laws that protect Pfizer's patents and trademarks. Taxpayers dig deep into their pockets to fund Medicare and Medicaid, which buy the company's products by the truckload. Pfizer gets generous tax breaks for research-and-development expenses. And it benefits immensely from government sponsorship of basic research by the National Institutes of Health.

So here's the gratitude that Americans get: Pfizer has proposed moving its legal address to the U.K. from New York as part of its bid for London-based AstraZeneca Plc. The reason? The U.K. has a lower tax rate. Pfizer is one of at least 19 other companies making or considering similar moves, including Chiquita Brands International Inc. and the advertising giant Omnicom Group Inc., according to Bloomberg News. AstraZeneca last week turned down a $106 billion offer by Pfizer, which has said it will continue to pursue a deal.
If Pfizer succeeds, one of the losers would be the U.S. Treasury. Pfizer makes no apologies for this. "The way we're structuring this is fully compliant with the appropriate laws," Pfizer Chairman and Chief Executive Officer Ian Read told securities analysts last week. It's part of his fiduciary duty to maximize shareholder returns, he said, "and I don't actually see that that is a conflict with the interest of the U.S. government."
This is one subject on which I agree wholeheartedly with Warren Buffett. This weekend, at Berkshire Hathaway Inc.'s annual shareholder meeting, New York Times columnist Andrew Ross Sorkin asked Buffett on behalf of a shareholder about Pfizer's proposed tax maneuver, known as an inversion. Buffett said he has never considered making such a move. Berkshire's enormous profit machine wouldn't have been possible in any other country, he said. In return, Berkshire will remain in the U.S., and the company will pay the taxes it owes.
Pfizer's Read is more than happy to gather accolades and prestige as a member of the President's Export Council, which is the White House's principal national advisory committee on international trade. The council reports to President Barack Obama, and its members serve at his pleasure. It takes a lot of chutzpah to accept a presidential appointment to that esteemed body, and then export your company's headquarters for tax reasons.
And check out the backgrounds of other Pfizer directors, as described in the company's latest proxy statement. Constance Horner served as director of the U.S. Office of Personnel Management from 1985 to 1989, deputy secretary of the U.S. Department of Health and Human Services from 1989 to 1991, as a White House assistant to President George H. W. Bush from 1991 to 1993, and as a member of the U.S. Commission on Civil Rights from 1993 to 1998. She owes her career to the U.S. government and the opportunities it provided her.
Another director, Marc Tessier-Lavigne, is president of Rockefeller University, a world-renowned center for biomedical research and graduate education in New York. It depends significantly on government grants for its funding. He also is a director of the Federal Reserve Bank of New York, where he was "chosen to represent the public."
Other Pfizer board members include Don Cornwell, who since 2011 has served on the board of American International Group Inc. AIG, of course, owes its very existence to the government bailout it got in 2008. Stephen Sanger, the former chairman of General Mills Inc., has been a director at Wells Fargo & Co. since 2003 and has been its lead director since 2012. Wells Fargo, as you may recall, accepted taxpayer bailout money in 2008 through the Troubled Asset Relief Program and counts Berkshire as one of its largest shareholders. Both AIG and Wells Fargo are too big to fail and benefit from implicit government guarantees. They would take taxpayer money again in a heartbeat if their survival depended on it.
The U.S. should mean more to these distinguished leaders than a mere flag of convenience.
This column does not necessarily reflect the opinion of Bloomberg View's editorial board or Bloomberg LP, its owners and investors.