Rape on Campus Belongs in the Courts
Leave the prosecution of sexual assaults to courts, not colleges.
by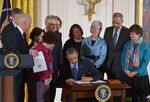 "One in five women is sexually assaulted in college," says a White House report released last week. "We are here to tell sexual assault survivors that they are not alone. And we're also here to help schools live up to their obligation to protect students from sexual violence."