How Big a Deal Was BofA's $4 Billion Mistake?
by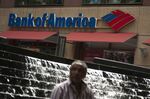 Just how effective are Bank of America Corp.'s accounting controls? It would be easy to say "not very" after the company's disclosure last week of a $4 billion error in its calculation of regulatory capital.
The mistake, which went undetected for years, didn't affect Bank of America's earnings or shareholder equity under generally accepted accounting principles. Yet the flub, which was included in the company's stress-test submission to the Federal Reserve, created enough problems that Bank of America had to postpone a planned dividend increase and stock buyback, just days before its annual shareholder meeting.
Opinions are mixed about whether the error was a big deal, although the market sure seems to think it was important; the stock is down about 5 percent since the news broke a week ago. Over the weekend, at Berkshire Hathaway Inc.'s annual shareholder meeting, Warren Buffett said it didn't bother him and that "you do the best you can." He was talking his book, of course. Berkshire owns Bank of America preferred stock.
By contrast, also over the weekend, New York Times columnist Gretchen Morgenson quoted Robert Christensen, a litigation consultant and former Arthur Andersen partner, who suggested the overstatement of regulatory capital was part of a larger pattern. He noted that the bank in recent years has had difficulty estimating its mortgage-loan liabilities and litigation costs.
"Yet during this entire period, the bank's management has `concluded that the corporation's internal control over financial reporting is effective,'" Christensen said, noting that the company's auditor, PricewaterhouseCoopers LLP, has consistently concurred in that opinion. "These conclusions and opinions are demonstrably incorrect."
This is as good an opportunity as any for a reminder that the rules on when companies must disclose problems with their internal controls are easily gamed. Control problems generally fall into two categories: "significant deficiencies" and "material weaknesses." The Securities and Exchange Commission has said that a material weakness must be disclosed, but a significant deficiency doesn't have to be. What's the difference? In plain English there isn't any. It's a dumb rule.
The terms' technical definitions also leave lots of room for creative interpretation. So unless the situation is absolutely clear-cut, companies often can avoid admitting they have problems with their accounting controls, even if it might seem obvious to an outsider that they do. That's how it's possible that Bank of America and Christensen can both be right: The company's controls were free of weakness for purposes of the rules -- but not in real life.
Citigroup Inc. executives, for instance, certified in March that the bank's controls were effective. The bank had to correct its fourth-quarter earnings release and revise quarterly net income down by $235 million, or almost 10 percent, because it had discovered a $400 million fraud at its Mexican subsidiary. That error was deemed material. But somehow the control problems that led to it weren't. Similarly, any layman can see that Bank of America's controls have been prone to breakdowns more often than anyone would like. It's all a matter of opinion.
At least Bank of America finally caught the error.
This column does not necessarily reflect the opinion of Bloomberg View's editorial board or Bloomberg LP, its owners and investors.