Which Mystery Bank Received the Most SEC Waivers?
Which mystery bank got the most SEC waivers?
by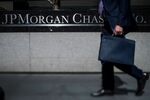 Securities and Exchange Commissioner Kara Stein made a big splash this week when she released a public statement explaining why she opposed giving Royal Bank of Scotland Group Plc a waiver that would allow it to continue doing business as usual at the SEC.
The SEC, by a 3-2 vote, granted the waiver allowing RBS to keep its "well-known seasoned issuer" status, despite the recent criminal conviction of its Japanese subsidiary for manipulating the London interbank offered rate, along with a deferred-prosecution agreement for the parent company. I wrote about her dissent after the news broke. One section in her statement has been gnawing at me: She referred to a different, unnamed financial institution that had received many, many waivers.
"Our website is replete with waiver after waiver for the largest financial institutions," Stein said. "Some large firms have received well over a dozen waivers of one sort or the other over the past several years. One large financial firm alone, in the last 10 years, has received over 22 different waivers." In making the requests, the company often argued that it has a "strong record of compliance with federal securities laws," she added.
I couldn't get anyone at the SEC to go on the record saying which company she was referring to. Based on my own review of the waivers posted on the SEC's website, I would say it's probably JPMorgan Chase & Co. A JPMorgan spokesman, Brian Marchiony, declined to comment. Other large financial-services companies that have received multiple waivers over the years include Bank of America Corp., Citigroup Inc. and Goldman Sachs Group Inc. Don't hold me to any hard-and-fast numbers, though. The SEC's website is extremely disorganized, and there isn't any single place where you can go to find all of the waivers that a company has been granted.
After Stein released her statement, one of the SEC commissioners who voted for the RBS waiver, Daniel Gallagher, released his own public statement. He said the "loss of WKSI status punishes the issuer by removing important flexibility that the issuer has in the issuance of securities." Disqualification, he said, is justified only in circumstances "where the issuer's financial reporting cannot be trusted."
One reason I'm baffled by the SEC's eagerness to grant waivers to repeat offenders is that the consequences of denying them don't seem that harsh. In 2011, Citigroup disclosed that it had lost its status as a well-known seasoned issuer after a settlement with the SEC over charges that the bank's disclosures were misleading. For a few years, Citigroup lost its ability to register securities without review by the SEC. Lo and behold, Citigroup somehow managed to survive. And the bank since has had its status restored.
I suspect that refusing to grant a waiver to RBS wouldn't have killed that bank, either.
This column does not necessarily reflect the opinion of Bloomberg View's editorial board or Bloomberg LP, its owners and investors.