So What If a Bank Cops a Guilty Plea?
Foreign banks can be charged criminally. So can tiny U.S. lenders. And so can companies big and small in just about every other industry from every country -- but not huge U.S. banks.
by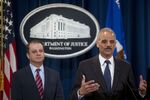 A funny thing happened to Credit Suisse Group AG's stock price this morning after the New York Times reported that federal prosecutors are thinking about charging the company criminally: practically nothing.
At one point the shares were up or down a few pennies. So investors are taking the government's saber-rattling in stride. The article also said that prosecutors are considering criminal charges against BNP Paribas SA. Its stock was down about 4 percent, which is significant, but the market isn't panicking.
You could interpret those collective shrugs a couple of ways. Perhaps investors don't believe the Justice Department will insist on a guilty plea in the end. That was the case last year after the Justice Department threatened criminal charges against JPMorgan Chase & Co. for mortgage-related offenses that it ultimately resolved as part of a multiagency settlement agreement. The threat of prosecution proved to be empty, just as the markets figured it would.
Or maybe investors don't think it would be a big deal if the government brings charges. If prosecutors and regulators take pains to ensure that a criminal conviction doesn't result in the loss of a bank's charter, or what amounts to a death penalty, there's an excellent chance the bank will survive.
But let's say for argument's sake that Zurich-based Credit Suisse and Paris-based BNP Paribas were both to plead guilty to felony charges tomorrow. It wouldn't change much as far as the public's perception of the Justice Department's policies. All it would establish is that the circle of impunity has gotten a little smaller when it comes to large banks that the government believes are systemically important.
Over the past couple of years, the Justice Department has established that it's safe to extract guilty pleas from obscure Japanese subsidiaries of overseas banks, as they did at UBS AG and Royal Bank of Scotland Plc for rigging the London interbank offered rate. It's safe for the government to indict a large U.S. hedge fund, such as SAC Capital Advisors LP, which lost clients but survived after pleading guilty to insider trading. And it's a lot easier to target hedge-fund guys for insider trading than it is to prosecute the banks or the senior executives who caused the financial crisis.
A guilty plea by BNP Paribas's parent company for doing business with Sudan and other countries under U.S. sanctions would be another incremental step -- one for which the government should be applauded. So would a guilty plea by Credit Suisse's main banking subsidiary in Switzerland or the Credit Suisse parent company itself. (Seven Credit Suisse bankers were indicted in 2011, one of whom has pleaded guilty. So this would be a good example of the government targeting both a company and individuals who work there, although there's no sign yet that any senior executives will be charged.)
I have no doubt that U.S. Attorney General Eric Holder and Manhattan U.S. Attorney Preet Bharara would like to trumpet those corporate pleas as proof that there's no such thing in the U.S. as "too big to jail." But the fact will remain that there is still such a thing. And it will stay that way until the government one day finally gets up the nerve to prosecute the parent companies of systemically important U.S. banks for committing crimes.
JPMorgan, for instance, got a nonprosecution agreement in 2011 from the Justice Department for bid-rigging and a deferred-prosecution agreement this year related to the services it provided for Bernard Madoff. The reason JPMorgan wasn't prosecuted is obvious: It's an American too-big-to-fail bank.
If it were an oil company such as BP Plc, or a drug company such as Eli Lilly & Co., or a small bank such as Delta National Bank & Trust Co. of New York -- all of which have criminal records -- it would be prosecuted the usual way. But it isn't. And so the double-standard will remain. Foreign banks can be charged criminally. So can tiny U.S. lenders. And so can companies big and small in just about every other industry from every country -- but not huge U.S. banks. That is quite the competitive advantage.
As long as officials such as Eric Holder and Preet Bharara keep feeling the need to insist that too-big-to-jail doesn't exist, that's how we'll know it still does.
This column does not necessarily reflect the opinion of Bloomberg View's editorial board or Bloomberg LP, its owners and investors.