France's Misplaced 'Economic Patriotism'
In the reaction to General Electric's play for Alstom SA, it's hard to tell which is stronger: the French government's concern about the deal or its anger that it didn't know about the talks first.
by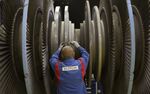 In the turbulent reaction to news that General Electric Co. is seeking to acquire the energy division of France's Alstom SA, it's hard to tell which is stronger: the French government's concern about the deal or its anger that it didn't know about the talks between the two companies in the first place.
"We do not believe that creating a fait accompli by publicly announcing a transaction prior to having entertained any discussion with the relevant authorities would be a wise course of action," Economics Minister Arnaud Montebourg wrote in a letter to GE's chief executive officer, Jeffrey Immelt. Montebourg followed up by telling French radio that "we won't let Alstom sell this national jewel behind the back of its shareholders, its employees and the French government."
Under the normal rules of capitalism, there's no reason Montebourg should have known in advance. The French government is the single biggest customer for its electricity-generation gear and high-speed trains, but since 2006 it is no longer a shareholder. It must give regulatory approval to a deal, but doesn't otherwise have a formal say in how the company runs its business. The last time the French state really influenced Alstom's strategy was in the 1980s, when it was part of a bigger conglomerate, CGE, that was nationalized by President François Mitterrand in 1982, before being reprivatized five years later.
But this is France, where the usual rules of capitalism don't always apply. The government played a central role in the postwar economic boom from the late 1940s to the early 1970s -- the "Glorious Thirty" -- and still expects to be treated as a special partner. Back then a General Planning Commissariat carefully channeled investment and fixed prices according to political will. That led to some successes, such as the creation of a nuclear-power industry that still generates most of France's electricity. Although the system also produced expensive white elephants, such as the Concorde supersonic airplane, the French public was left with a lingering impression that the government was adept at running the economy, and that big conglomerates serving as "national champions" were the key to success. Eight of France's 11 largest companies today had their roots in state ownership.
Times have changed. The conglomerates have been broken up. Successive privatization waves in the 1980s and 1990s have removed all but a relatively small number of companies from the government's grip, and state intervention and subsidies are today subject to stiff European Union competition rules. Moreover, where the government still has a formal role in corporations, it hasn't done a very good job. The Court of Auditors issued last year a withering report on the state management of the eight defense groups in which the government continues to have a stake, including Airbus-maker EADS, weapons manufacturer GIAT, and Safran, an engine supplier.
Yet even if it's no longer true, the impression of an all-powerful state able to run the economy better than private-sector managers remains intoxicating. The number of manufacturing jobs in France has dropped by 43 percent since 1980, from 5.1 million to 2.9 million, according to Insee, the national statistics office, and successive governments have tried various tactics to reverse that trend. Most of the time, this has consisted of rescuing failing companies or appealing to managers to show their "economic patriotism," a theme that Montebourg himself evokes passionately in a book he published last year, "The Battle for Made in France."
A few attempts to ward off foreign takeovers of French companies have succeeded, including the collapse of Yahoo Inc.'s attempt to buy the YouTube competitor DailyMotion last year. But mostly, the takeovers happen anyway, despite government misgiving or outright opposition. That was the case with Alcan Inc.'s acquisition of Pechiney SA in 2003, and Mittal's $33 billion purchase of steelmaker Arcelor SA in 2006. This month, Vivendi SA agreed to sell its SFR mobile-phone division to cable operator Numericable Group SA, despite the government's support for the opposing bid by French group Bouygues Telecom.
Some of Alstom's militant labor unions are now calling on the government to nationalize the company to prevent a sale. There is a precedent of sorts for this: In 2003, when Alstom was struggling on the brink of bankruptcy, the government rebuffed a takeover offer by Germany's Siemens AG and contributed to a recapitalization of the company. It subsequently sold its 21 percent stake to Bouygues SA. But even if President Francois Hollande were disposed to nationalize Alstom -- and there's no evidence he is -- the strapped government would have a hard time finding the $10 billion needed to buy it. A sale of the power assets is almost inevitable, either to GE or to Siemens, which is back at the negotiating table 10 years after its last effort failed.
Amid the heated national debate over these issues, two elements are often missing. The first is that French companies can as easily be on the acquiring side as among the acquired. Over the past two years, French luxury conglomerate LVMH Moet Hennessy Louis Vuitton SA has acquired Italian jeweler Bulgari SpA and the cashmere clothier Loro Piana SpA, while Schneider Electric SA last year bought out a British rival, Invensys. Alstom itself has conducted a dizzying number of merger transactions since it was created in 1928 -- through a merger involving a GE French sister company.
The second is that for the government to ride to the rescue of companies that are failing or being taken over is a poor substitute for creating conditions in France that will enable businesses to flourish. Wages that rise faster than productivity, complex and highly restrictive labor legislation, hefty taxes and other levies on businesses, short statutory working hours -- all these elements have contributed to France's manufacturing troubles. Until the government tackles those, no amount of huffing and puffing by ministers is going to bring back the glorious years, or prevent French companies from selling themselves.
This column does not necessarily reflect the opinion of Bloomberg View's editorial board or Bloomberg LP, its owners and investors.