view
SEC Commissioner Takes On 'Too Big to Bar'
SEC Commissioner Kara Stein goes public with her criticisms of the SEC's light-on-crime approach to banks.
by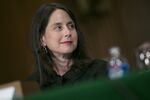 Kara Stein, one of the newest members of the Securities and Exchange Commission, has issued a must-read public statement explaining a dissenting vote she cast that goes to the heart of the debate over how to punish too-big-to-fail financial institutions that repeatedly break the law.
Last week, per its usual practice, the SEC approved a waiver to let Royal Bank of Scotland Group Plc continue doing business as usual. It did so despite the recent criminal convictionof the bank's Japanese subsidiary for manipulating the London interbank offered rate, along with a deferred-prosecution agreement for the parent company, which paid a $100 million fine. The SEC vote was 3-2, with dissenting votes by Stein and Commissioner Luis Aguilar. At least on paper, fraud violations, whether criminal or civil, normally should result in the disqualification of companies as "well-known seasoned issuers," a designation that allows companies to speed up the process for registering their securities offerings. However, the SEC's routine practice over the years has been to grant waivers.
Stein, who joined the SEC last August, is fed up with this. "I fear that the commission's action to waive our own automatic disqualification provisions arising from RBS's criminal misconduct may have enshrined a new policy -- that some firms are just too big to bar," Stein wrote. She continued:
Our website is replete with waiver after waiver for the largest financial institutions. Some large firms have received well over a dozen waivers of one sort or the other over the past several years. One large financial firm alone, in the last 10 years, has received over 22 different waivers -- often making the argument that it has a "strong record of compliance with federal securities laws." ...
Since 2010, the Commission has granted at least 30 WKSI waivers. Twenty-nine of them went to large financial institutions and broker-dealers. In many cases, these issuers are receiving their second, third, and even fourth WKSI waiver in less than four years.
It is true that large financial institutions may have vast operations and thousands of employees, making certain types of civil or even criminal misconduct statistically more likely. However, their size and complexity should not insulate them from the same regulatory consequences that other issuers must bear. The kind of reasoning that is used to support waivers in this context has led the Commission, by inches and degrees, to where it is today, almost reflexively granting waivers of all types, and most often to large financial institutions.

Last Friday's Order exemplifies this problem. ...
If we are going to abrogate our own automatic disqualification provision on these facts, then we should consider discarding these disqualification and bad actor provisions entirely, along with the pretense that they have any real meaning.
It will be of great interest to see how the chairman of the SEC, Mary Jo White, and the other commissioners who voted for the waiver -- Dan Gallagher and Michael Piwowar -- explain the reasons for their votes. And I hope members of Congress who oversee the SEC will seek detailed explanations from them.
So far, the SEC hasn't released any public statements about the vote from Aguilar or any other commissioners. White had promised to bring a new tone at the top to the SEC, which long has gone easy on repeat offenders. Stein should be commended for pushing her to follow through on that pledge.
To contact the author on this story:
Jonathan Weil at jweil16@bloomberg.net
To contact the editor on this story:
Paula Dwyer at pdwyer11@bloomberg.net
Before it's here, it's on the Bloomberg Terminal.
LEARN MORE