An Introduction to World Cup Economics
World Cup wins are such momentous events that they've been known to give economies a lift.
by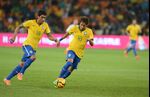 For hundreds of millions of people across the planet, soccer is the sport that matters most, and the World Cup, contested every four years, is the greatest sporting event, bar none. Yes, there's the Olympics, if you insist -- but that isn't a single contest yielding a single champion, so it doesn't count. Let's not bother to pretend otherwise. This is the World Cup, it starts in less than two months, and nothing else comes close.