BP Oil Spill Crisis Manager Managed Crisis By Selling BP Stock
There's insider trading, but then there's a whole other category of extremely insensitive insider trading. At least wait until you're done cleaning up your oil spill before trading on it!
by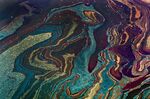 A good rule, if not of law then at least of etiquette, is that if you are the BP employee in charge of BP's "oil collection and clean-up operations in the Gulf of Mexico and along the coast," don't immediately go and sell all of your and your family's $1 million worth of BP stock and stock options before everyone finds out the full extent of the disaster. Come on! At a bare minimum that is extremely insensitive.
Is it also illegal? The Securities and Exchange Commission thinks so, since it today charged former BP crisis manager Keith Seihan with insider trading for doing that. And Seihan settled the charges by agreeing to pay about $224,000 in fines and disgorgement. Which seems sensible of him, because, one, would you want to go tell a jury why this trading was perfectly fine? And, two, because he seems to have avoided about half a million dollars in losses by acting fast to sell his stock, so at $224,000 he's getting off pretty cheap. 1
Also, according to the SEC complaint, he did some gloriously dumb things, including:
Buying back the BP stock (for cheap!) after the cleanup was finished (come on!), and
e-mailing BP's in-house lawyer after insider trading, saying "I would like to discuss with you soon," and then proceeding to ignore the attorney's attempts to contact him. 2
One suspects that half-confessing to the lawyer and then going silent might be what got him caught, though I guess it was overdetermined. Really, don't insider trade in your own company's stock when it's in the news, that's what strangers at Grand Central are for. 3
On the other hand it is maybe not the strongest insider trading case ever? The legal, as opposed to etiquette, question is, did Seihan have material nonpublic information when he traded in BP's stock? At the time, everyone knew that there was oil pouring into the Gulf of Mexico. But not everyone knew how much:
On April 24, 2010, the day after the discovery of the oil leak, Unified Command released the first public estimate of the flow rate of the oil leak, which was 1,000 barrels of oil per day. Four days later, on April 28, Unified Command increased that estimate, publicly stating that the flow rate "could be as much as 5,000 [bopd]." And, on April 29 and 30 and May 4, 2010, BP furnished to the Commission Forms 6-K stating, among other things, that current estimates of flow rate were "up to 5,000 barrels a day" or "some 5,000 barrels . . . of oil per day."

In carrying out his duties and responsibilities as an Incident Commander and On-Scene Coordinator, Seihan gained direct and immediate access to a variety of nonpublic information, which, among other things, indicated that the size and scope of the Deepwater Horizon oil spill exceeded the public flow rate estimates provided by both Unified Command and BP.
Weirdly, the SEC complaint does not make the strongest case for this. The facts seem to be that, when Seihan sold his stock on April 29, he thought that that (1) the flow rate was probably 5,000 barrels per day, but (2) it might be quite a lot more. 4 Meanwhile BP's public statement was that the flow rate was "currently estimated at up to 5,000 barrels a day." I read "currently estimated at up to 5,000 barrels a day" to mean "probably 5,000 barrels a day, maybe more," though that reading is based on the grammar of cynicism rather than the grammar of English. 5 So Seihan's information and BP's public statements tied together ... I dunno, reasonably closely.
But he can't really make that argument. Not just because, come on, he sold all his BP stock while he was in charge of BP's cleanup, he can't make any arguments, but also because everyone seems to agree that BP was knowingly understating the size of the spill. 6 BP itself agreed to pay the SEC $525 million for exactly that, and pleaded guilty to criminal charges for related false statements. BP's 5,000 barrel estimates seem to have been mostly made up, and from the BP settlements it sure sounds like anyone at BP would have known that. 7 So the guy in charge of the cleanup at BP probably wouldn't sound great claiming that he didn't know it.
Especially since he sold all his stock! That sort of creates its own materiality. Whatever Seihan knew, it was bad enough to make him dump all his stock all at once. That's not a great look, generally, if you're accused of insider trading. There's a feedback loop here: The fact that BP seems to have been fudging its numbers makes its crisis manager's stock sales look worse, and the fact that its crisis manager dumped all his stock makes BP's number errors look more intentional.
It also -- ugh, doesn't it make his crisis management look worse? His lawyer says, "Mr. Seilhan is widely respected for his work helping to lead the cleanup and containment efforts in the Gulf of Mexico in 2010," but this can't help. Really, if you're the crisis manager for BP, and BP has an enormous crisis, you gotta let your portfolio go down with the ship. 8 It's just the right thing to do.
To contact the author on this story:
Matthew S Levine at mlevine51@bloomberg.net
To contact the editor on this story:
Toby Harshaw at tharshaw@bloomberg.net
Before it's here, it's on the Bloomberg Terminal.
LEARN MORE