Nudging Taxpayers to Do the Right Thing
An exploration of creative ways to coax delinquent taxpayers into forking over their fair share of the tax bill -- using the tools of behavioral science.
by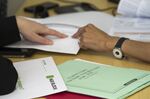 Most Americans comply with the tax laws, but every year many of our fellow citizens don't. The result is the "tax gap" -- the amount of revenue that the government loses because people are cheating. In one recent year, for example, the tax gap was $450 billion. That's a lot of money -- more than 10 times the budget of the State Department.