Where's the Golden Age for Investors?
Economists say that capitalists are squeezing workers to get high profits. Tell that to investors.
by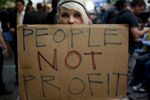 Investors who are eager to fund businesses that can't make money worry people like New York magazine's Kevin Roose. At the same time, the hot new book in economics -- Thomas Piketty's "Capital in the Twenty-First Century" -- argues that we need large wealth taxes to offset the tendency of investors to do better than workers. At least one of these people is wrong, and it's probably Piketty.