Heartbleed's Password Heartbreak
The world of open source software runs on passion and selflessness, but these are relatively rare qualities, and the resulting lack of resources makes bugs like Heartbleed possible.
by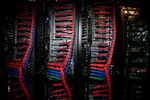 Now that you've changed all your passwords (I did) in the wake of the discovery of a coding error in OpenSSL, the widely-used software for the secure transmission of data, it's time to think about why the "Heartbleed bug" made it into the code and sat there undetected for two years. The problem can be fixed with a wake-up call and a bit of money.