Medicare Has Become a Problem for Democrats
Voters used to trust Democrats to protect Medicare. Obamacare has turned that on its head.
by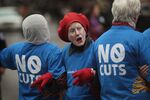 Voters are used to trusting Democrats on Medicare. But there are signs that this trust is eroding because of Medicare cuts in the Affordable Care Act and Republican efforts to highlight those cuts.