JPMorgan Is Keeping Busy
How many hours do you think JPMorgan spends tracking the number of hours it spends on derivatives compliance?
by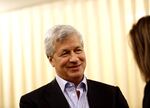 A bank's financial statements don't measure the health of its children or the joy of their play, the beauty of its poetry or the strength of its marriages, the intelligence of its boardroom debate or the integrity of its executives. Honestly, they barely even measure its assets and liabilities. But JPMorgan is breaking new ground in what measures it chooses to report to shareholders, with this magnificent chart from Jamie Dimon's letter in its annual report: 1

Hours! One million hours on resolution planning! 2 Four hundred people for liquidity planning! Also, workstreams, there are some workstreams.
Dimon's letter is a fascinating document. Since it's a Jamie Dimon production, there are some amusingly tone-deaf moments, 3 but overall it's really good. Among other things, it's his most sustained and quantified complaint about financial regulation yet. The gist is that everything has trade-offs: Every action that regulators have taken to make banks safer has also imposed some cost on the banks. And, banks being banks, the incidence of those costs is unlikely to be on shareholders or employees. Instead, customers will pay for them, or risks will be pushed to other bits of the financial system.
Wholesale deposits, for instance, will be a money-loser due to new leverage and liquidity rules; "therefore, over time, banks probably will minimize this type of deposit, and clients will seek other alternatives, probably in the money markets." (Scary money markets!) Undrawn revolvers will incur new capital and liquidity charges, and will become up to 60 basis points more expensive, so "Banks will either have to charge more for this product or focus more acutely on the nature and value of the particular client relationship as a whole in considering whether to make revolvers available to that client." 4
There's lots more of this, and it is consistently interesting. You can accept that it is in JPMorgan's interests to exaggerate these costs of regulation without rejecting the basic point: There will be some costs. And exactly what those costs will be, and how the financial system changes to flow around them, will be perhaps the most important financial story of the next few years. JPMorgan's view of that story is biased, of course, but it's also an unusually broad and well-informed view. So it's worth a read.
Because really the best thing to do with that chart is just to let the enormous magnitude of the numbers wash over you. There are so many of them, but each number represents its own crazy story. That one million hours a year devoted to resolution planning is 500 full-time employees. 5 You could start a good-size boutique bank with the people who come into work every day of every year to prepare for the day that JPMorgan goes bankrupt. There are 8,000 employees "dedicated solely to building and maintaining an industry-leading Anti-Money Laundering (AML) program." JPMorgan employs more AML compliance officers than the Treasury and the Fed combined. 6

One thing I think about sometimes is whether big banks are "too big to manage," or perhaps "too big to supervise." This is sort of a sterile enterprise, in general; you manage the best you can, delegating and decentralizing and sometimes regretting some of your delegation. 7 But these numbers are so big! Five hundred people worked full-time for a year on JPMorgan's Fed stress tests, at JPMorgan. How many people at the Fed can say the same?
If your model of financial regulation is an essentially adversarial one, then, umm, the regulators are obviously overmatched. But of course that model isn't right, or not entirely anyway. JPMorgan's 8,000 AML employees aren't there to help JPMorgan launder money without getting caught. (Really!) They're there to enforce the law, so that law enforcement doesn't have to. JPMorgan's stress-testers are mostly there to provide data and modeling support to the Fed's fewer and less focused stress-testers, and to implement the Fed's goal of planning for bank stresses. Most of the regulation of JPMorgan has been outsourced to JPMorgan. And they take their jobs seriously! Millions of hours worth of seriously.
That's why JPMorgan's view of financial regulation, and the future of the financial system, is so interesting. In some sense, JPMorgan is the financial system. It is gigantic, it offers every financial product, 8 it interacts with every sort of client and it implements every financial regulation. It gets the complete view, and then reports back to regulators, and to us. It's a time-consuming job, but someone's got to do it.
(Matt Levine writes about Wall Street and the financial world for Bloomberg View.)
To contact the author on this story:
Matthew S Levine at mlevine51@bloomberg.net
To contact the editor on this story:
Zara Kessler at zkessler@bloomberg.net
Before it's here, it's on the Bloomberg Terminal.
LEARN MORE