Comcast Pretends to Be on Your Side
The 174-page report Comcast Corp. filed yesterday with the Federal Communications Commission to support its merger plan pretends to offer many gifts to the public interest, but each has a cost. 
by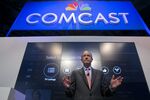 When David L. Cohen, the executive vice president of Comcast Corp., buttonholes policy makers to talk up his company's proposed $45 billion merger with Time Warner Cable Inc., the first thing he says is that the deal won't reduce competition in any U.S. geographic market. He's right, at least when it comes to pay-TV services. After all, the large cable companies long ago divided the country among themselves so that no two of them compete in any one market.
But then, Comcast is adept at making a virtue out of a highly suspect premise. The 174-page public-interest report it filed yesterday with the Federal Communications Commission to support its merger plan is replete with examples of its skill.
You may remember Comcast's last big merger, with NBC Universal Inc. in 2011. At the time, Comcast asserted that the deal couldn't hurt the market because it was a vertical combination -- combining programming with distribution -- and so was bound to create helpful efficiencies. "Vertical combinations with limited horizontal issues generally do not threaten competition," Comcast Chief Executive Officer Brian Roberts told the House Committee on Energy and Commerce in 2010.
Now that Comcast is planning to combine its distribution networks with those of Time Warner Cable, it claims (via a television, radio, print and online campaign) that there couldn't possibly be any harm because this arrangement is a fully horizontal deal. With greater scale, the combined company will achieve increased efficiencies and synergies, Comcast says. Not that any of those efficiencies will be passed on to consumers: "We're certainly not promising that customer bills are going to go down or even increase less rapidly," Cohen says.
Because the benefits of a Comcast-Time Warner Cable deal are not obvious -- last month, 52 percent of Americans said they thought it would result in less competition -- Comcast also presented, in yesterday's statement, a list of additional gifts to the public interest. But each of these supposed benefits comes with a price.
For example, the company says that getting bigger will help it accelerate its investment in new technology. Maybe. But a bigger buyer of technology, programming and online applications can also exercise monopsony power: A bigger Comcast will be able to persuade cable-box makers, programmers and high-capacity online-application designers to do things its way. That's not good for competition or innovation.
Comcast promises that current Time Warner Cable customers will gain faster Internet access. Perhaps. But those customers will also have little ability to switch from the Comcast behemoth if they think their service costs too much: The only direct national competitor to Comcast and Time Warner Cable is Verizon Communications Inc.'s FiOS, which overlaps with just 17 percent of Comcast's territory. Comcast touts Google Fiber as a competitor, but if Google Inc. continues its current building plans, it will reach just 3 percent of U.S. households. Comcast, in combination with Time Warner Cable, will be poised to sign up two-thirds of American households.
Comcast also says it will help close the digital divide by getting more Americans to sign up for its Internet Essentials package: $9.95 a month for a 5 Mbps Internet connection. This is perhaps the most cynical of the company's public-interest gifts: If you are now a Comcast customer, in order to get the reduced rate, you have to first drop your subscription for 90 days. You also have to have a child in a reduced-price school lunch program and fill out a lot of paperwork. Thanks to these barriers, the program has attracted just 9 percent of eligible families in Philadelphia, Comcast's home territory, and just 12 percent nationwide.
Scale may be good for Comcast and Time Warner Cable's ability to squeeze everyone else. But that will do nothing for the public interest.
(Susan Crawford, the John A. Reilly visiting professor in intellectual property at Harvard Law School and a fellow at the Roosevelt Institute, is the author of "Captive Audience: The Telecom Industry and Monopoly Power in the New Gilded Age." Follow her on Twitter at @scrawford.)
This column does not necessarily reflect the opinion of Bloomberg View's editorial board or Bloomberg LP, its owners and investors.