view
Baseball, Apple Pie and No Family Leave
What was most ridiculous about Mike Francesa's rant was his assumption the paternity leave taken by the New York Mets' Daniel Murphy had been enabled by the federal government. If only that were true.
by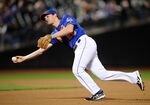 New York Mets second baseman Daniel Murphy missed opening day this week to attend the birth of his son, Noah. Which might have been nice but unremarkable had sports-talk host Mike Francesa not railed against it for 20 minutes yesterday afternoon on WFAN Radio.
"What are you going to do? I mean, you are going to sit there and look at your wife in a hospital bed for two days?" Francesa said. "Your wife doesn't need your help the first couple of days; you know that you're not doing much the first couple days with the baby that was just born."
Never mind that those days are important for family bonding and that if the mother has a cesarean section, as Murphy's wife did, that's major abdominal surgery. What was most ridiculous about Francesa's rant was his assumption that Murphy's misguided concern for family had been enabled by the federal government. If only that were true.
Murphy's right to take the time off came from Major League Baseball's three-year-old paternity leave program. Players can take up to three days off, and teams can call up an extra player to fill the slot.
Most American parents aren't so fortunate. The U.S. is alone among major industrialized countries in not providing paid time off after the birth of a child. The 1993 Family and Medical Leave Act allows parents up to 12 weeks of leave without losing their jobs or benefits, but even that minimal aid is available to only about half of American workers. Only three states -- California, New Jersey and Rhode Island -- have gone further to provide paid family leave programs.
Family leave policies benefit the health of children and mothers, much research has shown. In California's experience, the paid leave has benefited employers as well, by reducing turnover and increasing the hours mothers work later. As for the Mets, Murphy returned to the field this afternoon to hit a single and score in his first at-bat.
Before the game, he was asked to defend his decision to take leave. "My wife and I discussed it," he said, "and we felt the best thing for our family was for me to try to stay for an extra day." Everyone should have that choice.
To contact the author on this story:
Stacey Shick at sshick@bloomberg.net
To contact the editors on this story:
Stacey Shick at sshick@bloomberg.net
Mary Duenwald at mduenwald@bloomberg.net
Before it's here, it's on the Bloomberg Terminal.
LEARN MORE