Save Baseball: Start Fall Classic in July
How to make baseball truly national again? One solution would be a split-season playoff system, with baseball moving a postseason round from October to July, when no other sport matters.
by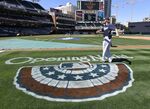 Baseball Hall of Famer Ozzie Smith and Anheuser-Busch recently partnered on what appeared to be a serious effort to have today, baseball's Opening Day, declared a national holiday, turning the American tradition of playing hooky from school or work into an inalienable right.
Holiday or not, there will be sellouts and near-sellouts in stadiums across the land this week. Baseball's closing act, however, is a different story. National television ratings remain relatively weak for baseball's postseason, at a time of year when the sport could use a sick day away from football. Maybe the middle of the season is where baseball should seek relief.
Baseball's problems have been extensively chronicled: Overly long games. Not enough action. Drugs. Too few characters in a 140-character world (Where have you gone, Joe DiMaggio, not to mention Babe Ruth, Willie Mays, Mickey Mantle, Ted Williams and Vida Blue?)
But of all the problems bedeviling baseball, nothing hurts it more than its misfortune of playing championship rounds during the football season. NFL Sundays and college-football Saturdays and "Monday Night Football" and now "Thursday Night Football" (college and the National Football League both) have suffocated baseball when it used to matter most: October. That has more to do with football's spell over America than any of baseball's perceived failings.
Baseball could simply wait 10 years for football to implode, as Mark Cuban has predicted, and maybe this becomes a moot point. But if football remains, baseball has a problem beyond sheer ratings points. For the postseason does what cannot be done during the regular season: introduce a sport's stars to a wider audience, especially if they rise to the moment.
Michael Jordan made countless incredible plays, but his most indelible occurred during the National Basketball Association's postseason. (You can probably picture a few of them right now.) Baseball could use a Jordan, but it first needs to find him an opening in the calendar.
Many baseball supporters point to the sport's rising revenue, enhanced television deals and terrific (and hugely profitable) mobile technology as signs of the sport's health and well-being. Yet, most of that success is due to local interest, not national. In this fractured media world, baseball has to figure out how to create shared national experiences in its postseason. Otherwise, it's just content. Extremely valuable content, yes, but content.

So how to make baseball truly national again? One solution would be a playoff system already used in several minor leagues and in the early days of the National League: play a split season. This would allow baseball to move a postseason round from October to July, when no other sport matters.
At the conclusion of the first 81-game season, the three division champions and a wild card in both the American League and National League would play a sudden-death tournament over three days, with the winning teams earning a berth in their October League Championship Series. The second 81-game season would then begin play immediately, with the same playoff system repeated in the fall.
The first-half champion would play the second-half champion in the best-of-seven League Championship Series, followed by the World Series. October would still feel like October for baseball fans, but now baseball would have July, too.
It's hard to forecast how high ratings could climb for a short week of playoff baseball in July. From an economic perspective, that's what will matter most: Will baseball and its broadcast partners make more money under this format? They should, however, consider the other benefits.
A split season delivers more than just three days of excitement -- meaningful end-of-season divisional races would occur in June and July.
A round of playoffs in the summer would probably build interest for the continuation of the playoffs in the fall. It may not be perfectly akin to AMC's decision to split seasons of "Breaking Bad" or "Mad Men" into two, but chances are those who invested time watching sudden-death playoffs in July would have more incentive to look at their TV or mobile device come October.
Moving the first round of the playoffs into warm weather also eliminates a round in cold weather. In fact, baseball under this format should be able to conclude by the end of the third week of October.
And, finally, there is the undeniable local impact: A split season could reignite interest in markets where the playoffs already appear hopeless by June 15. You still have to wait till next season -- you just don't have to wait till next year. Ticket sellers and local television partners surely wouldn't mind rebooting in July.
The main drawback to such a format is simple: It's not the way it has been. Tradition is a powerful counterargument in sports. But not as much would change under this format as first meets the eye. Records (some of which have already been tainted) would still be kept on a 162-game basis. The schedule may or may not have to be balanced for each split season: Football has been playing an unbalanced schedule for years without protests.
Trading deadline? One or two deadlines would be fine -- two only adds to the intrigue. All-Star Game? In the interest of the calendar and keeping things moving, maybe it disappears.
What matters more, it would seem, is what comes in its place.
(David Kahn has been general manager of the Indiana Pacers, president of the Minnesota Timberwolves, head of the Oregon Stadium Campaign for Major League Baseball and is currently teaching two courses on sports economics at New York University's Tisch Center for Sports.)
This column does not necessarily reflect the opinion of Bloomberg View's editorial board or Bloomberg LP, its owners and investors.
--Editors: Stacey Shick, Michael Newman.
To contact the author on this story:
David Kahn at dbk4@nyu.edu
To contact the editor on this story:
Stacey Shick at sshick@bloomberg.net
Before it's here, it's on the Bloomberg Terminal.
LEARN MORE