The Alibaba Story-Telling Failure
Investors seem to require a "story" to justify their decisions, even though the story often is wrong.
by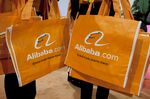 Late last year, we had a wholesaler from a major exchange-traded-fund firm visit our office. At the time, the chatter was all about the planned Alibaba Group Holding Ltd. initial public offering. It was going to be, in his words, "huge, disruptive, incredibly powerful -- and you cannot get any."