Sanction Russia? Reagan Tried It With No Luck
For lessons on how not to sanction Russia, go back to the 1981-82 fight over the Siberian Gas Pipeline.
by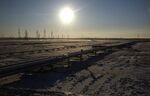 As the U.S. and the European Union consider the expansion of sanctions against Russia for its likely annexation of Crimea, a potential Santayana moment looms: in this case, a possible repeat of the imbroglio that ensued in 1981-82 between the U.S. and Europe over the building of the Soviet Union's Siberian Gas Pipeline. It's an episode with sobering lessons for both sides.
At the time, the deal to build a 3,000-mile pipeline to bring Siberian gas to Europe was the biggest East-West project yet undertaken. European leaders saw it as a chance to diversify Europe's energy sources away from the Organization of Petroleum Exporting Countries while advancing Ostpolitik -- the German strategy of engagement with the USSR.
Cold Warriors in Washington, however, were nervous and unhappy. During the summer of 1981, the Reagan administration's National Security Council tried to forge a coordinated response to the pipeline, which also represented a commercial opportunity for market-leading U.S. firms and technology. U.S. Secretary of Defense Caspar Weinberger, Central Intelligence Agency director William Casey and ambassador to the United Nations Jeane Kirkpatrick didn't want to give the USSR either know-how or hard currency, and fretted about European energy dependence. Secretary of State Alexander Haig, however, worried that stiff restrictions would be ineffective and split the Atlantic alliance. Treasury SecretaryDonald Regan and Office of Management and Budget DirectorDavid Stockman argued that the pipeline would help the global economy by boosting energy supplies. Others pushed for expanded export controls. Bombarded by options and opinions, President Ronald Reagan complained in an October meeting, "I'm the most confused person of anyone."
Backed by the Soviet Union, the Polish Army's declaration of martial law in Poland on Dec. 13, 1981, forced the Reagan administration to clarify its thinking. As part of the ensuing sanctions against Poland's military regime and the USSR, the administration ordered U.S. companies to abandon work on the Siberian pipeline, but made no decision on extending the ban to U.S. subsidiaries or licensees of U.S. technology. A rift between the U.S. and Europe on pipeline sanctions began to widen. When the U.S. decided in late June 1982 to apply sanctions to any U.S. technology or licensee, France's foreign minister said the decision "could well go down as the beginning of the end of the Atlantic alliance." France, among other countries, refused to go along. A few months later, in a face-saving compromise, the U.S. agreed to withdraw the pipeline sanctions in return for tighter general controls on the transfer of technology to the USSR.
Haig thus turned out to be right when he argued that, "by pursuing our maximum objectives, we run the risk of coming away with very little, severely weakening the alliance and isolating us from our Allies." Even Margaret Thatcher went wobbly: In a September 1982 meeting with Weinberger, she told him that she didn't think sanctions would help ease the repression in Poland, and that England faced the possibility that the U.S. pipeline decision would result in four or five U.K. firms going bankrupt. It didn't help matters that the U.S. had little to propose to Europe as alternatives to Soviet natural gas, especially given the nasty energy shocks that the Europeans had endured at the hands of Middle Eastern suppliers.
One person very familiar with this episode is Antony Blinken, the current Deputy National Security Advisor. (Disclosure: In the second Bill Clinton administration, I worked for Blinken as a speechwriter at the NSC.) He wrote an excellent book on it: "Ally Versus Ally: America, Europe, and the Siberian Pipeline Crisis." His arguments for the benefits of economic engagement, and against the Reagan administration's resort to stiff and uncoordinated sanctions, seem vindicated by history -- at least as far as the USSR was concerned.
Yet while the wisdom of never getting too far ahead of your allies still holds, Ostpolitik and economic engagement would seem less effective against a revanchist Russia. The dispute over Ukraine is not an ideological struggle pitting East against West. Putin's Russia is not likely to be won over by prolonged engagement with capitalism and democracy, or to collapse through its internal contradictions. It's an authoritarian kleptocracy that, as Germany's Angela Merkel has noted, turns to the "laws of the jungle" to advance its interests.
In that context, Europe's failure to lessen its dependence on Russia's natural gas seems like strategic malpractice. In the aftermath of the 1981-82 crisis, the U.S. wanted the International Energy Agency to recommend that no country depend on one gas supplier for more than 30 percent of its gas needs. The Europeans demurred. (Published in 1987, Blinken's book notes that "dependence on the Soviet Union for energy, never in fact a serious problem, has become virtually a moot issue.") Yet Europe's unwillingness to take a tough line against Russia rests in no small part on its continued reliance on Russia for more than 30 percent of its crude oil, fuels and gas-based chemical feedstocks. Germany, Russia's biggest natural gas customer, counted on Russia for almost 35 percent of its imports in 2012. As Polish Prime Minister Donald Tusk bluntly put it, "Germany's dependence on Russian gas may effectively decrease Europe's sovereignty."
Fortunately, the alternatives to Russian gas now go well beyond those available to policymakers in the early 1980s, when Haig spoke of assembling an "energy cooperation package" to persuade Europeans to slow down or end their cooperation on the Siberian pipeline. (Even "coal gasification" has come a long way since then.) As President Barack Obama and Europe seek to respond to Putin's maneuvering, the speed, scope and effectiveness of sanctions will necessarily depend on unity. But more than 30 years after Cold War hawks first argued against Europe's dependence on Siberian gas, the effort to do something about it has new urgency.
(James Gibney is a member of the Bloomberg View editorial board.Follow him on Twitter @jamesgibney.)
This column does not necessarily reflect the opinion of Bloomberg View's editorial board or Bloomberg LP, its owners and investors.