Wanted -- One Maruti 800, Indian Icon
The end of India's Maruti 800 is also the end of an era.
by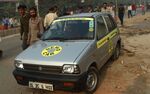 (Corrects description of Indira Gandhi's son Sanjay in sixth paragraph.)

Last month, Maruti Suzuki India Ltd., the automaker that dominates the Indian market, announced that it had decided to retire the iconic Maruti 800 after more than 30 years of production and nearly 3 million cars sold. Millions of Indians (including myself) felt a bittersweet rush of surprise, disbelief and nostalgia -- and indeed a taste of their own looming marginality. If the 800 could be finished off merely because it could not meet new, stricter fuel-emissions requirements, couldn't the advance of other strange ideas and notions in the new India soon render the 800 generation irrelevant, too?

If the announcement felt like the end of an era, it was because the little car was one of the few outstanding consumer products to precede, rather than emerge from, India's belated consumer revolution of the 1990s onward (and therein lies, amid all the grace, a somewhat tacky story). The Maruti was "the people's car" -- a phrase thought up by India's socialist government, which manufactured the car in partnership with Japan's Suzuki Motor Corp. For once, though, there was no gap between rhetoric and reality. The car first hit the roads in 1983, and for years it zipped across India's starved, stoic socialist landscape -- this was a time when one still had to wait a year or two to get a telephone, and almost as long to get it repaired when it stopped working the next week -- without anything to match it. It was the consumer good that middle-class Indians most coveted and cherished, and it was India's best-selling car from 1983 to 2004.
The Maruti allowed an entire generation of middle-class Indians not just to drive but also to dream, and to observe at close range the unfamiliar (and hitherto discredited) capitalist virtues of innovation and efficiency. The Maruti story reveals much about the history of business in modern India.
When it arrived in 1983, the 800 was by far the smallest, most sleekly designed and technologically state-of-the-art of the three cars then available to Indian consumers. (The others were the podgy Ambassador, manufactured by Hindustan Motors Ltd., and the raspy Premier Padmini, manufactured by Premier Automobiles Ltd.) Demand for cars in India had for many years greatly exceeded supply, meaning that new cars were sometimes sold for higher than the listed price. Within months, the 800 had become not just the market leader but also a market expander, taking car sales through the roof -- about 40,000 Marutis were sold in 1983, and four times that by 1987 -- in a market that had been stagnant for more than a decade because of terrible policy making.
For decades, the staunchly socialist ruling power, the Indian National Congress, had considered private cars a kind of decadence that was "anti-people," barring foreign car manufacturers from setting up operations in India and imposing prohibitive costs and controls on the import of capital goods and technology in the auto sector. And here's the tacky bit of the story: Suddenly, this car cant was overturned -- as such ideas so often are in a socialist or communist economy -- by the arguments and convictions of a dissident who won't be beaten down. Think Vaclav Havel or Aleksandr Solzhenitsyn.
In this case, it was Sanjay Gandhi, the mercurial, ambitious, dictatorial (and some would say slightly demented) son and chosen heir of Prime Minister Indira Gandhi. Cars were a great passion of Sanjay's, and as a youth he worked as an apprentice at Rolls-Royce in England. When he returned home, he was seized by the idea of a "people's car" as his gift to the Indian people (later, his other great idea was forced sterilization of Indian men as a means of population control). To no one's surprise, the government went out of its way to set him up in business. (To learn more about this episode, read Indian journalist Vinod Mehta's excellent biography of Sanjay.)
The Maruti-as-an-indigenous-car project soon teetered, and Sanjay himself died in 1980 in a plane crash. His firm was then nationalized, and the new public-sector firm, Maruti Udyog Ltd., was tasked with bringing Sanjay's dream to life by producing a small car for the Indian masses to go on the roads no later than December 1983. For once, the government saw no harm in foreign collaboration "in the national interest" (to this day, among the most dangerous and dishonest phrases in Indian public life, and a fig leaf for all manner of ministerial perversity). After a period of intense discussions with the world's leading car manufacturers, Suzuki agreed to come aboard in an ambitious (and, in the eyes of most seasoned observers in both India and Japan, doomed) joint venture between a private car company from the first world and a government-owned one from the developing world.
In 2010, R.C. Bhargava, Maruti's longtime Indian director and now chairman, published the detailed and fascinating memoir "The Maruti Story." Bhargava described the determination of Indira Gandhi's government to ensure that the ambitious small-car project was not stalled by the bureaucratic interference and lassitude common to government projects at the time. The prime minister asked her other son, Rajiv -- who would become India's next prime minister -- and businessman Arun Nehru, her nephew, to sort out delays and policy bottlenecks. Bhargava's shrewd words about this engineered efficiency are both admiring and damning:
This was again an unusual arrangement made by Mrs. Gandhi in order to ensure that Maruti was successful. Similar arrangements were never made to ensure the success of other, perhaps far more economically vital, public sector projects. The arrangement conveyed a message to all politicians to keep their hands off Maruti, and to the civil servants that unnecessary obstacles should not be raised.
Bhargava shows, then, how the origins of one of the most influential cars in history lay in that peculiar melange of socialistic caprice and capitalistic special access that so characterized India's protectionist business landscape in the decades after independence -- and still does, to some extent. By long maintaining that a car was something that people other than the very rich shouldn't or didn't need -- and by inhibiting wealth creation in general -- the Indian government ensured that auto penetration in India by the early 1980s was only about 2 cars per 1,000 people (and sometimes those two cars belonged to the same person). It thereby created the conditions that led to the success of the "people's car," which were then productively harnessed by Suzuki's technical expertise and management culture -- both of which the Japanese firm rigorously enforced in India.
The Maruti's great success was in transforming not just India's fortunes but also Suzuki's. A relatively small player in Japan's highly competitive car market, it became the largest player in a vast emerging market, one that today shifts 1 million new small cars a year and expects to double that figure by 2018. "What began as a random business play in a Third-World country in the 1980s has now unexpectedly become the star, contributing 13 percent of Suzuki's revenue and over 40 percent of the net profit," Malini Goyal wrote in a profile of Suzuki's Indian operations in Forbes in 2009.
I first drove a Maruti 800 in 1998. That was the year my mother, then 45, a public-sector employee, bought her first car, a blue Maruti. It was also the year I turned 18 and began pursuing a degree in English literature. So for me, the sight of the 800 will always be associated with Chaucer, Dickens, Sophocles, adulthood, freedom and romance.
Often I got to drive my family around on shopping trips or visits to relatives, but what I liked best was to take it out for a spin on my own around the wide, welcoming avenues of central New Delhi. Small, zippy and sleek, the car seemed to radiate a surpassing sweetness and grace, as well as a sophisticated mechanical intelligence. Even thought seemed to suddenly take wing when one was at the wheel.
Memory can be a most unreliable thing, but I think I fell in love for the first time when a friend of mine expertly reversed her own Maruti into an impossibly tiny space between two cars on the curb. Every girlfriend of mine for more than a decade was taken for a ride in my mother's 800. I'd hoped that when my mother was done with the car and moved up to something bigger, I'd have it handed down to me. Last December, though, she pragmatically decided to trade in the 15-year-old car for a discount on Maruti Suzuki's successor to the 800, the Alto. The blue 800 trundled away forever; the next month, Maruti announced it would cease production of the model.
I know this isn't a classifieds site, but I can't think of a better place to leave a message. So if you live in New Delhi and own an 800 in good condition that you'd like to sell, send me an e-mail.
(Chandrahas Choudhury, a novelist, is the New Delhi correspondent for World View. His novel "Arzee the Dwarf" is published by New York Review Books. Follow him on Twitter.)
This column does not necessarily reflect the opinion of Bloomberg View's editorial board or Bloomberg LP, its owners and investors.