Nobody Should Care About U.S. Jobs Numbers
U.S. payrolls: Not long ago, a lot revolved around predicting that number, waiting for that number, analyzing that number and (one way or another) betting on that number. But times change.
by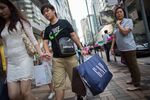 You might be surprised how much of my 32-year career in the City of London was spent thinking about a single economic indicator: U.S. nonfarm payrolls. A lot revolved around predicting that number, waiting for that number, analyzing that number and (one way or another) betting on that number. But times change.

The preoccupation was always hazardous, of course. The payrolls figure was extremely hard to call, and it was often revised a lot, too. In the late 1980s, a primary dealer went bust because of a bad bet on payrolls; one of the culprits later told me that the number as subsequently revised would have made the bet pay off. In any event, back then the indicator measured something that really mattered in global economic terms: the state of the U.S. labor market. These days, I wonder why anyone outside the U.S. pays that much attention.
Analysts who follow the U.S. economy still need to be interested, of course. Under the Federal Reserve's recent monetary-policy guidance, the unemployment rate, which accompanies the release of the payrolls, was deemed a "threshold" for possible tightening. By degrees the Fed is moving away from relying on this lagging, unreliable statistic, whose message is also clouded by changes in participation rates and other complications. (Weekly jobless-claims numbers are probably a better leading indicator anyway -- including for the U.S. stock market.) Even so, in the U.S., the payrolls data still matter. I suppose I can see why traders and analysts who focus on the U.S. are still glued to their screens at 8:30 a.m. New York time on the first Friday of every month.
For the internationally focused, it's more of a puzzle. The world has changed. In the late 1990s, the U.S. accounted for almost 20 percent of world imports: Through that channel, changes in the U.S. directly affected the rest of the world -- and the U.S. labor-market data was crucial information. In 2013, U.S. goods imports were in the vicinity of $2.3 trillion. That's about 14 percent of U.S. gross domestic product and just more than 12 percent of world imports -- less than in the late 1990s.
China's imports now stand at a little less than $2 trillion, some 20 percent of GDP and roughly 10 percent of world imports. Since the recession, China's yearly imports have surged by more than $800 billion. Unless something remarkable happens, China will soon be world's biggest importer -- as well as the world's biggest exporter, which it is already.
Post-2008, from a global adjustment point of view, these trends are probably a good thing. The U.S. needed to import less and export more, and China the reverse. China's growth is slowing a little -- to perhaps 7 percent a year from its three-decade run of 10 percent and more. Exporters who got accustomed to that kind of growth will be disappointed -- especially commodity exporters, because China has been their biggest market. But as China becomes a more consumer-driven economy, its demand for new kinds of imports will grow.
China is already the biggest export market for Japan and South Korea, and the third biggest for the U.S. Before the decade is out, it will probably be Germany's biggest export market, too. By 2021, will traders and dealers around the globe be setting their alarms for China's labor statistics? They should probably be doing it already.
Weight in global trade is only one consideration, needless to say. U.S. financial markets dominate global financial markets more than U.S. output dominates global output. January's turbulence in emerging markets was a sign of this financial hegemony: When investors perceive an impending change in U.S. monetary policy, the financial effects are transmitted worldwide. This asymmetry won't change until we have financial integration that more closely parallels economic integration.
It turns out that the renewed slowing of the U.S. economy has put an end for now to hopes (or fears, as the case may be) that the Fed is about to taper its quantitative easing more aggressively, thus boosting the dollar. For the moment, many of the so-called emerging-market economies are doing just fine. But 2014 has already demonstrated -- yet again -- that financial markets and economic realities are out of kilter.
Traders aren't obsessing over China's nonfarm payrolls just yet, because it will take a few more years for China's financial markets to completely open up. If anxiety-attacks like January's recur, that process might take longer. But it's only a question of time.
(Jim O'Neill, former chairman of Goldman Sachs Asset Management, is a Bloomberg View columnist.)
This column does not necessarily reflect the opinion of Bloomberg View's editorial board or Bloomberg LP, its owners and investors.