view
Should Restaurants Worry About Minimum Wages?
Wouldn't it be nice if there were some way to test the restaurant industry's warnings that a higher minimum wage will lead to fewer jobs? This historical data offer some clues.
by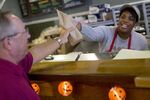 Wouldn't it be nice if there were some way to test the restaurant industry's warnings that a higher minimum wage will lead to fewer jobs? We can't tell the future (even at Bloomberg), but we can use federal jobs data to do the next best thing: examine the impact of previous minimum wage increases on employment levels. That data doesn't do much to support the industry's claims.

Since 1990, the federal minimum wage has risen seven times. If the arguments of restaurant owners were accurate, you'd expect those increases to correspond with a drop in the number of people working at restaurants, as restaurants react to higher labor costs by firing people.
Yet the first chart shows no such effect. The solid line represents the number of total restaurant workers, from 1990 to the end of last year, as reported by the U.S. Bureau of Labor Statistics. As you can see, the only dips in restaurant employment came during the recessions of 1990-1991 and 2008-2009. Although those drops followed increases in the minimum wage, increases outside of recessions -- in 1996, 1997 and 2007 -- didn't lead to reductions in employment levels.

The restaurant industry encompasses many different establishments, of course, including those with tipped workers, who are covered under different rules. So the chart also includes the type of restaurant most likely to be affected by minimum wage increases -- what the Bureau of Labor Statistics calls limited-service restaurants, and the rest of us usually call fast food. That sector matches the pattern of broader restaurant employment: Increases in the minimum wage aren't followed by a drop in the number of jobs.

So periods of recession seem to correlate with restaurant firings while increases in the minimum wage don't, whether you're looking at all restaurant workers or only those at fast-food outlets. What about changes in average weekly hours? Have restaurants responded to higher wage costs by giving their workers shorter or fewer shifts?
That theory doesn't fit the BLS data either. The second chart shows that weekly hours dropped slightly as the 1990 minimum wage increase took effect, but then rose with the next year's increase, and also went up through the next two minimum wage increases in 1996 and 1997. Hours fell for the minimum wage increase in 2007, but the chart shows the trend predated that change.

It's important to note the caveat that always applies to data like these: Just because past increases in the federal minimum wage weren't followed by reductions in the number of workers or average weekly hours, doesn't mean a future increase wouldn't have that effect. The Congressional Budget Office reported today that increasing the federal minimum wage to $10.10 would cost an estimated 0.3 percent of workers their jobs; it didn't say how many of those jobs would come from the restaurant industry.

The limits of past job losses in that industry suggest increases in the minimum wage haven't had a tremendous impact on employment, and that puts the onus on restaurants, and others opposing an increase, to explain why the next time would be different. And it suggests that the rest of us should scrutinize those arguments.
(Christopher Flavelle is a member of Bloomberg View's editorial board. Follow him on Twitter at @cflav.)


--Editor: Stacey Shick.
To contact the author on this story:
Christopher Flavelle at cflavelle@bloomberg.net
To contact the editor on this story:
Stacey Shick at sshick@bloomberg.net
Before it's here, it's on the Bloomberg Terminal.
LEARN MORE