New Mission for Japan's Gold Medallist
If Japanese gold medallist Yuzuru Hanyu genuinely wants to serve the people of Tohoku he should bring their challenges before the eyes of the world. 
by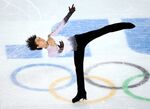 When the ground shook, the ice buckled and the skating-rink building began collapsing around Japanese teenager Yuzuru Hanyu in March 2011, Sochi must've seemed a long way off. Survival suddenly trumped Olympic training.