King Midas lusted after it. The Incas worshipped it. Shiny flakes of it set off a 19th-century rush to California and ship captains never stop looking for it at the bottom of the sea. While gold has ignited passions for centuries, for today's investors, it seems, the metal has lost much of its allure. After surging sevenfold during a 12-year bull market — a run matched by only a handful of assets, including U.S. Treasuries and stamps — investors sold it wildly in 2013 and then the price slid further over the next two years. Is the epic boom and bust in gold just another market cycle or is it a change in human appetites?
The Situation
Bullion's time-honored appeal as a haven from storms was demonstrated again after Donald Trump was elected U.S. president in an upset vote. It surged as much as 4.8 percent, then slid after fears eased and stock markets rallied on expectations he'll boost spending. In the first half of 2016, gold rose 25 percent as concern mounted that global economic growth could falter, causing U.S. interest rates to rise more slowly than expected. Gold's record high of $1,921.17 an ounce came in 2011, as the global economy struggled in the wake of the 2008 financial crisis. Investors sought safety from the threat of faster inflation and weaker currencies as governments expanded the money supply by buying bonds to stimulate growth. As economies revived, stock markets rallied in late 2012 and the metal began to tumble. The rout hurt holders such as billionaire John Paulson, producers like Barrick Gold and the biggest owners of gold, central banks. Investors who had piled into gold by buying exchange-traded products reversed those bets from 2013 to 2015.  Then in the first half of 2016, investors bought the metal at the fastest pace in seven years.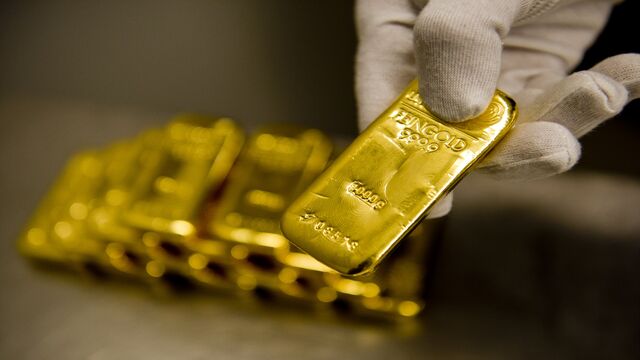 The Background
Discarded as a monetary system when the dollar's peg to gold ended in the 1970s, gold spiked to $850 in 1980. Prices slumped in the following two decades, spurring central banks around the world to shrink their reserves. When the financial crisis sent the metal higher in 2008, central banks started buying again and are still accumulating. Investors flocked to gold-backed exchange-traded products after the first one was listed in 2003. Gold fans trust an asset that governments can't produce at will. Warren Buffett famously expressed his disdain for gold because it's not productive like, say, companies or farmland. He wrote in 2012 that investors in the metal are motivated by their "belief that the ranks of the fearful will grow."
The Argument
More than perhaps any other investment, bullion acts as an echo chamber for anxieties about economic growth, fears of geopolitical conflict and guesses about what the globe's central bankers are thinking. Gold bears say there are fewer reasons to own it now because central banks have engineered an economic recovery without sparking hyperinflation. Faster U.S. economic growth is boosting the dollar, another favorite haven, and higher U.S. interest rates makes gold less attractive because it doesn't earn a return. Goldman Sachs predicted in October 2016 that gold will be little changed at about $1,250 an ounce in 12 months time. For many periods in history, though, gold has proven its worth among the arsenal of investments. Bulls say threats to the global economy mean growth is far from certain, which will limit gains in interest rates. Investors who fear another financial crisis see gold as one of the few possible havens. The supply of gold may also be near a peak following years of falling investment. Demand for gold is supported by rising incomes in China and other Asian countries, where farmers buy the metal for dowries and there are fewer safe stores of wealth.
The Reference Shelf
First published Dec. 30, 2013
To contact the writers of this QuickTake:
Eddie Van Der Walt in London at evanderwalt@bloomberg.net
Nicholas Larkin in London at nlarkin1@bloomberg.net
To contact the editor responsible for this QuickTake:
Leah Harrison at lharrison@bloomberg.net
Before it's here, it's on the Bloomberg Terminal.
LEARN MORE