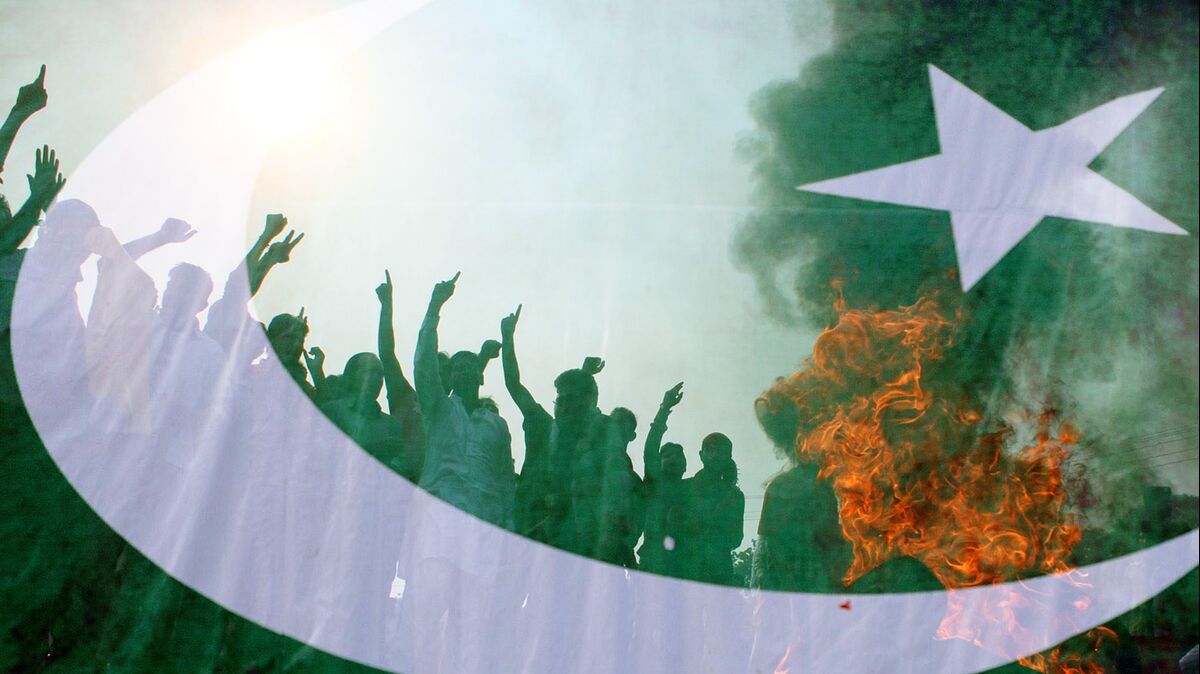 Pakistan's Turmoil
By
|
Updated Feb 17, 2017 7:35 AM UTC
Since its birth in 1947, Pakistan has lived in constant turmoil. Conceived as a democracy, it has been ruled by the military for half its life. Engaged in off-and-on talks with its traditional foe India, its leaders have deep suspicions of the fellow nuclear power next door that continue to drive national priorities. Even as it allows notorious Islamic militants to operate on its soil, the world's sixth-most populous nation has developed an emerging middle class as well as an increasingly independent judiciary and news media. It is both a fragile state and a modernizing society.
The Situation
Pakistan's military blamed "hostile forces" in Afghanistan for a suicide bombing near Hyderabad in February that killed at least 75 people, its worst attack in two years. Islamic State claimed responsibility for the assault that followed attacks in Lahore and Peshawar the same week. Pakistan has been engaged in an anti-terrorism campaign it accelerated after an attack in 2014 in which 132 students were killed at an army-run school in Peshawar. The assault was carried out by the Pakistani Taliban, a jihadist group that unlike the Afghan Taliban is focused on Pakistani targets. India said in September it had attacked terrorist camps in Pakistan, the biggest military escalation since a standoff between the nations in 1999. The move was retaliation for a strike that had left 18 Indian soldiers dead in the disputed region of Kashmir earlier in the month. Pakistan leaders denied involvement. The government of Prime Minister Nawaz Sharif, elected in 2013 on vows to improve Pakistan's economy, has had some success wooing investors by liberalizing investment policies. Still, domestic terrorism has limited their interest. Sharif was the first democratically chosen leader to succeed another in Pakistan. His position was soon weakened, however, by massive protests demanding his resignation over alleged election rigging, which he denied. Sharif now faces a probe into corruption charges against him and his family, Pakistan's defense minister said in November. Military chiefs retain significant influence under his rule. The enhanced counter-terrorism plan lifted a 2008 moratorium on executions and gave the military additional powers, such as the right to try civilians. The generals have bristled at Sharif's efforts to improve relations with India and Afghanistan, which have not borne fruit.
The Background
Carved out of mostly Hindu India as a homeland for Muslims when India gained independence from Britain, Pakistan has experienced three successful military coups. Even when elected governments have ruled, the military, especially the Inter-Services Intelligence agency, has played a forceful role. The government has made major investments in a nuclear arsenal although many citizens still lack access to clean drinking water or a toilet. India routinely accuses Pakistan of backing anti-India militants in the fight over the border state Kashmir. Pakistan supported the Taliban in the early 1990s to subvert Afghanistan's Soviet-backed government. Its continued patronage after the Taliban took over in 1996 ensured an ally to the west to counter India looming in the east. After a 2001 U.S.-led invasion of Afghanistan brought to power a government friendlier to India, Taliban remnants found refuge in Pakistan. So did al-Qaeda leader Osama bin Laden — until U.S. forces killed him in a 2011 raid. The policy of using extremists to pursue strategic goals has blown back on Pakistan. Militant groups have metastasized and struck within the country, largely against security forces and Muslims of the minority Shiite sect. By one estimate, more than 59,000 people have died in terrorist violence in Pakistan since 2003.
The Argument
One view of Pakistan holds that the military's dominance is irreversible. In this judgment, the generals don't want to stop cross-border attacks by extremists or allow peace initiatives to succeed because they distrust their neighbors, and they can't afford to because they need tumult to justify their budgets and power. Accordingly, it's not surprising that the anti-terror campaign has focused on groups that target Pakistan rather than India. Another perspective is that Pakistan's turbulence is part of the growing pains of a young, Islamic democracy that is maturing. In 2009, a nationwide movement by the country's lawyers restored an ousted Supreme Court chief justice. Afterwards, courts removed a prime minister for defying a court order. While threats from militants make journalism a dangerous occupation, Pakistan's media have grown to be a robust force. The nation's middle class is expanding and its benchmark stock index has performed so well that MSCI included Pakistan's stocks in its benchmark indexes the same day it rejected mainland China's inclusion. A vibrant youth culture promotes art, music and women's participation in the economy.
The Reference Shelf
Former U.S. diplomat John R. Schmidt's book "The Unraveling: Pakistan in the Age of Jihad" explains how Pakistan became a haven for militant groups.
A paper by the International Crisis Group explores Pakistan's counter-terrorism campaign.
A U.S. Congressional Research Service report examines the issues affecting U.S.-Pakistan relations.
First published Oct. 15, 2014
To contact the writer of this QuickTake:
Chris Kay in Karachi at ckay5@bloomberg.net
To contact the editor responsible for this QuickTake:
Grant Clark at gclark@bloomberg.net