India's democracy, the world's most populous, is a marvel of the modern age: 1.3 billion people who speak more than 700 languages uniting under one roof. Its immensity also slows the decision-making needed to keep up with its people's aspirations. Feeble public services, high inflation, crippling corruption and crumbling infrastructure are ever-present grievances of an increasingly fed-up population, most of whom live on about $3 per day. Indians yearn for better education, more jobs and faster development as a path to prosperity. Prime Minister Narendra Modi was swept to power in 2014 offering a change of course and his re-election prospects for 2019 have brightened following a big win in state elections. However, his plan to reinvigorate the economy is testing India's maturing democracy in a way that may alter its strong secular and socialist traditions.
The Situation
Modi has gotten mixed reviews since his party won the first majority in the lower house of parliament in 30 years in 2014. On the plus side, he's opened millions of bank accounts for the poor, cleared the path for a national sales tax that would transform India into a single market and attracted more foreign direct investment. India has also eclipsed China as the world's fastest-growing major economy. He's seen a number of setbacks, however. Economists have questioned the motives for an unprecedented clampdown on cash, designed to tackle black money. Proposals to ease land and labor rules have gone nowhere and opponents of his Bharatiya Janata Party have highlighted its pro-Hindu agenda. After facing criticism for failing to rein in social tensions, he's now under fire for what critics say is the creation of a Big Brother state using surveillance technology, emblematic of a renewed threat to India's traditions of tolerance and public debate.

The Background
Jolted by a balance-of-payments crisis caused by four decades of Soviet-style economic planning, India changed course in 1991 to embrace foreign investment and set the stage for an economic boom. The Congress-led government and its Nehru-Gandhi dynasty redistributed the wealth, expanding subsidies for the poor fivefold over the last decade. The spending provided subsidized food, free education and even guaranteed work in rural areas, where about 70 percent of the population lives. The share of people living below India's official poverty line was cut by more than half to 22 percent. Per-capita income rose to $1,240 in 2013 from about $250 in 1992, though that success still pales in comparison to China's. Modi's BJP consolidated the Hindu vote in the 1990s and led the government from 1998 to 2004, when it pursued a partial privatization of state companies. After more than a decade in office, the rival Congress Party suffered its worst-ever performance in the 2014 election amid allegations of graft and economic mismanagement. Still, the vote was divisive: Parts of the population will never forgive Modi for his handling of riots in 2002 that killed 1,000 people, mostly Muslims, in the western state of Gujarat, where the 65-year-old ruled as chief minister for 13 years. Tensions between Hindus and Muslims have played a defining role in politics since Britain divided the subcontinent into India and Pakistan in 1947. Hindus make up about 80 percent of the population, while 13 percent are Muslim.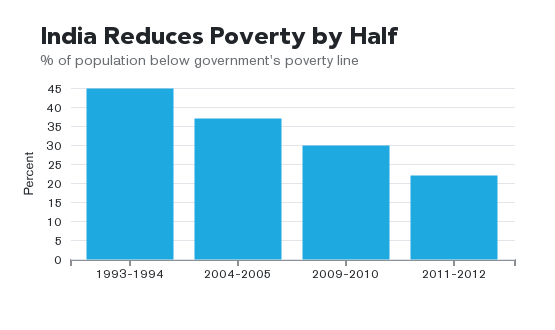 The Argument
India's democracy has traditionally divided spoils along the lines of religion and caste. As aspirations of an expanding urban population rise, the divisions are now more about ideas: how to power faster development, the appropriate role and size of the state, how to weed out corruption and new ways to deliver public services. Modi's supporters see him as a leader who can transform India by shifting toward a more market-based economy and empowering those at the bottom of the country's ancient caste system. His critics say he takes measures that increase safeguards for India's tycoons and fails to move against religious factions of his party, which oppose much-needed labor reform and want to erode the country's secular foundations. They also worry that he is shifting power to the executive and away from the courts and parliament. 
The Reference Shelf
First published April 2, 2014
To contact the writer of this QuickTake:
Jeanette Rodrigues in Mumbai at jrodrigues26@bloomberg.net
To contact the editor responsible for this QuickTake:
Grant Clark at gclark@bloomberg.net
Before it's here, it's on the Bloomberg Terminal.
LEARN MORE