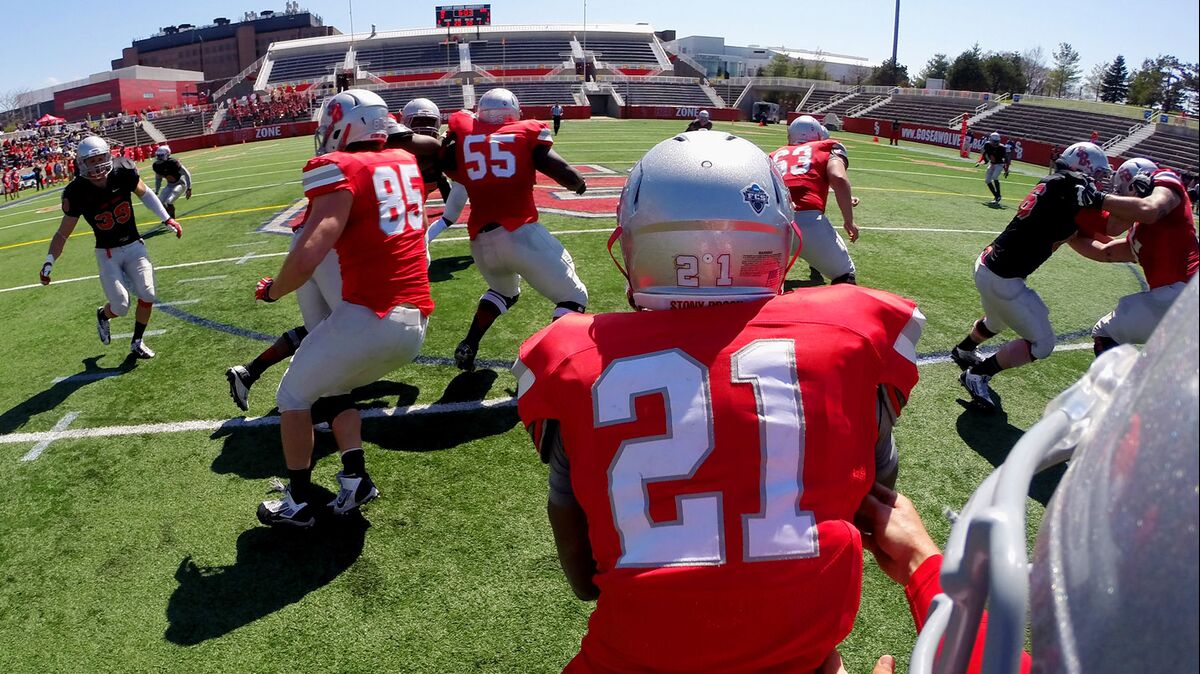 College Sports
Challenging the NCAA
By
|
Updated March 13, 2017 2:04 PM UTC
College sports in America is a business, and a big one. Having long ago shed their humbler beginnings, the 13 largest athletic departments each bring in north of $100 million annually from sports, almost entirely from men's basketball and football. The commercialization has resulted in millionaire assistant coaches, fancy stadiums and billions in television revenue. It's also causing an arms race in spending, as a small number of rich, powerhouse programs pull ahead and the vast majority of schools struggle to keep up. Cracks are beginning to show -- some financial, some legal -- that threaten to undermine this $13 billion dollar industry. 
The Situation
Athletic spending by universities in Division I, the top tier of the National Collegiate Athletic Association, is outstripping revenue. A dozen or so programs (Alabama, Michigan, Oklahoma, Tennessee and Texas were the biggest in 2016) can afford to live large, but the model is unsustainable for most of the 347 schools. As football attendance drops for the seventh straight year, debts mount and the continuation of lucrative TV contracts remains uncertain, schools must decide if they can afford to run what approaches professional programs. The University of Idaho football team is the first major casualty of the shifting landscape. Next year, it will move down a level to compete with universities whose athletic budgets align with its own. Other schools are likely to follow suit. Looming over all this is a growing recognition that the college-athlete proposition can be a raw deal: Colleges raise millions; students get only a free or subsidized education, which many never finish. A 2009 lawsuit by former UCLA basketball star Ed O'Bannon accused the NCAA, which rules college sports, of violating antitrust law by using students' names and likenesses without compensation. While O'Bannon technically won, his victory didn't result in athletes' sharing in licensing or TV revenue, but in the NCAA allowing schools to compensate athletes for the full cost of attendance (which the NCAA had already allowed a year earlier). More challenges are in the works, including a claim that the NCAA, by capping scholarships, isn't allowing the free market to operate. A world where colleges compete for the services of star athletes by offering more than the cost of attending college -- free agency, in essence -- might not be far off.
The Background
The NCAA's Division I fields more than 6,000 teams and provides an opportunity for more than 170,000 students to play sports every year. Athletic departments make money three main ways -- ticket sales, alumni donations and TV rights. The roughly 125 schools in the top level of college football, known as the Football Bowl Subdivision, turned a $1.7 billion profit on the sport in the fiscal year ended June 2016, according to the U.S. Department of Education. Division-I men's basketball programs made $329 million. The profits often pay for extravagance in those sports (Clemson's new $55 million football practice facility has a barbershop, a mini-golf course and a bowling alley), but they also help fund dozens of other teams that lose money. Division-I women's basketball, for example, runs a $163 million deficit; baseball loses $69 million. What football and basketball can't cover must come from federal and state funds or student fees. All but 25 of the more than 1,200 athletic programs in the NCAA are subsidized, some to the tune of tens of millions a year. 
The Argument
The NCAA remains steadfastly dedicated to amateurism. It says scholarships (plus coaching and academic support) are sufficient compensation for athletes. Anything more, the association says, would corrupt college sports and the public's enjoyment of games. The opposition is equally vocal that schools are exploiting student athletes. But that debate obscures the fact that most universities can't balance their athletic budgets now, let alone shoulder the cost of additional benefits. Even as more money is siphoned from academic missions to athletic ones, the gap between the haves and have-nots is widening. Some critics conclude that the richer programs should be able to devise some of their own rules, rather than force all schools to follow the same model. Others say the opposite -- that the NCAA should end wasteful spending, such as by capping coaches' salaries and cutting back on recruiting. What's clear is that, without a shift in philosophy about the role of college sports, schools could be undermining support for their athletic programs long before the legal challenges have a chance to do so.
The Reference Shelf
This Bloomberg series lays out college football's money problems.
A New York Times article analyzes the money-losing Rutgers University athletic program. 
Education Department statistics on revenue from sports.
Plaintiff's brief in antitrust lawsuit alleging that the NCAA is a "cartel."
The NLRB website has a link to its 2015 ruling barring Northwestern University athletes from forming a union.
Ed O'Bannon's legal brief seeking to expand student-athletes' licensing rights, and the court of appeals decision.
Mason Levinson contributed to earlier versions of this article.
First published May 20, 2014
To contact the writer of this QuickTake:
Eben Novy-Williams in New York at enovywilliam@bloomberg.net
To contact the editor responsible for this QuickTake:
Paula Dwyer at pdwyer11@bloomberg.net