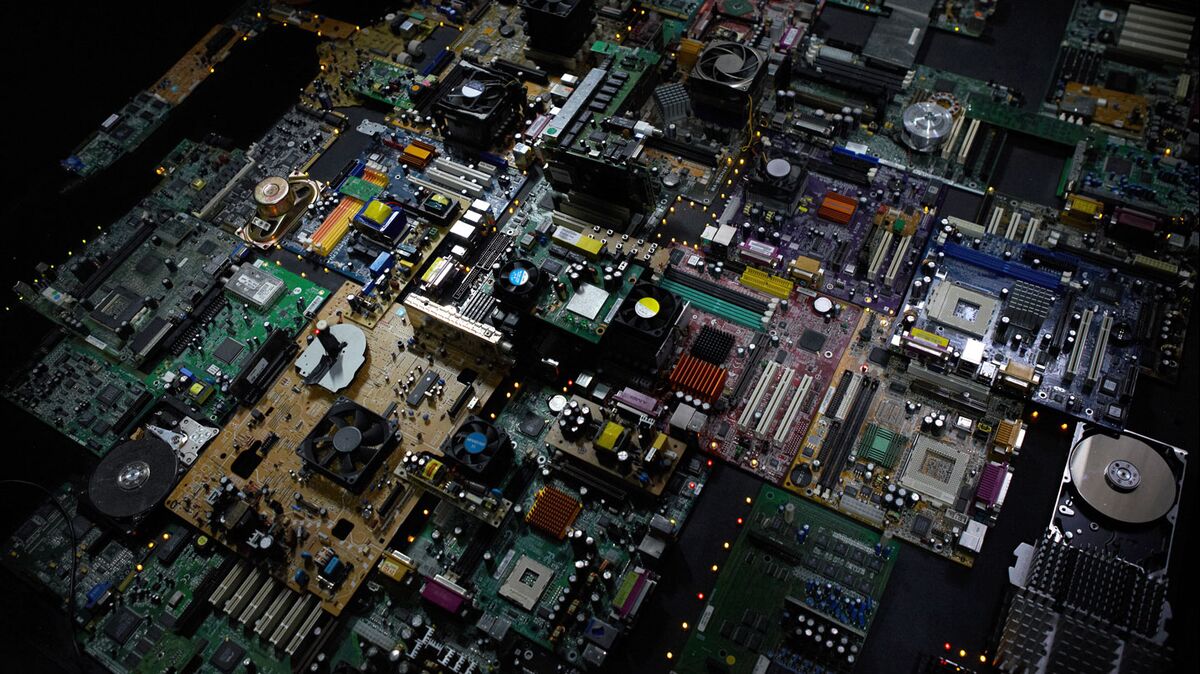 Trading on Speed
Man, Machine and the Stock Market
By
|
Updated Feb 15, 2017 9:55 PM UTC
The U.S. stock market conjures an image of adrenaline-fueled traders, yelling. That image is a memory. Now computers do most of the trading, silently — and very, very quickly. American equities change hands on about 50 mostly automated markets that exist in data centers in New Jersey and elsewhere. Microsecond reaction times have lowered investors' costs and bestowed an advantage on trading firms that are primed for speed, while increasing the risk of errors that paralyze trading and shake investor confidence. But even as concern has grown over so-called flash crashes, high-frequency trading companies have gone from disruptive newcomers to established players in futures, currency and Treasury markets as well as stocks and even bitcoin. The future is not likely to be slow. 
The Situation
The growth of high-speed traders isn't just about speed, though. Banks, reeling from tighter regulation and steeper capital requirements, have been retreating from the business of selling to buyers and buying from sellers to make trades happen, known as market-making. In some cases, high-frequency trading firms are striking deals with the financial behemoths: JPMorgan Chase agreed in August 2016 to use Virtu Financial's technology to trade in the U.S. Treasury market. Banks have also turned to high-frequency traders including Global Trading Systems to help complete client currency orders. The high-speed firms and their peers are exploring additional lines of business as competition and costs have increased, squeezing earnings. Several European countries are lobbying for a tax on trading volume to make speed trading less profitable. Regulators and prosecutors in the U.S. and Europe are also looking into whether high-speed trading impairs market stability and gives some investors an unfair advantage.
The Background
Although computers entered the scene in the 1960s, the modernization of stock trading really began in 1975, when the U.S. Congress mandated the creation of a "national market system" linking exchanges around the country. The advent of the internet and lower-cost computer hardware fueled the emergence in the 1990s of upstart all-electronic equity trading platforms with names like Island and Archipelago, which offered better technology than the incumbents at a lower price. The New York Stock Exchange ultimately bought Archipelago and Nasdaq bought Island. The 2001 shift to pricing stocks in one-cent increments eroded profits for human traders, with speedy automated trading firms stepping in to fill their traditional role. The final major shift came in 2007 with Regulation NMS, which requires that a stock be traded on whatever market has the best price at any given time. There have been some spectacular glitches: The flash crash of 2010 erased more than $800 billion from the value of U.S. stocks in a few minutes; five years later, an obscure London trader was arrested and charged with contributing to the disaster through market manipulation and fraud. In 2015, NYSE blamed a 3 ½ hour closure on a computer malfunction.
The Argument
Critics, including Warren Buffett, argue that markets have become too beholden to cutting-edge technology. They say that the risk of disruptive breakdowns has grown to dangerous levels and that speed traders, with their focus on short-term returns, hurt investors with a stake in the long-term success of companies. Others say that the worst abusers may be guilty of illegal manipulation, pointing to the payment of $154 million by Barclays and Credit Suisse to settle charges that they misled customers about the way they handled high-frequency trading. Defenders of the practice say it has reduced trading costs for ordinary investors, and a growing body of research backs that claim. One effort to retain the benefits while preventing manipulation got the backing of the Securities and Exchange Commission in June 2016, as it approved the dark pool IEX as a full-fledged exchange: IEX says its model dulls the advantages of some high-speed predators by slowing orders down with a "speed bump."  Still, the arms race continues: Renaissance Technologies, a hedge fund, is developing an ultra-fast trading system  based on atomic clocks to keep a step ahead of the speed demons of Wall Street.
The Reference Shelf
First published Dec. 3, 2013
To contact the writers of this QuickTake:
Sam Mamudi in Hong Kong at smamudi@bloomberg.net
Annie Massa in New York at amassa12@bloomberg.net
To contact the editor responsible for this QuickTake:
Nick Baker at nbaker7@bloomberg.net
John O'Neil