On Sunday, the day more than one million people marched through the streets of Paris—down the Boulevard Voltaire, past the Place Léon Blum—Benjamin Netanyahu spoke at Paris's Grand Synagogue. The temple is a surprisingly classical, somewhat Byzantine building not far from the stained-glass domes of Paris's famous Right Bank department stores. For years, it has had a security guard outside, suspiciously eyeing any passerby who stops only to read the standing sign on the history of the shul of Victory Street. Today, there is far greater security. To protect Jewish schools and other "sensitive" locations, France is mobilizing 10,000 soldiers and 4,700 police officers. On Sunday, in the temple, Netanyahu told the Jews present, "You have a full right to live secure and peaceful lives with equal rights wherever you desire, including here in France." He went on, "These days we are blessed with another privilege, a privilege that didn't exist for generations of Jews—the privilege to join their brothers and sisters in their historic homeland of Israel." He spoke, not for the first time, of every French Jew being welcomed to Israel "with open arms." French President François Hollande, former President Nicolas Sarkozy, and Prime Minister Manuel Valls were present, but kept quiet.
When Netanyahu stopped speaking, the crowd broke spontaneously into the Marseillaise, as if, in a tug of war of identities, France had won. Many saw the moment as an embarrassment for the prime minister: the powerful Netanyahu rebuked. The Israeli journalist Dimi Reider took to social media to say that bellicose Bibi had made an "ass out of himself." Hollande had asked Netanyahu not to attend the march in the first place, and then Netanyahu changed his mind. (Turkish President Tayyip Erdogan Monday said he could "hardly understand how he dared to go.") Then on camera, Netanyahu seemed to jostle his way into the front row of the marching line. (The shoving maneuver has already inspired a computer game.) In Israel, a video has gone viral of Netanyahu waiting for a bus to take him to the rally—after missing the bus that took other world leaders—looking uncharacteristically "nervous, dejected, beaten down." Writing for Haaretz, Asher Schechter called it a "series of unfortunate humiliations," a "PR disaster."
But those reviews were focused on the surface; a little deeper, things looked quite different. Unlike Hollande, Netanyahu was greeted by loud cheering in the synagogue. When he visited the Hyper Cacher, the kosher supermarket in Paris's Porte de Vincennes neighborhood where four Jewish hostages were killed, onlookers cried, "Bibi! Bibi!" The prime minister may have looked silly at times, but after the attacks, with worldwide leaders pledging renewed support to the battle against anti-Semitism, and with more nefarious-Islamist ammunition to point to himself, he may have even more power.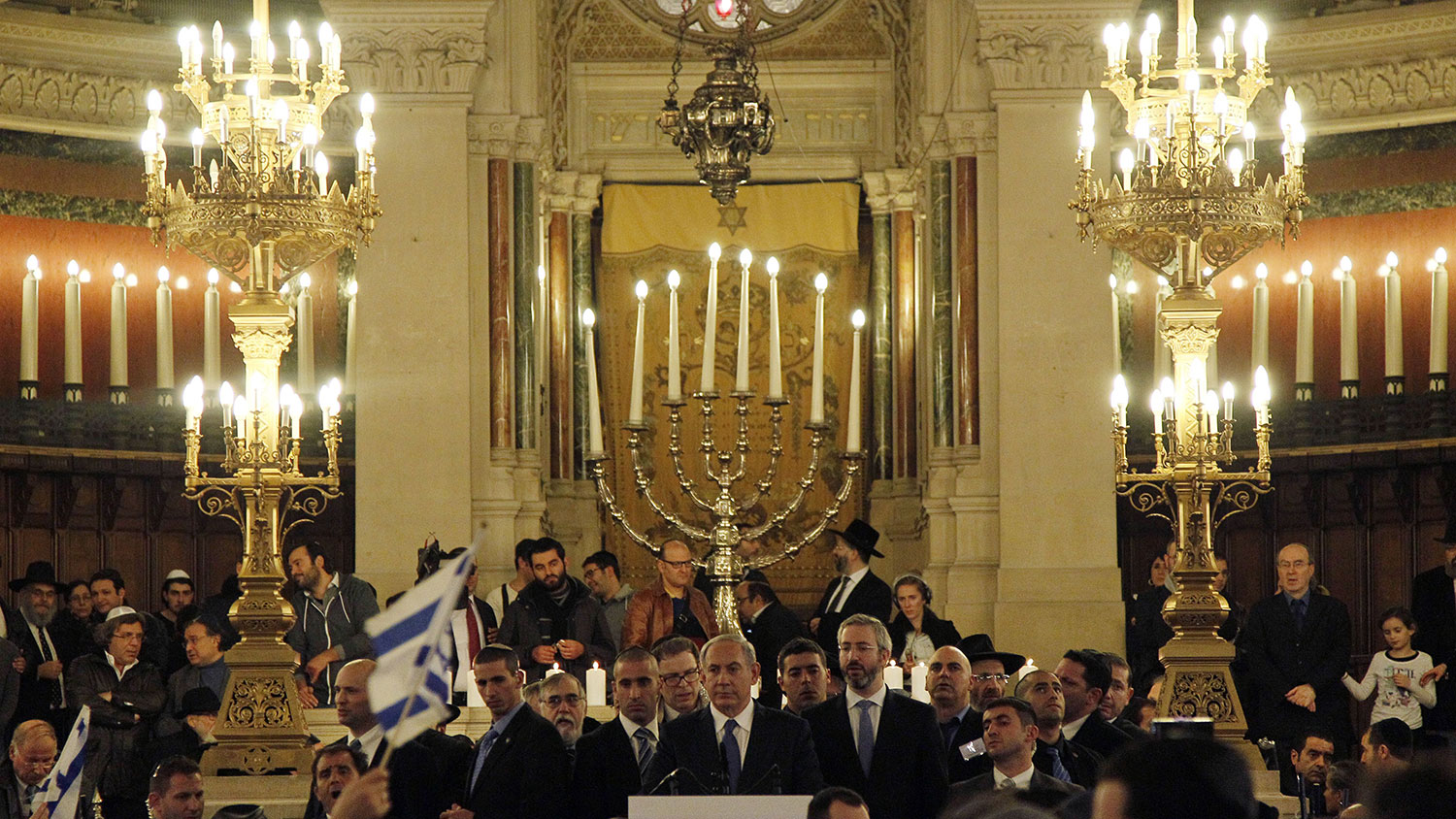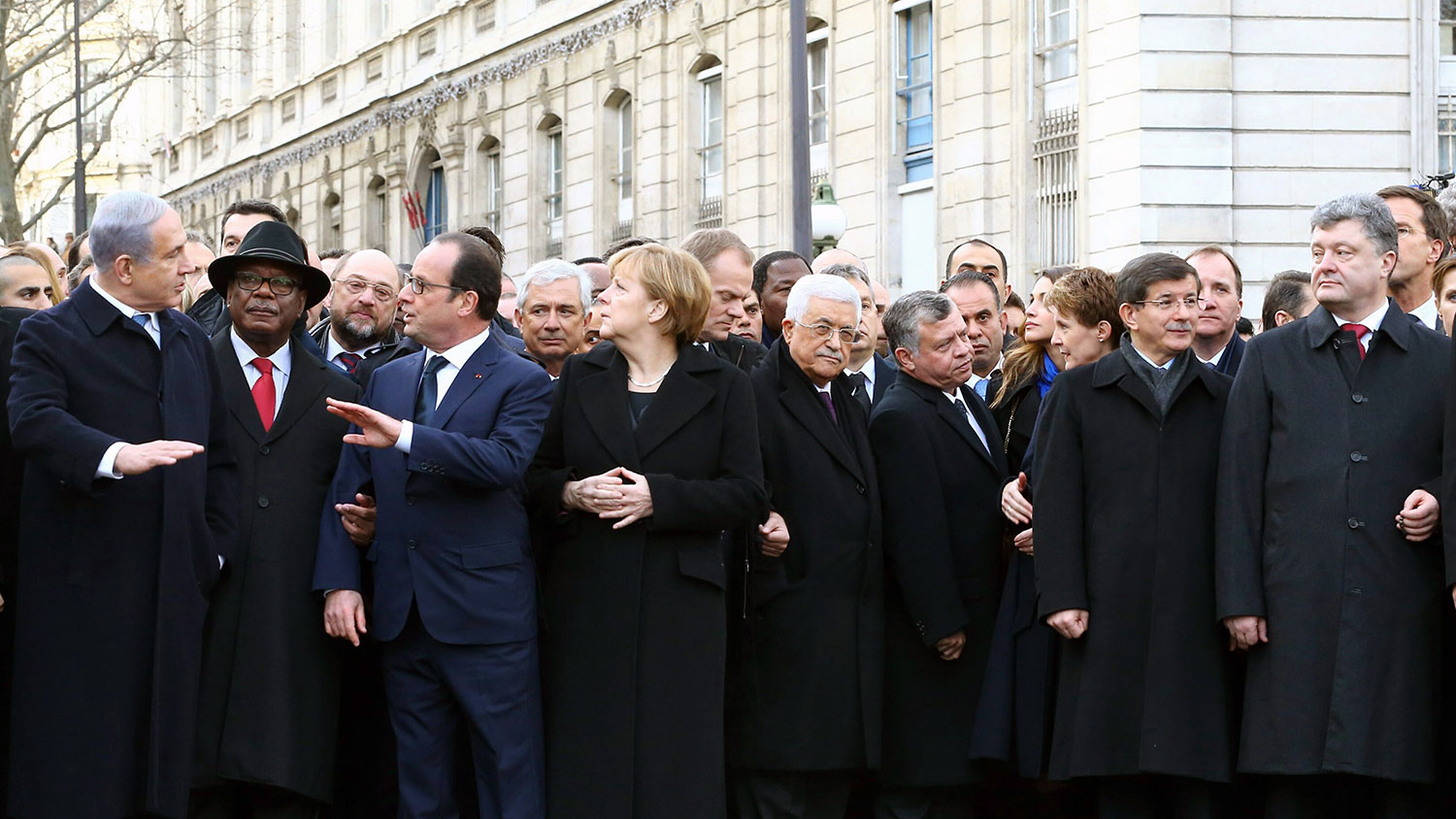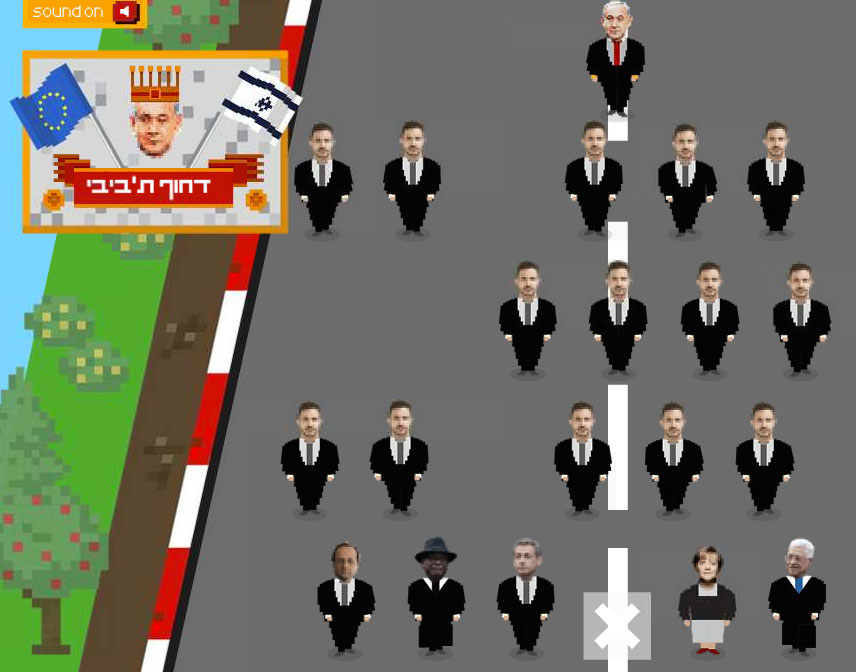 Why wouldn't French Jews sing the Marseillaise? It's their national anthem, much as any other French man or woman's: French Jews know that they are as French as any other born and raised in the country, with the same wine, cheese, vigor, and authentic champagne. The crucial issue has never been whether French Jews feel French, but whether France can see them simultaneously as French as any other citizen, and also, in the fullness of whatever that identity means, Jewish. (Part of the story of the past week is that French Arabs, Muslim or not, face the same vexed conundrum.) This is what has become increasingly difficult. This is where Netanyahu, bus-stop awkward or 'backlash-facing,' wins.
The families of the four French Jews killed in the siege of the Hyper Cacher requested that their loved ones be buried in Israel, reportedly because they feared their graves would be desecrated. On Tuesday, thousands of Israelis, many of them recent immigrants from France, came together on a Jerusalem hilltop to bury the four men, honored at the same state funeral because they were killed while shopping for Shabbat groceries. At the Mount of Rest cemetery, they join the rabbi and three French children killed at a Jewish school in Toulouse, by a young Frenchman of Algerian descent, in 2012. It's a choice that's a powerful statement of otherness, of cultural rejection. And who would blame them?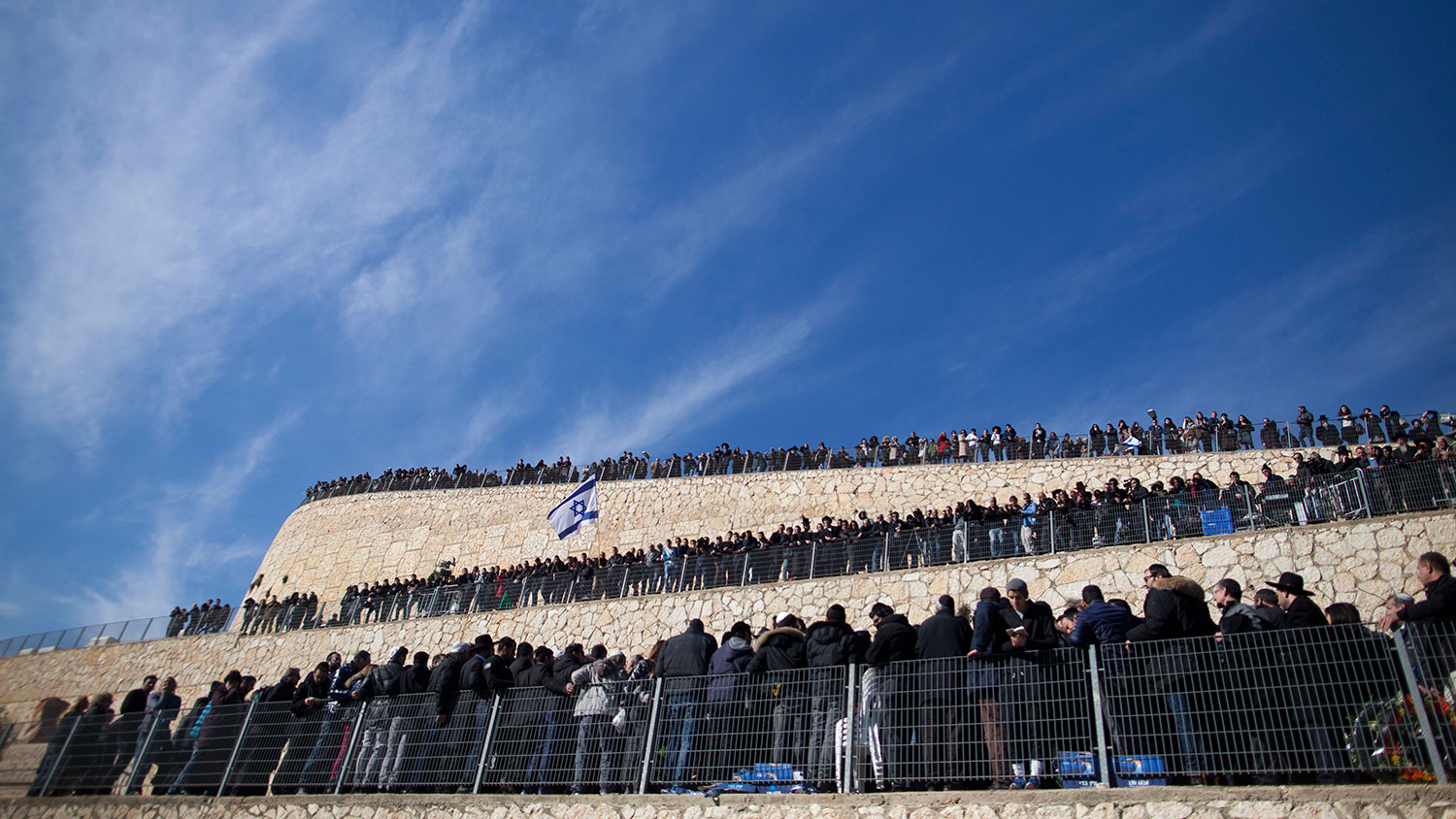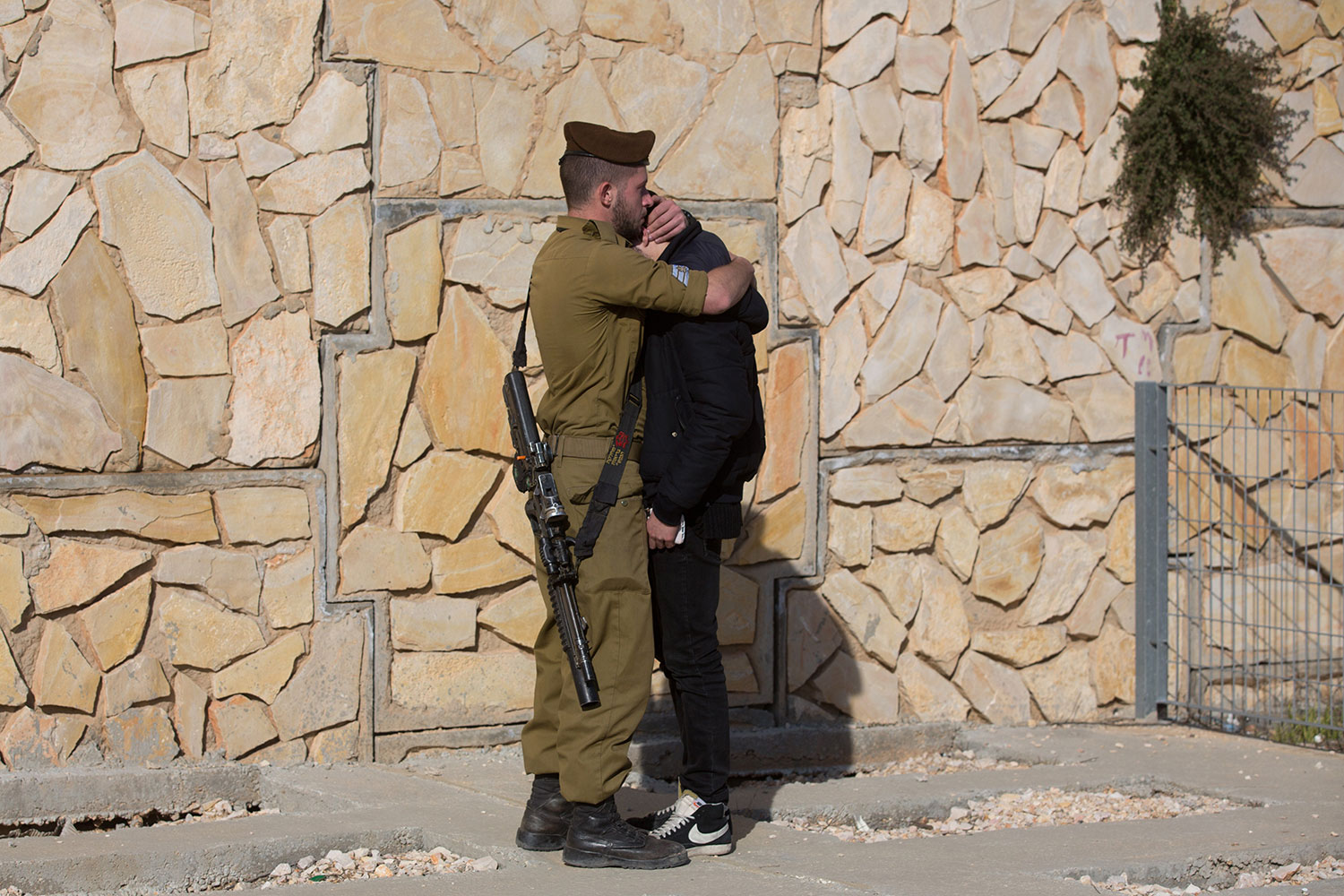 The particularities of France's history make it impossible to speak about integration and assimilation without speaking about Jews, a diaspora people who lived in France, but clearly weren't like all the other French. The country, as John Kerry said the day of the attack, is the world's first modern democracy. After the guillotine, the young country's task was: How to create a sincerely republican nation-state when people come from different, dissimilar, cultures?
In this way, the events of the last week are a chapter in a long, ongoing story. France made genuine world history when it 'emancipated' Jews, the first country in Europe to do so, granting equal civil rights. But a century and a half later, it stripped them of those rights, and passports. My grandmother was one of the children forced to wear a golden Star of David. She broke the law by stripping it off to go to choir practice. The glorious French melting pot had not managed to fully stir the Jews in. And in the last few years, fueled by the conflict in the Middle East and resurgent anti-Semitism, especially among France's Arab population, the old question had arisen again. In an interview that took place before this week's attacks, Prime Minister Valls, he of the "war against terrorism," told the reporter Jeffrey Goldberg that if so many Jews continue to flee France, "France will no longer be France. The French Republic will be judged a failure."
It was Jean-Paul Sartre who explicated this conundrum after World War II. With his book Anti-Semite and Jew— in French, "Reflections on the Jewish Question"—Sartre wrote that the anti-Semite creates the Jew for pretty much the purpose of hatred. Muslims in France have come to play an echoing role: Another Other.
To be a French Jew is to be French, but not quite French, since non-Jewish French don't always see you that way. They look with tacit discomfort at those whose ancestors were not farmers beside theirs. To be a French Arab is the same, and tied to the tense history of French colonialism in North and West Africa.
France, as Valls's words to Goldberg demonstrate, is concerned about its relationship with Jews as a matter of basic political identity. Which is why France's commitment to the Jews is today in stones and tributes all over the city, a plaque on every school where Jewish schoolchildren were rounded up. To show that it has learned its lesson—that it's realized the Enlightenment was a matter of abstracts and texts, not acts, that it knows Voltaire was an anti-Semite—France has a compensatory exception to its free speech laws. As I wrote last week, anti-Semitic comedy can get you charged with a crime—the controversial comedian Dieudonné M'bala M'bala has had shows banned after he was convicted of hate speech. On Sunday, after deriding the Sunday march as "legendary! Magical moment equal to the Big Bang that created the Universe!" Dieudonné posted on Facebook, "Je me sens Charlie Coulibaly." Identification with the kosher-store killer. Dieudonné now faces a legal inquiry for "defending terrorism."
The special place that Jews hold in France's political imagination is, of course, a source of anger among some Muslims. Of particular relevance this week is the perceived double standard when it comes to free speech. Certain kinds of statements about Jews can get you fired from Charlie Hebdo, or arrested, yet comedy that some Muslims consider blasphemy is legal in France. Millions now celebrate and defend Charlie Hebdo's right to publish its comic representations.
It bears recalling a well-publicized case some years ago that showed the limits of even Charlie Hebdo's free speech. In 2008, the French political cartoonist Siné, an octogenarian anti-capitalist and anarchist who had been contributing to Charlie Hebdo every week for decades, published a cartoon about Nicolas Sarkozy's son, Jean. Jean Sarkozy was marrying the heiress to the French electronics chain Darty, which is a Jewish family business. In his cartoon, Siné noted—without any evidence to support this—that the young Sarkozy was going to convert to Judaism, the religion of his wife. Siné wrote, "He'll go a long way in life, this lad!" Charlie Hebdo's editor at the time, Philippe Val, who had printed the cartoon, faced objection, agreed it was offensive, and asked the artist to apologize. Siné said he would prefer to "cut his own nuts off." He got axed from the paper. The cartoonist founded his own magazine—Siné Hebdo—took the journalist who first accused him of anti-Semitism to court for slander, and was put on trial himself for charges of anti-Semitism. Even at Charlie Hebdo, free speech in France is not impermeable. Even Le Monde, a more mainstream publication, in 2005 had to cough up cash—to the tune of one euro—for defaming Jews in an op-ed.
This painful week, it's reassuring to observe that Parisian reality cannot be cut along hard dividing lines: a thing of beauty. Among those killed at Charlie Hebdo: a cartoonist born in Tunisia, to a Jewish father; another who served in the military in Algeria; a French Muslim police officer; a French copy editor of Algerian descent. Among those killed at the kosher supermarket: the son of Tunisia's chief rabbi, and the son of an Algerian. The killer at Hyper Cacher, Coulibaly, reportedly announced himself as a Muslim from Mali and a member of Islamic State. During Coulibaly's siege, Lassana Bathily, a 24-year-old Muslim from Mali, saved hostages by hiding them in the basement freezer. (After sneaking out of the supermarket, Bathily was placed in handcuffs "for an hour and a half" by police offers who thought he was an associate of Coulibaly. Eventually he was let go, and able to help authorities plan the liberation of hostages.) Angry forces oppose cultural integration. But Paris last week was evidence that integration happens anyway. The will to mix is stubborn.
And yet, the four French Jews were killed in France not randomly, but because they were Jewish. Coulibaly justified the attack by invoking Palestine. French Jews, feeling threatened, are leaving for Israel at alarming rates; 7,000 emigrated in 2014, two times more than did in 2013. The rate of aliyah is expected to be even higher this year. The young Tunisian killed in Hyper Cacher who was the son of Tunis's chief rabbi, Yoav Hattab, had recently returned from a Birthright Israel trip. He had wrapped himself in an Israeli flag and spoken of moving to Israel. At the funeral, the son of François-Michel Saada, another victim, lit a memorial torch, and said, "All his life he loved Israel. He really wanted to live here." Israel's president, Reuven Rivlin, said at the funeral, "This is not how we wanted to welcome you to Israel; we wanted you alive."
The four have been laid to rest in Israel, not very far from Theodor Herzl's burial place, the triumphal tomb beside Jerusalem Forest known as Mount Herzl. Herzl is the father of modern Zionism, and when he conceived of a state for the Jews, he sounded less than triumphant. He was the Paris correspondent for the Viennese paper the Neue Freie Presse, in France at the time of the Dreyfus Affair. (Dreyfus, by the way, was married to Lucie Hadamard in the Grand Synagogue, by Paris's chief rabbi. And the famous open letter by Émile Zola that catalyzed Dreyfus's eventual pardon—"J'accuse...!"—was published 117 years ago today.) Herzl had long believed in Jewish assimilation, but what he saw in France—rabid hatred, rallies where people yelled "Death to the Jews!"—made him change his mind, and led him to believe that the Jews needed to create their own state. In June, 1895, Herzl wrote in his diary, "In Paris… above all, I recognized the emptiness and futility of trying to 'combat' anti-Semitism."
CORRECTION: This story, along with many media outlets in the U.S., France, and Israel, originally noted that Friday night was the first Shabbat since World War II that the Grand Synagogue was not open for services. After it was published, Benjamin Canet, the son of Jacques Canet, the chairman and president of the Synagogue de la Victoire, notified me that this was incorrect.
I spoke with Jacques Canet in Paris, and he told me that Friday, French synagogues received instructions from the Ministry of the Interior asking them to close for Shabbat. "Most synagogues," he told me, in French, "are not well secured." Because of its national stature, however, the Grand Synagogue—the Synagogue de la Victoire—has constant protection.
Canet told me, "We had services as usual. The congregants of other synagogues in the neighborhood came," he said. Les fidèles: about 100 on Friday night and 150 Saturday morning, with about 40 at the communal Shabbat dinner. The temple shut its main door and opened a separate, better-secured door. "We took every precaution," he said. "We're a bit of a symbol, but we were open normally."
Canet told me that he first saw the news that the synagogue was closed on the Israeli news channel i24, and wrote to them right away, but that it hadn't helped, and the news continued to spread."We did not concede," he told me, "but we understand, in the suburbs—Sarcelles, Créteil—it was clear that they couldn't open."
He wrote a letter of clarification that was sent by email and posted on Facebook. It was also distributed at the memorial service on Sunday where Netanyahu spoke. All the rabbis who came to the memorial service Sunday, he told me, congratulated the temple for staying open.
"Parisian Jews are very, very committed to France," Canet said. Even with Netanyahu and Jewish Agency for Israel Chairman Natan Sharansky in town delivering the message that aliyah (immigration) to Israel was possible, French Jews "don't want to hear that their place is in Israel. Even if people are anxious, they want to stay, they want to be safe, but they want the government to have the political courage to do it. "
"You can't put police into every kosher butcher, every shop, every school. You can't protect every Jew in the street. We are in the 21st century. You have to go to the base, have to cut off jihadi networks at their foundation. If it's not done at that level, then it's clear that the community will want to move to Israel."