May Accuses EU of Election Meddling as Brexit Takes a Hard Turn
by , , and
Prime minister says EU officials want Brexit talks to fail

Pitches election as battle between herself and Brussels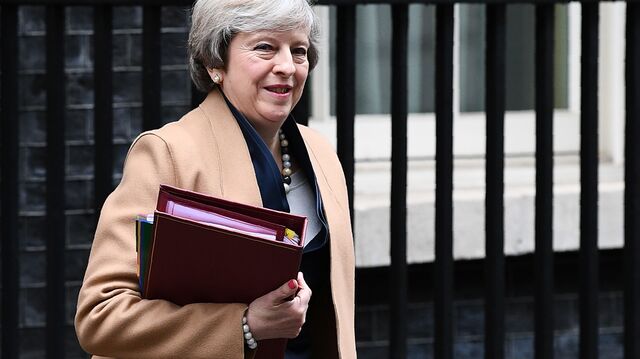 Prime Minister Theresa May accused European Union officials of interfering with the U.K. election in a blistering new line of attack designed to rally support at home but which risked hardening the battle lines over Brexit.

In another day marked by rhetorical cut and thrust between London and Brussels, May unleashed her fury at reading unflattering and detailed accounts in the German media of an April 26 dinner with European Commission President Jean-Claude Juncker. The growing antagonism bodes poorly for the looming Brexit negotiations after the bloc earlier toughened its opening demands on money, trade and sovereignty.
But it will probably play well to a domestic audience, with local contests this week giving some insights into how well May will do in the June 8 vote.
"There is a concern that Tory voters will stay home because they think it's all decided," said John Curtice, professor of politics at the University of Strathclyde. "Saying the EU is interfering in Britain's election is a simple nationalist lie, but also a message that will resonate with the Conservative voters and encourage them to turn out and vote."
With pollsters highlighting the risk of voter apathy -- Britons are facing a fourth major vote in as many years -- May seized upon the leaks in a bid to inject the electorate with a sense of urgency. Her aim: to propel support for her Conservative Party even higher than the 20 percentage-point lead it enjoys over Jeremy Corbyn's opposition Labour Party.
Her argument is that without a strong mandate in the form of a sizeable parliamentary majority, the U.K. will be ill-equipped to handle tough talks with a nefarious counterpart seeking to undercut it at every turn.
'Some in Brussels'
"The events of the last few days have shown that -- whatever our wishes, and however reasonable the positions of Europe's other leaders -- there are some in Brussels who do not want these talks to succeed, who do not want Britain to prosper," May said outside her London residence. "Britain's negotiating position in Europe has been misrepresented in the continental press."
Painting the EU as a bogeyman -- something likely to go down well with Britain's pro-Brexit newspapers -- could be interpreted as a crude stunt to muster up support at a time when most polls suggest her victory is a foregone conclusion. The Sun newspaper described May as "going ballistic" at the EU, while the Daily Mail trumpeted "hands off our election."
Yet May's approach was applauded by senior Conservatives such as Alan Duncan, Europe minister, who hailed "a genius moment to make her case."
With five weeks to go, her closest aides are worried about a low turnout, according to a person close to May's campaign speaking on condition of anonymity to discuss private conversations.
Poisoned Well?
The risk is that by making the environment in the lead-up to the talks even more toxic, she heightens the chance they will ultimately collapse without the free-trade deal she hopes to land.
"The aggressive, adversarial style will be helpful for her in the election, although probably not in Brussels," said Mark Goodwin, professor of politics at Birmingham University. For now, "it's a shrewd move."
Corbyn said May was "playing party games with Brexit in the hope of winning advantage for the Tories" in the election. Scottish First Minister Nicola Sturgeon, who is seeking a second vote of independence on the grounds that Scotland opposed Brexit, also accused May of being "driven by entirely narrow, partisan motives."
Trying to "deliberately seek to poison the well will make the negotiating task ahead even harder," Sturgeon added.
May's latest intervention came about 24 hours after she warned Juncker she could be a "bloody difficult woman" and the same day as Brexit Secretary David Davis revived threats to walk out of the talks without a deal, if provoked.
Price Tag
He also said it's not for the EU to dictate how negotiations are conducted and rejected the notion of paying as much as 100 billion euros ($109 billion) to leave the EU, a figure estimated by the Financial Times.
The British rebukes followed a report in Germany's Frankfurter Allgemeine Sonntagszeitung newspaper that Juncker left a London dinner last week worried May was carrying inflated expectations for what she could achieve and that she was living in another galaxy.
If she was, then EU negotiator Michel Barnier gave her a wake-up call earlier Wednesday when he published a hard-line draft negotiating mandate. While he expressed hope for an "entente cordiale," he warned the talks would not be swift or easy.
The document rejected May's bid to discuss the terms of divorce and future trade relationship in lockstep and denied the U.K. could offset the multibillion-euro exit bill the EU is preparing by claiming a share of the region's assets. He also published a long list of citizens' rights the EU wants the U.K. to guarantee and demanded its courts still have a role in post-Brexit Britain.
Shattered Illusions
"Some have created the illusion that Brexit would have no material impact on our lives or that negotiations would be concluded quickly and painlessly -- that's not the case," Barnier said, adding that the election will "not change anything" in the EU's position other than to delay the Brexit talks to June.
The tough message was reinforced by Martin Selmayr, Juncker's chief of staff who some European officials view as a potential source of the dinner leaks. He told Politico that Brexit would never become a success.
Selmayr has already weighed in on the election, taking to Twitter at the weekend to complain about a U.K. decision to delay a routine review of the EU's budget, citing election campaign-period rules also known as purdah. He tweeted that as a result there would not even be informal Brexit talks before June 8, declaring in capital letters "full purdah reciprocity."
Three European government officials in Brussels told Bloomberg News that the short pause in budget talks for the U.K. elections wasn't a problem for the bloc. They asked not to be named as budget negotiations aren't public.
German government spokesman Steffen Seibert also denied on Wednesday that Chancellor Angela Merkel's warning of last week to the U.K. against harboring "illusions" on Brexit was prompted by complaints from Juncker. European government officials had already expressed unease about the dinner leaks and Juncker told ITV on Wednesday that he regretted that the dinner conversation was leaked.
"There is much rumor, but actually the positions the British government and the EU are committing to paper, and what they are saying at the senior level, is very positive," Dara Murphy, Ireland's minister of state for European affairs, told reporters in Lisbon Wednesday.
Before it's here, it's on the Bloomberg Terminal.
LEARN MORE