Le Pen Tirade Meets Logic of Macron in Brutal French TV Duel
by , , and
Macron calls her fear-monger, she brands him global capitalist

Centrist Macron leads by about 20 points before Sunday runoff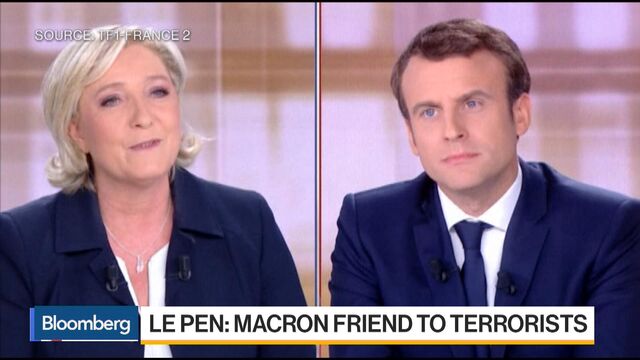 Marine Le Pen unleashed a barrage of attacks on her presidential rival Emmanuel Macron as she tried to close a gap of some 20 percentage points in the only head-to-head debate of the French election campaign.
Le Pen, 48, said her centrist opponent was the candidate of the capitalist elite, and a friend to terrorists, who planned to shut down factories, schools and hospitals. Macron said Le Pen's broadsides against state bodies meant she was unfit to lead the country as she struggled to defend her plans to leave the euro.
French Election: Full Coverage
"You have threatened public employees," Macron, 39, said as his opponent chuckled on the other side of the table during the almost three-hour debate Wednesday night. "Your words show that you are not worthy to be the defender of our institutions."
A snap survey of 1,314 likely voters by polling firm Elabe showed that 63 percent of respondents rated Macron as the winner and 34 percent picked Le Pen.
With just three days to go before French voters settle the most turbulent election in the country's modern history, Le Pen argued for new border restrictions to protect the French people from foreign competition and terrorism, and an exit from euro, reversing 60 years of European integration.
For more politics coverage, sign up for the Bloomberg Politics Balance of Power newsletter
Brutal Clash
The clash was brutal from the get-go, and the general consensus from commentators was that it wasn't a particularly dignified debate. "It was like a schoolyard brawl," said Emmanuel Riviere, managing director of pollster Kantar Public France. "The candidates went straight for the jugular. Le Pen started it. But Macron also played his part."
Both candidates justified the nasty tone on Thursday. "It was severe, but that's because for the first time ever the French have a real choice," Le Pen said on RMC Radio. "Before, the candidates agreed on everything. I want to wake up the French people."
Macron said on France Inter that "at a certain moment you feel dirtied being in a debate like that, but you have to confront the lies. On the economy, it's important that our citizens understand the dangers of what she proposes."
Le Pen's father said she lacked stature in the debate, describing the outcome of the confrontation as a tie.
"I found the first half hour pretty boring and probably incomprehensible for the big majority of viewers," Jean-Marie Le Pen, founder of the far-right National Front party, told RTL radio on Thursday. "That's perhaps good for Emmanuel Macron, but it wasn't good for Marine Le Pen who lacked stature."
Fear Mongering
During the debate at St. Denis outside Paris, Le Pen told Macron he has "a soft spot for Islamic fundamentalism." More than 200 people have been killed by terrorists in France since the start of 2015, and Le Pen said her rival was supported by an imam expelled from France last month for posing a threat to public order.
Macron countered that she was playing politics with the insecurities of the French people and lying to her supporters.
"I'm looking at the high priestess of fear-mongering," he said. "You are a product of the system that you denounce, you live off it. You are a parasite."
After early exchanges about security and retirement, as each played to their base without scoring points, Le Pen ran into trouble when Macron mockingly cross-examined her plans to replace the euro with two separate currencies. Things got worse for her when she raised his personal finances, only for Macron to counter by bringing up a court probe into her party funding.
"Marine Le Pen went into this as the favorite to win the debate, but it was Macron who came closer and that may have electoral consequences," said Bernard Sananes, a pollster at Elabe.
'Merkel's Blessing'
Macron said Le Pen's policy proposals were full of holes, both on security and economics, and she was unprepared to govern the country. While the nationalist arrived on set carrying a ream of notes, her younger rival spoke without prompts.
"Look in your files," Macron told Le Pen over and over as she mixed up the details of her arguments. "The French people will understand that you have nothing to propose."
Le Pen made multiple attempts to dismiss Macron for his record as a former investment banker and a minister in the unpopular outgoing government of Francois Hollande. She called him "Mister Economy Minister," "the candidate of savage globalization" and labeled the euro "the bankers' currency."
"The France you are defending, isn't France," she said. "It's a trading floor."
She told him he'd traveled to Berlin to get the blessing of German Chancellor Angela Merkel for his policy plans, playing on French concerns that their country plays second fiddle within the European Union.
"France will be run by a woman whatever happens," Le Pen said. "Either by me or by Mrs. Merkel."
The two journalists hosting the debate barely got a word in.
For more on how the presidential race has played out on social media, check out the Decrypted podcast:

Before it's here, it's on the Bloomberg Terminal.
LEARN MORE