Britain's May Sticks to Guns Seeking Parallel Brexit Talks
by , , and
May argues 'comprehensive' trade deal can be struck by 2019

Prime minister says she isn't in a 'different galaxy' from EU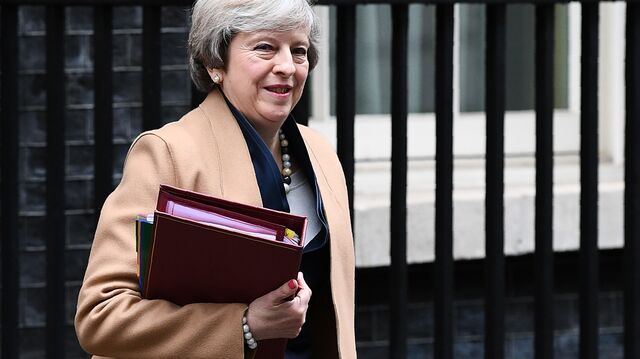 Prime Minister Theresa May stuck to her guns in arguing that Britain should be allowed to line up a "comprehensive" free-trade deal with the European Union at the same time as it negotiates its departure from the bloc.
A day after EU leaders suggested after a summit in Brussels that May's ambitions for the looming Brexit negotiations are unrealistic, the prime minister denied on Sunday that she was in a "different galaxy" from them as she braced for what she predicted would be a "tough" two years of talks.

"The EU has also said that nothing is agreed until everything is agreed," May said on the BBC's "Andrew Marr Show." "I want to ensure that we agree on a trade deal and our withdrawal arrangements so that we know what both of those are when we leave the European Union."
The clash indicates the initial part of the Brexit discussions will be spent resolving just what to talk about, risking fallout even before substantive matters have been debated. The two sides have until March 29, 2019, to find common ground. At that point, Britain will leave the EU regardless of whether it has a deal or not.
Another Galaxy?
A report of May's April 26 dinner with European Commission President Jean-Claude Juncker in the Frankfurter Allgemeine Sonntagszeitung newspaper described a difficult meeting. Citing unidentified commission officials, it said May had unrealistic expectations about how negotiations negotiations would proceed. 
According to the report, she suggested that questions about the rights of EU citizens living in the U.K. could be settled swiftly at the EU summit in June. She also said that the U.K. doesn't owe the EU any money, and that free trade could be discussed from the start of the talks. Juncker called Germany's Angela Merkel the next morning and told her that May was living in another galaxy.
May's office rejected the report. "We do not recognize this account," it said in an emailed statement. "As the prime minister and Jean-Claude Juncker made clear, this was a constructive meeting ahead of the negotiations formally getting underway."
Juncker's on-the-record comment about the dinner was an expression of surprise that May had repeated her call for parallel talks.
"That won't happen,'' said Juncker. He later added, "I sometimes have the impression that our British friends underestimate the technical difficulties we have to face.''
EU leaders agreed at a Brussels summit on Saturday that their priorities are to force Britain to settle its financial commitments, guarantee the rights of EU citizens living in the U.K., and sort out the border between the two Irelands.
Hard to Leave
Only when all 27 governments agree that "sufficient progress" has been made on those topics will they turn to a trade pact. EU negotiator Michel Barnier suggests that's unlikely to happen until the end of the year.
Ultimately, the EU wants to prove that leaving the bloc is hard and to ensure Britain covers its obligations. Its governments also know a trade deal provides them with leverage given the assumption that the U.K. would suffer more than the EU if one wasn't struck.
By contrast, May has repeatedly said she wants to discuss the divorce and future trading relationship in tandem given the shortage of time. Doing so would also allow her to make trade-offs to secure market access, and to show voters at home that she was making a success of Brexit.
There are also differences over what governments believe can be achieved within two years. May told ITV's "Peston on Sunday" that Britain's four decades of ties to the rest of Europe mean it's not like countries such as Canada, which took seven years to hammer out a trade pact with the EU.
"We should be looking to negotiate a comprehensive free trade agreement within this period of time that we've got,'' she said.
Election Coming
The EU's guidelines, which were rubber-stamped by the leaders on Saturday, are less far-reaching. They talk of finding "an overall understanding on the framework for the future relationship," but say that no accord can be completed until Britain departs.
The Brexit discussions will begin soon after the U.K.'s June 8 election, which May called in part to strengthen her Brexit mandate going into the talks.
The U.K.'s Snap Election and What it Means for Brexit
The prime minister on Sunday pledged there will be no increase in Value Added Tax after the vote, but suggested she will ditch her Conservative Party's promise not to raise other taxes when it publishes its program for government.
"We have no plans to increase the level of tax, but I'm also very clear we don't want to make specific proposals on taxes unless I'm absolutely sure that I can deliver," May, 60, said on the BBC. "It would be my intention as a Conservative prime minister and a Conservative government to reduce taxes on working families."
EU leaders took just minutes on Saturday to rubber-stamp their eight-page plan for the Brexit negotiations, and all declared they were united behind it. Many also expressed concern that May harbored what Merkel called "illusions" about what lay ahead.
Early resolution of the most contentious topics could still speed the way to discussing trade. European Parliament President Antonio Tajani said that the guidelines can be revised, while other officials said they may be willing to move on once the mechanics of the exit bill have been agreed to, rather than the final sum.
Before it's here, it's on the Bloomberg Terminal.
LEARN MORE