Nothing to See Here: Mongolia Media Goes Dark to Protest Curbs
Michael Kohn
Bill would allow police to impose fines of up to $41,000

Controversial measure comes ahead of before presidential vote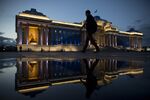 Several Mongolian broadcasters, newspapers and websites suspended content to protest a bill they fear would lead to censorship just two months before the former communist dictatorship elects a new president.
More than a dozen TV stations went dark and at least seven newspapers printed black front pages Thursday to call attention to the proposed Law on Infringement being considered by parliament. The legislation would allow police to impose fines of as much as 100 million tugrik ($41,000) for spreading libelous or defamatory information, without going through the courts.
"This is the death of opinions and critical thought before the election," Mongol TV News Director Lhagva Erdene said by phone in Ulaanbaatar. "It's a threat not only to the media, but to every Mongolian and their right to information and freedom of expression.''
The measure comes as Mongolians prepare for a June 26 presidential election amid anger over reports of corruption and wealth amassed by officials. Members of the ruling Mongolian People's Party, which governed uncontested for decades during Mongolia's communist era, have in recent months escalated accusations that the media is causing political divisions by publishing false reports.
Mongolian Foreign Minister Tsend Munkh-Orgil didn't respond to an e-mailed request for comment about the bill. 
Looming Election
The MPP, which introduced the measure, holds 65 of the 76 seats in country's parliament after a landslide election last year largely billed as referendum on the economy. The government has been struggling to manage spiraling debt after weak prices for key exports such as coal and copper ravaged its finances.
President Tsakhia Elbegdorj, a Democratic Party member who helped establish Mongolia's first independent newspaper and TV station after the revolution in 1990, will finish his second and final term four-year term on July 10. Parties are expected to formally announce their candidates next week.
"Before limiting public's access to information we need to have a system where politicians are held accountable for their actions first," Elbegdorj told lawmakers Thursday.
The infringement bill would subject accused individuals to fines of as much as 10 million tugriks and media outlets to penalties 10 times that amount. It would also apply to social media postings. Currently, entities must take libel and defamation complaints to the civil courts. 
Black Pages
The Onoodor and Udriin Sonin newspapers were among major publications that printed black front pages Thursday, warning that "Citizens' right to know is under severe threat." The Mongolian Confederation of Journalists, Mongolian Broadcasters Union and Association of Daily Newspapers issued a joint statement condemning the bill.
"We condemn this action," the coalition said. "People have a right to information according to the constitution. We demand that you need to listen to the voice of journalists when you make laws.''
Mongolia was ranked 69th for press freedom, down nine places from last year, according to an annual report released Wednesday by the Reporters Without Borders.
Before it's here, it's on the Bloomberg Terminal.
LEARN MORE