Trump Praises Electoral College as Clinton Fans Despair
by
The institution is 'actually genius,' president-elect tweets

Improbable effort to overturn result amasses signatures online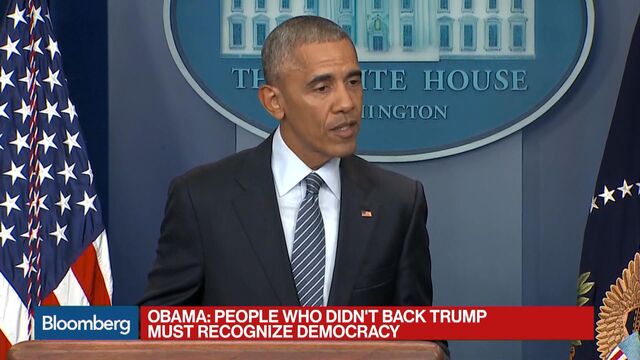 President-elect Donald Trump on Tuesday praised the Electoral College, an American institution that's drawn the ire of some Hillary Clinton backers after her surprising loss in last week's election.
"If the election were based on total popular vote I would have campaigned in N.Y. Florida and California and won even bigger and more easily," Trump said on Twitter, where his famously frequent and free-wheeling commentary has faded somewhat as he turns to preparations to take office in January.
"The Electoral College is actually genius in that it brings all states, including the smaller ones, into play. Campaigning is much different!" he said.
Clinton led Trump by almost 1 million votes nationally out of almost 130 million counted, the Cook Political Report said Monday as millions of votes remained to be tallied.
U.S. presidents are elected by garnering at least 270 Electoral College votes, which Trump did by winning key battleground states; upsetting Clinton in some places thought safe for Democrats, such as Pennsylvania and Wisconsin; and retaining vote-rich Republican strongholds.
Clinton was boosted in the popular vote by her dominance in the populous Democratic strongholds of New York and California.
A petition on Change.org calls for Electoral College voters from states Trump won "to ignore their states' votes and cast their ballots for Secretary Clinton" when they convene in December because Trump "is unfit to serve" and because Clinton "won the popular vote." The highly improbable effort has gathered 4.3 million supporters, the website said.
Underscoring Democrats' discontent, U.S. Senator Barbara Boxer of California even plans to introduce a bill into the Republican-controlled chamber to abolish the Electoral College and use the popular vote to pick presidents, her office said.
"This is the only office in the land where you can get more votes and still lose," Boxer said in a statement. "The Electoral College is an outdated, undemocratic system that does not reflect our modern society."
Trump's comments were a change of tune from the 2012 election, when he called the Electoral College "a disaster for a democracy" on Twitter as it initially looked as if Republican Mitt Romney might have won the popular vote while losing the White House to President Barack Obama.
Before it's here, it's on the Bloomberg Terminal.
LEARN MORE