U.S. ELECTION WRAP: Trump, Clinton Murkiness a 'Drag,' Citi Says
Uncertainty over the policy plans of Clinton and Trump could slow economic growth, analysts say
by , , and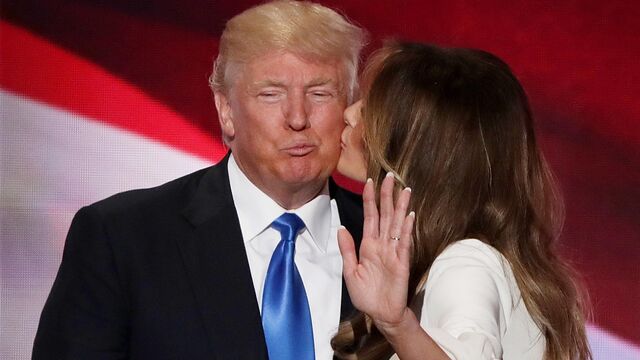 Lingering questions over what Donald Trump and Hillary Clinton might do if elected could be a "significant drag" on the U.S. economy, Citi analysts Dana Peterson and William Lee wrote last night in note to clients.
"We can envision a scenario where heightened uncertainty can generate sufficient drag to reduce economic growth to significantly below potential" the rest of this year and next, according to the analysts
While the most likely scenario is a continuation of moderate growth despite a drag before Election Day, this year's "extremely unconventional" election poses a myriad of risks, they said

A Trump victory, which Citi gives a 40% chance, would likely bring a recession "sooner rather than later," Lee said today on Bloomberg TV, adding that Congress and the judicial branch probably would prevent "trade wars" and other potential "difficulties" if the New York real estate developer wins the White House

Lack of detail on how Trump would enact his fiscal policy prescriptions "implies prolonged and possibly higher uncertainty about his likely policies, even after the election," according to the note
Under a Clinton presidency, which Citi puts at a 60% likelihood, an economic drag may be eased "if it becomes clear that she will resume the Obama policies"
Still, the pace of U.S. growth could be curbed if the expectation of more entitlement spending and regulation increase uncertainty and dampen investment
 The question of whether Clinton or Trump would be better for the economy is moot as far as Doug Kass is concerned
Kass, founder of Seabreeze Partners Management,  told Bloomberg TV he believes Trump will withdraw from the race before Election Day, citing the GOP nominee's unpopularity and potential damage to the Trump brand
"He doesn't like to lose,'' Kass said 
Kass also predicted that Trump will be "roundly defeated by Clinton'' in the first debate
Click here to get the U.S. Election Wrap by e-mail every afternoon

ON THE TRAIL
Clinton today sought to make her case as the best choice for economic revival when she spoke at a rally in a blue-collar suburb of Detroit; the Democratic nominee ripped Trump's agenda as a boon to the rich; see full Bloomberg story here
Meanwhile, Trump's campaign is preparing to tweak one of his boldest tax proposals out of concern that it might lead some high-income earners to try "to scam the system," one of the Republican presidential nominee's economic advisers said; see full story by Bloomberg's Lynnley Browning here
Trump spoke today in Florida to the National Association of Homebuilders; he vowed to limit what he called "horrible" regulations facing the industry and lamented the difficulty of obtaining mortgages for prospective homebuyers

POLLS/PREDICTIONS
In Iowa, Trump leads Clinton by just 1 ppt, a Suffolk University poll found

41% of likely Iowa voters support Trump, compared with 40% for Clinton; in a four-way race, Trump gets 37% to Clinton's 36%

ENDORSEMENTS/DEFECTIONS
More than 70 Republicans, including former N.H. Sen. Gordon Humphrey and former Reps. Chris Shays, Tom Coleman and Vin Weber, are urging the RNC to cut off funds for Trump, Politico reported
GOP Representative Steve King of Iowa said he finds Clinton to be someone he can work with, Des Moines Register reported
Clinton has been courting disaffected Republicans, including Henry Kissinger and Condoleezza Rice, Bloomberg's Arit John reported

ETC
Clinton plans to release her 2015 taxes and 10 years of running mate Tim Kaine's taxes this week, CNBC reported
After announcing an economic advisory council made up solely of men, Trump has added seven women to the group (and one more man), Politico reported
Trump is considering former UN Ambassador John Bolton for secretary of state and former GOP Senator Jim Talent of Missouri for defense secretary, he told radio host Hugh Hewitt today

Trump also may extend his Supreme Court nominee list
See full transcript of interview here 

If Trump doesn't win, he'll "have a very, very nice long vacation," he told CNBC
While Trump went after Clinton for the presence of the father of Orlando shooter Omar Mateen at one of her Florida rallies, former Representative Mark Foley looked on, sitting behind Trump

Foley, who resigned in 2006 after sending explicit messages to teenage boys, smiled, applauded and waved at Trump throughout his stop in Sunrise, Florida, CNN reported

Foley, who has expressed support for Trump in the past, told the Sun Sentinel, "I've been a friend of Mr. Trump's since 1987. I've admired so much of what he's done. He's a different breed of leader and a different breed of candidate"

CONGRESSIONAL RACES
SENATE
DEMOCRATS: Minority Leader Harry Reid told reporters there's no "daylight" between Trump and vulnerable Republican senators who are "not going to separate themselves from their friends, the Koch brothers," according to Bloomberg's Billy House

Republican-leaning groups like the Chamber of Commerce and the NRA are "all fronts for the Koch brothers," Reid, who isn't seeking re-election, said in reference to billionaire conservative businessmen Charles and David Koch
IL-SEN: Independent Voice for Illinois PAC, a super-PAC backing Republican Sen. Mark Kirk's re-election, released TV ad saying Democratic Rep. Tammy Duckworth "can't be trusted on national security" after supporting Obama administration's Iran nuclear agreement

The super-PAC has spent at least $609k against Duckworth, according to FEC report; donors include billionaires Ken Griffin, Paul Singer, Warren Stephens
Durbin Duckworth Victory Fund created with FEC to raise campaign funds for Duckworth and No. 2 Senate Democrat Dick Durbin, who holds the state's other Senate seat
IN-SEN: Republican Rep. Todd Young visited South Bend yday to emphasize college affordability, including his legislation that would provide for private financing options for students to fund education, WNDU reported

Young: "This would allow private investors to invest in students. They'll finance their education debt-free, and the students would pay back a small portion of their income only after they land a job on the back end"
Young is facing Democratic ex-Sen. Evan Bayh for seat of retiring Republican Dan Coats
PA-SEN: Senate Majority PAC, a Democratic super-PAC, released a TV ad praising Democrat Katie McGinty and attacking Republican Sen. Pat Toomey on gun policy

Toomey is "against an assault weapons ban," according to ad, which cites his April 2013 vote against proposal by California Democrat Dianne Feinstein that would have reinstated ban on certain semiautomatic firearms
Ad also shows Toomey saying, "I have had a perfect record with the NRA"
Toomey and West Virginia Democrat Joe Manchin wrote proposal to strengthen gun background-check system; it failed to receive supermajority support needed to advance in Senate
HOUSE
FL-23: Democratic Rep. Debbie Wasserman Schultz in TV ad said that "people who don't even live in Florida, including Republicans, are spending outrageous amounts of money on personal attacks directed at me"

Wasserman Schultz, who recently resigned as DNC chairwoman, is opposed in Aug. 30 primary by law professor Tim Canova, who's backed by Bernie Sanders in strongly Democratic district in parts of Broward and Miami-Dade Counties
IL-10: Republican Rep. Bob Dold appeared at Chicago event yday to "push laws that would include a path to citizenship for people living in the country illegally," AP reported

"We need to fix a broken system," said Dold, whose district in Chicago's North Shore suburbs is about 23% Hispanic and voted 58%-41% for Obama in 2012
Dold yday said Trump's controversial "Second Amendment People" comments Aug. 9 were "really dangerous and can't be tolerated," CBS 2 Chicago reported; Democratic ex-Rep. Brad Schneider's campaign in statement said Dold was "commenting timidly after being forced to respond by media questioning"
Cook Political Report rates Dold-Schneider race as a tossup
MN-03: Republican Rep. Erik Paulsen said that his vote for president "has not been earned" and that "words matter" as he criticized Trump's statements about Clinton and 2nd Amendment, Star Tribune reported

Paulsen's Democratic challenger, state Sen. Terri Bonoff, said in statement: "Erik Paulsen, what could this man possibly do at this point to earn your support?"
Paulsen endorsed by Chamber of Commerce in Twin Cities suburban district that includes Bloomington, Plymouth, Brooklyn Park and voted 50%-49% for Obama in 2012 election; Cook Political Report rating is "Lean Republican"
WA-08: Republican Rep. Dave Reichert said that he's "not going to endorse Donald Trump," and also won't vote for Clinton, according to KIRO-TV

"I don't know where Donald Trump's going to end up here, whether or not he'll still be a candidate in the next couple of months," said Reichert, who's in his sixth term representing some suburbs of Seattle and Tacoma
Reichert's district voted for Obama 50%-48% in 2012, but Democrats have in effect conceded race after Democrat Tony Ventrella, a former sportscaster, won nomination Aug. 2 despite dropping out of race last month
Before it's here, it's on the Bloomberg Terminal.
LEARN MORE