FBI Said to Have High Confidence Russia Hacked Democrats
by and
Federal investigation expanding beyond intrusions at DNC, DCCC

'This is an electronic Watergate,' Democrat Pelosi says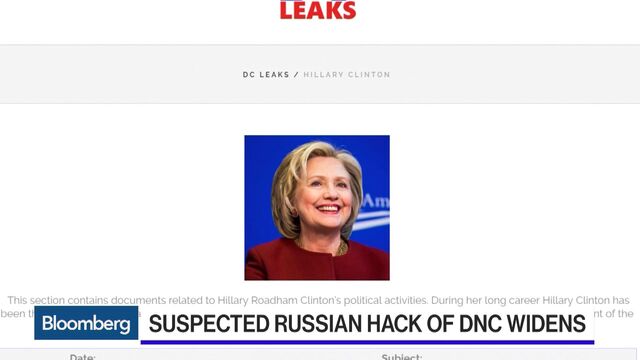 The FBI has high confidence the Russian government hacked U.S. Democratic Party groups and the personal e-mails of political operatives, according to a person familiar with the findings, a development sure to heighten tensions between Moscow and Washington.
The federal investigation into the hacks has expanded based on evidence that other Democratic-affiliated groups were targeted in addition to the Democratic National Committee and the Democratic Congressional Campaign Committee. That includes the likelihood that personal e-mail accounts of party groups and officials were breached, according to the person, who asked not be identified in order to speak about an ongoing investigation.
"High confidence" is a phrase used by intelligence agencies to signal near-certainty, so the findings, which haven't been publicly released, underscore the extent to which the Russian government has been found to have spied on this year's U.S. presidential elections.
"This is an electronic Watergate," House Democratic Leader Nancy Pelosi told reporters Thursday. "This is a break-in. And I think that we have to recognize what is happening here."
Related Story: Russian Hackers Said to Scoop Up Secrets From NATO, Soros
Kremlin spokesman Dmitry Peskov said Aug. 1 that the notion that Russia has been behind hacking attacks in the U.S. is absurd. FBI spokeswoman Jillian Stickels declined to comment about the agency's findings. The New York Times earlier reported that U.S. intelligence agencies had high confidence that Russian intelligence was behind the breach.
DNC Chair Debbie Wasserman Schultz was forced to resign last month after a firestorm over leaked e-mails posted by WikiLeaks showed committee staffers favored Hillary Clinton and attempted to undermine Senator Bernie Sanders for the Democratic presidential nomination. WikiLeaks founder Julian Assange, who has refused to say whether he got the information from Russian sources, has vowed the group will release more documents damaging to Clinton's campaign.
"The Russians broke in. Who did they give the information to, I don't know. Who dumped it, I don't know," Pelosi said at a news conference Thursday. She added, "Anyone who would exploit them for purpose of embarrassment or something like that is an accomplice."
Democrats have suggested Russia is hoping to help elect Republican presidential Donald Trump, who has called Putin a strong leader.
For a QuickTake Q&A on Trump and Putin, click here
Senate Democratic Leader Harry Reid of Nevada told reporters Thursday that the Russian hacking "should be a message to America that you can't hold hands with Putin," calling Trump "an enabler."
Trump, who has called Russian President Vladimir Putin a strong leader and "a man so highly respected in his own country and beyond," said last month that he hoped Russia could unearth deleted messages sent by Clinton when she was secretary of state. He later said it was a sarcastic remark.
Before it's here, it's on the Bloomberg Terminal.
LEARN MORE