Chelsea Clinton Testifies to Family Ties, and Political Ones
She highlighted a side of her mother that corresponded to polling weaknesses.
by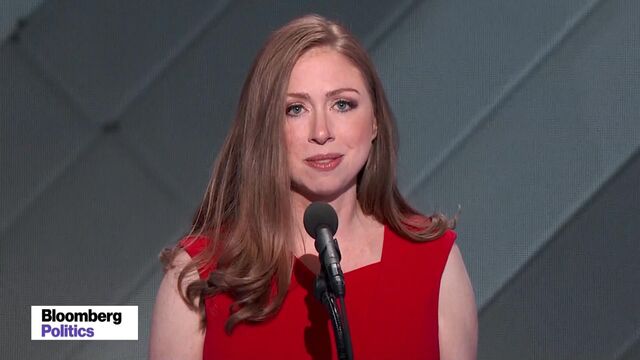 Chelsea Clinton introduced her mother as the Democratic presidential nominee in Philadelphia on Thursday, in a highly personal speech that, in contrast Ivanka Trump's testimonial of her own famous father a week earlier, dwelled on the closeness of their political unity as much as their familial one. 
Describing herself as a "proud mother" and a "very proud daughter," Clinton told the audience at Wells Fargo Center that "every day I spend as Charlotte and Aidan's mother, I think about my own mother—my wonderful, kind, thoughtful, hilarious mother."
While Clinton's speech focused on her mother's child-rearing, public service, and political battles, it also sought to bolster the nominee's lackluster polling numbers on the question of trustworthiness.
"Every single memory I have of my mom is that regardless of what is happening in her life, she was always, always there for me," Clinton said, adding, "She's a listener and a doer, she's a woman driven by compassion, by faith, by a fierce sense of justice and a heart full of love."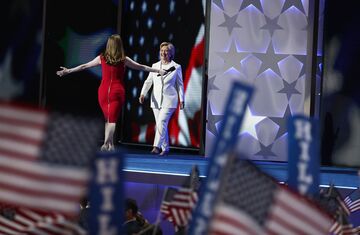 Just one week earlier, Ivanka Trump also painted her father as a caring, loving parent, describing him as a man who would "tear stories out of the newspaper about people whom he had never met, who were facing injustice or hardship" and have that person brought to Trump Tower.
Yet Ivanka Trump also began her remarks by noting that she was neither a Republican or a Democrat and then pivoted to policy proposals such as equal pay that her father has rarely mentioned on the campaign trail. 
"As president, my father will change the labor laws that were put into place at a time when women were not a significant portion of the workforce," Ivanka Trump said of her father. "And he will focus on making quality childcare affordable and accessible for all. He will fight for equal pay for equal work, and I will fight for this too, right along side of him."
Clinton, by contrast, painted her mother as her ideological mentor emphasizing their shared belief in liberal platforms such as LGBT rights, gun control, and criminal-justice reform. 
"There's something else that my mother taught me: Public service is about service. And as her daughter, I've had a special window into how she serves," Clinton said. 
In part, the two approaches highlighted the challenges for each candidate. Whereas Trump has yet to detail many of his emotionally resonant policy proposals, Clinton is seen as a wonk who can struggle to connect with an audience. 
Both daughters faced the task of humanizing their famous parents, and the differences in their speeches highlighted the different struggles that each candidate faces heading in to the general election. As Chelsea Clinton aimed to soften the image of her mother through endearing stories of her roles as a mother and grandmother, Ivanka Trump offered specific policy commitments, specifically as they pertain to working women.
While Ivanka Trump had three of her siblings—Donald Jr., Eric, and Tiffany—to help her humanize the candidate as a doting parent, Chelsea Clinton is an only child.
Both potential first children have been friends for years, and were introduced by their husbands. Earlier this week, during a Facebook Live event with Glamour magazine, Clinton was asked about Trump's promises to working women. Clinton responded by challenging the Trump campaign for an explanation on how the Republican expects to deliver on those promises.
"It's not something that he has spoken about, there are no policies on any of those fronts that you just mentioned on his website—not last week, not this week, so I think the 'how' question is super important," Clinton said. 
Before it's here, it's on the Bloomberg Terminal.
LEARN MORE