Trump Adviser in Moscow Scolds U.S. as Hypocritical on Democracy
by
Ex-Merrill Lynch banker Page is critical of U.S. Russia policy

Putin has welcomed Trump vow to improve U.S. ties with Russia
A foreign-policy adviser to Donald Trump used a speech in Moscow to criticize the U.S. and other western governments for a "hypocritical focus" on democracy and corruption and to highlight the benefits of "mutual respect" between major powers.
Carter Page, an American investment banker who lived three years in Moscow and was named as an adviser by the presumptive Republican presidential nominee in March, said the U.S. and other developed nations have been critical of countries, particularly in Central Asia, for governing practices that were "prevalent during the Cold War."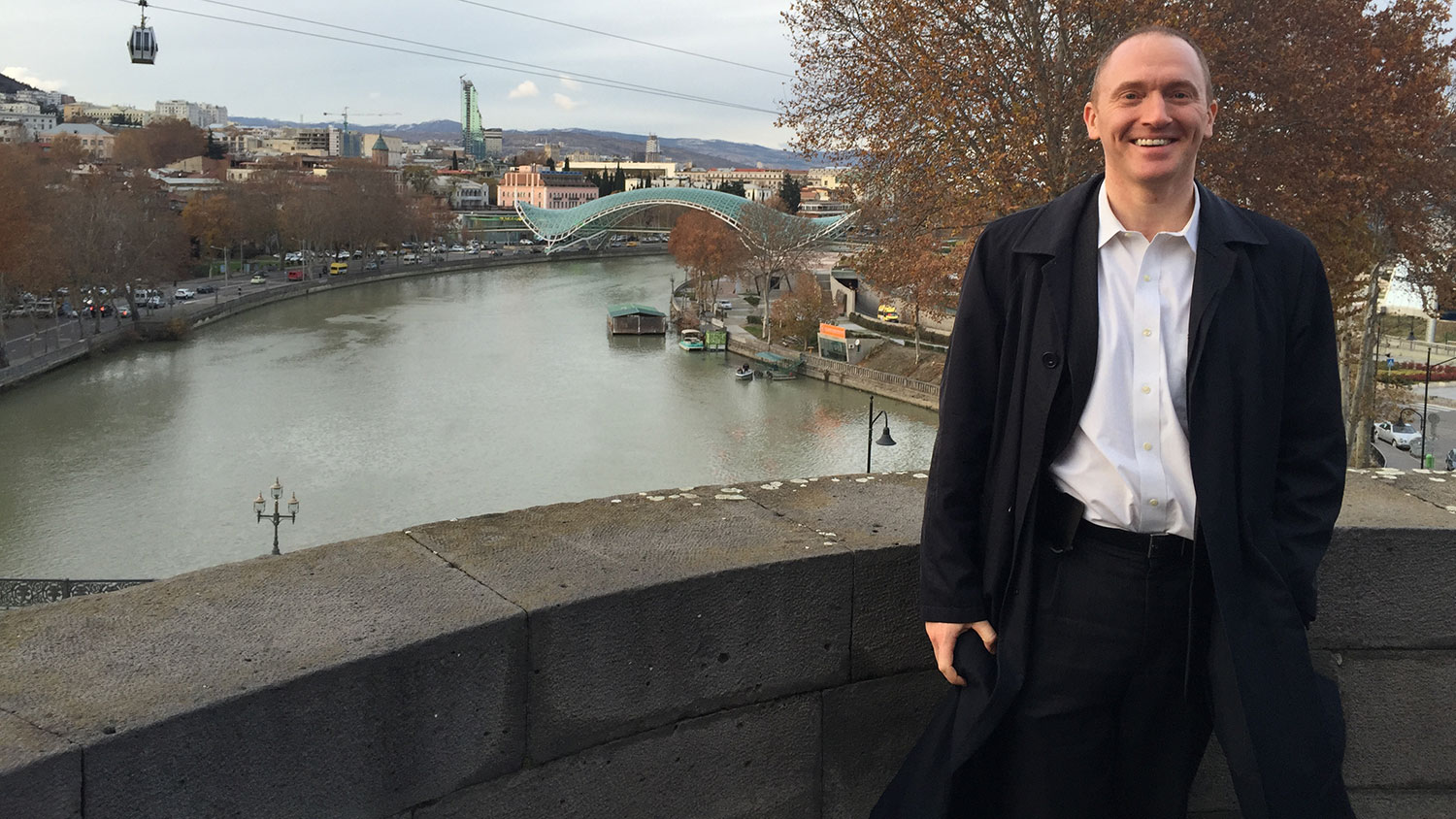 "Yet, ironically, Washington and other Western powers have impeded potential progress through their often hypocritical focus on ideas such as democratization, inequality, corruption and regime change," said Page, who has criticized U.S. policy makers as stuck in a Cold War mindset.
Page made his comments in a speech Thursday on the world economy at the invitation of the New Economic School, whose board of directors includes Russian Deputy Prime Minister Arkady Dvorkovich and Economy Minister Alexei Ulyukayev. He'll also address the university's graduation ceremony on Friday. President Barack Obama delivered a speech at the same graduation event in 2009.
Resuming Ties
Trump has voiced optimism that he and President Vladimir Putin could establish a productive relationship. The Russian leader has dialed back some of his previous praise for Trump, though he said last month that he welcomed the U.S. politician's pledge for a "full-scale resumption" of Russia-U.S. ties.
Page said he's visiting Russia in a private capacity, and has no meetings planned with the Russian government. Putin's spokesman, Dmitry Peskov, said Page won't see any Kremlin officials. He isn't representing the Trump campaign on his trip to Russia, campaign spokeswoman Hope Hicks said by e-mail.
Even so, Page may make informal contact with the Russian establishment, according to Sergei Markov, a political consultant to Putin's staff. The Kremlin is looking for ways to reach out to the Trump camp, he said.
"Trump is promising an end to constant pressure against Russia and we're interested in finding out if this is just a populist promise or something more serious," Markov said by phone.
A 'Genius'
Trump has boasted that Putin had called him a "genius" after the Russian president in December responded to a reporter's question by calling him a "very colorful and talented man" who wanted to move Russia-U.S.-ties to a "deeper level." During an appearance in June at the St. Petersburg International Economic Forum, Putin said: "Isn't he colorful? He's colorful. I didn't ascribe any other qualities to him."
Democratic candidate Hillary Clinton, the former U.S. secretary of state, is viewed warily in Russia. Konstantin Kosachyov, head of the foreign-affairs committee in Russia's upper house of parliament, said she probably will provoke worsening tensions with Russia if she becomes president. At the same time, while Trump offers the tantalizing prospect of better relations, he's also scarily unpredictable, Kosyachov said in an interview.
'Moral Superiority'
In a 2015 blog, Page called the Obama administration's approach to Russia "sanctimonious," with an air of "moral superiority" comparable to that of a slave-owner to a slave. He criticized the administration for encouraging the overthrow of Ukraine's Russian-backed President Viktor Yanukovych.
During his speech, in which he appeared to defend the authoritarian model in former Soviet Central Asian republics, Page cited a 2012 decree by Putin and a speech by a Chinese leader. China and Russia, he said, have policies based on the principles of mutual respect, equality and mutual benefit. That has worked to the advantage of all parties in their relationships, he said.
After dodging repeated questions about whether he would support a lifting of U.S. sanctions against Russia imposed over its annexation of Crimea and east Ukraine intervention, Page said the U.S. political system is "not as liberal" as it appears.
Before it's here, it's on the Bloomberg Terminal.
LEARN MORE