Media Matters
Clinton Is Content Letting Trump Dominate News Cycles
The presumptive Democratic nominee's advisers are betting that Trump will show there is such a thing as bad publicity.
by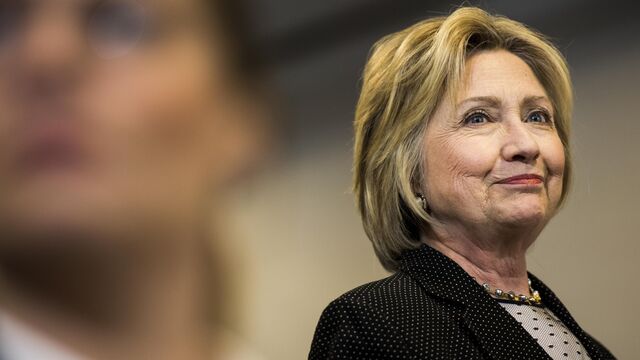 Hillary Clinton is getting trounced by Donald Trump when it comes to sheer volume of media coverage, and that's just fine with her.
The presumptive Democratic nominee and her advisers are betting that when it come to Trump, there is such a thing as bad publicity. Their theory is that the wall-to-wall attention Trump has received, often when creating controversy, has driven his unfavorable ratings to an all-time high for a major-party presidential candidate—66 percent in a Bloomberg Politics poll last week and 70 percent in a recent Washington Post/ABC News survey.
"We know Trump's willingness to say outrageously offensive things—or lately, the turmoil in his campaign—has the potential to overtake the news cycle," Clinton campaign spokesman Brian Fallon said in an e-mail. "His ability to dominate a news cycle does not necessarily correspond with winning that news cycle. In fact, it usually means the opposite."
Formulating a campaign strategy around that assumption is part calculation, part necessity. Clinton is by nature a more scripted and cautious politician, and she lacks Trump's talent—honed as a reality TV star—for capturing attention by being flashy or confrontational. A famously secretive person, Clinton, by her own admission, lacks the political talent of her husband, former President Bill Clinton, or President Barack Obama. She also has built up a deep distrust of the press over two-and-a-half decades in the public eye, as first lady, U.S. senator and secretary of state.
While Trump's unconventional campaign revolves around free media attention and large rallies, Clinton so far has taken a more traditional approach that includes paid advertising, set-piece speeches and ground organization in battleground states.
'She's Really Boring'
"Earned media is superior to paid media because it's much more authentic. The way you get free media is by being interesting. You don't get it by saying boring stuff. Trump says a lot of stuff that's not boring. Very provocative. Not really factually based, but always interesting," said John Feehery, a Republican strategist and lobbyist. "Hillary's a little bit different. She's not that interesting. She's really boring."
Jim Manley, a former communications strategist for Senate Minority Leader Harry Reid and the late Senator Ted Kennedy, is among Democrats who say Clinton should be doing more interviews and news conferences—outside of occasional and brief interchanges with reporters her last was on Dec. 4, 2015. But he said trying to match Trump's attention-grabbing tactics is "a losing proposition.''
"You can spend the entire campaign chasing Donald Trump around, which is exactly the scenario Trump wants her to be in," said Steve Schale, who managed Obama's 2008 campaign in Florida. Instead, Clinton can "surgically define him through paid media" and opportunities for news coverage to reinforce her message, argued Schale, as she has did earlier this week with back-to-back speeches on economic policy and last week in a national security address that excoriated Trump as dangerous and unfit for the presidency.
That's where Clinton can use her unprecedented cash-on-hand advantage—$42 million as of May 31, to Trump's $1.3 million—to exert more control over the election agenda. Her campaign last week unleashed an TV ad blitz in at least eight battleground states: Colorado, Florida, Iowa, Nevada, New Hampshire, North Carolina, Ohio and Virginia.
'Sky Isn't Falling'
Clinton's strategy was evident Monday when news of Trump firing his campaign manager, Corey Lewandowski, consumed hours on cable news. The Clinton campaign didn't try to compete for attention. In a remarkable contrast, the main Clinton news of the day was when a reporter photographed her leaving a hospital with daughter Chelsea, who had given birth to a second child. Fallon made the point explicit with a tweet.
A similar dynamic occurred earlier in June when Trump drew days of media coverage by questioning the objectivity of a federal judge overseeing his Trump University fraud case because of his Mexican ancestry. The concentrated coverage has, at times, posed a downside by starving Clinton's meticulously crafted policy proposals for attention. Asked if that's a concern, Fallon responded, "Cable news is not the only outlet for promoting her proposals."
Trump's bluster is reinforcing Clinton's instincts for caution. She has led Trump in every major national poll in the last month, by as much as 12 points in a mid-June Bloomberg Politics survey. Recognizing that Americans have concerns about his temperament, she wants to appear cool-headed in the face of his bluster. The contrast with Trump also has mitigated some her own difficulties with many voters. Clinton's unfavorable ratings—54 percent in the Bloomberg poll and 55 percent in the Post poll—are the second-highest of any modern presumptive nominee, behind only Trump. Poll after poll has found that large majorities of Americans don't view her as honest or trustworthy.
'All In On White Voters'
Clinton is counting on the media coverage drawn by Trump's brash political incorrectness—which helped him with the older, whiter and more male portions of Republican primary voters—hurting him with a demographically diverse electorate in the Nov. 8 general election. The latest a Washington Post/ABC survey in June found sky-high unfavorable ratings for Trump among blacks (94 percent), Hispanics (89 percent) and women (77 percent).
Trump is "going all in on white voters'' and "that's a big gamble," said Feehery. "But he's got a shot if he gets his act together. He's got to stop saying really stupid stuff. He's got to keep the attacks on Hillary. He's got to become a more disciplined campaigner.''
Ultimately, some Clinton supporters say she doesn't need to compete with Trump for media attention because the election won't come down to political junkies.
"The types of people who decide elections are not the primary voters who watch the back and forth all day long on cable TV," Schale said. "Trump can scream and yell all he wants on MSNBC Fox and CNN," he said, but posited that it will help Clinton rally her troops. "What you're seeing is Trump unifying the Democratic Party on his own."
Before it's here, it's on the Bloomberg Terminal.
LEARN MORE