U.S. ELECTION WRAP: Poll Nuggets Glimmer With Bad News for Trump
by , , and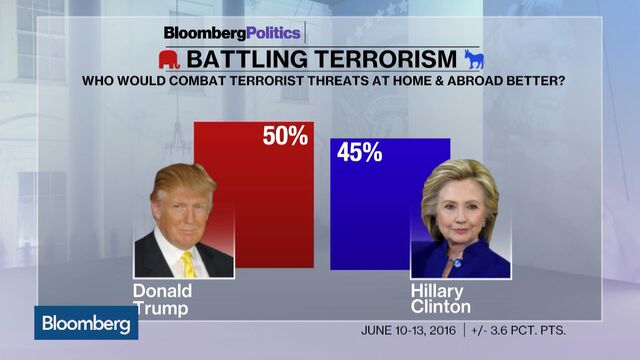 A raft of new polling that show brighter prospects for Hillary Clinton also offer some key results that undercut the case for a Donald Trump triumph in November.
A brief Washington Post poll released today shows the presumptive GOP nominee with stratospheric negative ratings -- 70%

The Post reports that Trump's negative ratings "are up 10 percentage points from last month to their highest point since he announced his candidacy last summer, nearly reaching the level seen before his campaign began (71%)"

One solace for the Trump forces: Clinton's is rated negatively by 55%, "her worst ratings in more two decades in public life"
The Bloomberg Politics national poll released late yesterday, along with giving Clinton a 12-point advantage over Trump among likely voters, spell particular trouble for the Republican among demographic groups

63% of women say they could never vote for him; poll director J. Ann Selzer notes: "If you can never get the vote of two in three women, who are a majority of voters, that is something that has to change for Trump to emerge victorious"
Also ruling out ever voting for the businessman are similar proportions of those under 35 years of age -- a group Bernie Sanders dominated in his primary challenge to Clinton and that Trump wants to attract -- and those with annual incomes of less than $50,000 -- another population segment seen as crucial to Trump's hopes

Finally, a Marquette Law School poll of likely voters in Wis. shows Clinton leading Trump 46%-37%

Though Obama won Wis. in 2012 by 7 points, Trump has targeted flipping industrial Midwest states as key to White House hopes
The latest match-up results not only are a blow to that strategy, but poll director Charles Franklin says a drop in GOP voter enthusiasm shown in survey is "substantial"

ON THE TRAIL
Swing-state Republicans are relying on Trump's force of personality to carry battleground states -- "His job is to be Mr. Trump," the Pa. GOP chairman says -- while Democrats banking on ground game and organization, Politico reports
All three major cable news networks -- Fox News, CNN, MSNBC -- cut away from Trump's speech in Atlanta today before he finished to air Clinton's comments: NPR
Talking Points Memo's Josh Marshall argues Trump campaign's recent stumbles aren't because the candidate changed -- he didn't -- but in part because the audience did

During primary campaign, "provocation and offense didn't hurt Trump because, as I argued at the time, he was preaching to an audience that yearned for both as positive goods. Campaigning in front of a general election audience today it's all working quite differently"
"In front of a different audience, a different electorate, Trump looks like a racist candidate, who is temperamentally erratic, proposing unhinged policies with pretty much the results you'd expect"

POLLS
In Marquette Law School poll of Wis. voters, Republicans and likely GOP voters back Speaker Paul Ryan's endorsement of Trump by 69%-23% margin; Ryan is from Janesville in south-central Wis.

ENDORSEMENTS
National Rifle Assn officials say they would be "happy" to meet with Trump

Says position unchanged on banning gun sales to people on air-travel watch list
NRA agrees terrorists shouldn't be allowed to purchase or possess firearms, but says in statement that "due process protections should be put in place that allow law-abiding Americans who are wrongly put on a watchlist to be removed"
Says President Obama and allies "would prefer to play politics with this issue"

ETC.
More than 1.6m GOP primary voters -- about 5.4% of them --backed Republican candidates who had already ended their campaigns, according to an analysis by Smart Politics, the non-partisan political newssite of Eric Ostermeier, of the Center for the Study of Politics and Governance at the Univ. of Minn.

Republican voters set party records with >30m ballots cast in primaries and caucuses through last week's June 7th contests
Top vote-getters among departed candidates incl. John Kasich, Ted Cruz, Ben Carson
NOTE: GOP initially had 17 major candidates running for White House, with 14 appearing on at least one state ballot this cycle

CONGRESSIONAL RACES
FL-SEN: Republican Rep. David Jolly will announce June 17 whether he'll remain in race for what may -- or may not --be for an open Senate seat, he said today on Fox News

"I will make an announcement Friday about my future intentions in Congress," Jolly said
NOTE: Jolly could leave crowded Senate primary and seek re-election against ex-Gov. Charlie Crist in FL-13;

Jolly entered Senate race after redistricting added more Democrats to his Tampa Bay-area district

Jolly has said he would support GOP Sen. Marco Rubio if the former GOP presidential candidate rescinds his earlier decision to retire
NOTE: Rubio has said it's unlikely he'll enter Senate race with his friend, Lt. Gov. Carlos Lopez-Cantera, seeking to succeed him, but he has until the candidate filing deadline on June 24 to change his mind
Politico reports Lopez-Cantera told Rubio over weekend he should reconsider running for his seat; Lopez-Cantera said in interview "Nothing has changed. I'm still running. Marco isn't."
Democratic field includes Rep. Patrick Murphy, who announced legislation to help state and local governments combat spread of Zika virus

LA-SEN: Staff for Rep. Charles Boustany accidentally broadcast private conversation congressman had about his Senate campaign through his official Facebook page -- incl. discussions about campaign rivals John Kennedy, Rep. John Fleming, New Orleans Times-Picayune reports

Staffers didn't realize they had activated Facebook Live feed on mobile phone for more than two minutes

WI-SEN: Marquette Law School Poll has Democrat Russ Feingold at 51%, incumbent Republican Ron Johnson at 42% among likely voters
IL-10: GOP Rep. Bob Dold says Orlando mass shooting shows "pressing need" for bipartisan action to curb gun violence, anti-LGBT bigotry, radical Islamic extremism, Chicago Tribune reported

"Thoughts and prayers are not enough, and it's time for action," Dold said in House floor speech yesterday
Dold called for universal background checks and, joining with Rep. Debbie Dingell, legislation to keep stalkers and people who have abused dating partners from buying or owning firearms
Dold opposed by ex-Rep. Brad Schneider, who beat Dold in 2012 then lost to him in 2014 in Democratic-leaning district in Chicago suburbs

MI-01: Retiring GOP Rep. Dan Benishek's Upper Peninsula district "will be one to watch right down to Election Day," Michigan Radio's Jack Lessenberry writes in profile of race

Aug. Republican primary includes state Sen. Tom Casperson, ex-state Sen. Jason Allen, retired Marine Corps Lt. Gen. Jack Bergman; Democrats in race are state party chair Lon Johnson, 2014 nominee Jerry Cannon

NY-24: Democrat Colleen Deacon in TV ad notes background as single mother, says she'll work with Democratic N.Y. Sen. Kirsten Gillibrand on paid family leave legislation, support equal pay for women, protect Planned Parenthood from "Republican extremism"

Deacon is former Gillibrand aide
Democrat Eric Kingson said in TV ad that public needs "consistent, hard-working members of government who understand the issues" and "have compassion"
Kingson is Syracuse University social-work professor, Democratic primary on June 28 also includes Steve Williams; winner to face GOP Rep. John Katko in Democratic-leaning district
OK-01: Character Is Essential, a super-PAC aiding Republican Rep. Jim Bridenstine, has begun spending to help the two-term Republican in June 28 primary, according to FEC filings

Bridenstine opposed by energy executive Tom Atkinson, frequent candidate Evelyn Rogers in Tulsa-based district
Before it's here, it's on the Bloomberg Terminal.
LEARN MORE