U.S. ELECTION WRAP: Obama Adds Finishing Touch to Clinton's Win
by and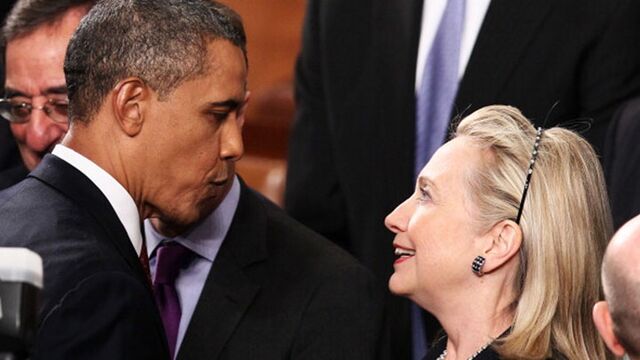 The Democratic race for president is over, even if Bernie Sanders hasn't formally conceded yet. Days after Hillary Clinton clinched the delegates needed to win the party's nomination, President Obama crowned a good week for her with three simple words: "I'm with her."
Obama: "I don't think there's ever been someone so qualified to hold this office"

White House spokesman Josh Earnest later said the statement includes Obama himself, when he defeated her for the party's nod in 2008

Earnest says Obama-Sanders meeting today was a "friendly'' visit focused on the future

Sanders, after meeting, tells reporters at the White House he hopes to meet with Clinton soon and will do all he can to prevent Donald Trump from becoming president
Sanders remarks often were in the past tense, even as he reiterated his pledge to keep campaigning through the D.C. primary next Tuesday; said his campaign "has been" a movement against poverty and dominance of billionaires, and he will spotlight these issues at Democratic convention next month
Trump responds to Obama endorsement on Twitter: "Obama just endorsed Crooked Hillary. He wants four more years of Obama—but nobody else does!"
Clinton on Twitter shoots back: "Delete your account"
Twitter says that's her most retweeted tweet ever; 130,000 retweets in less than two hours

ON THE TRAIL
Clinton in an interview tells Bloomberg Politics she plans to work with Sen. Elizabeth Warren and others on how to implement efforts to rein in Wall Street.
Trump was meeting with several industry lobbyists today in N.Y., Daily Beast reports, including from defense, energy, health-care, manufacturing, finance, and commerce industries

RYAN'S AGENDA
House Speaker Paul Ryan says he's standing by his Trump endorsement despite recent comments by the candidate he deemed "racist" because the businessman won the GOP primary race "fair and square"
Ryan comments in radio interview prior to unveiling House GOP national security plan
Plan needed because "we don't really have a foreign policy right now. We have a president phoning it in," Ryan says
Plan doesn't mention building wall on U.S. border with Mexico—cornerstone of Trump's campaign—and says, "we need more than just fencing"

Also says: "Make no mistake: The borders are not secure and the threats along them are growing more dynamic by the day"

HENSARLING'S AGENDA
House Financial Services Chairman Jeb Hensarling says that while, like many GOP leaders, he's had disagreements with Trump, there's "common ground" with him on efforts to overhaul and "replace" 2010 Dodd-Frank legislation.

ADS
Billionaire Charles Koch, who with his brother David have been major financiers of conservative causes in recent years—and major targets of Democratic attacks—is paying for TV and digital ads that call on Americans to "end the divide" and "get a national conversation going," USA Today reports

ENDORSEMENTS
Ohio Gov. John Kasich says "hard to say" whether he'll endorse Trump: Fox News
Ex-GE CEO Jack Welch on Bloomberg TV reiterated his support for Trump, adding: "I'd vote for just about any human being against Hillary Clinton in this election"
But Welch scolds Trump for his controversial comments that a federal judge's "Mexican heritage" has made the jurist biased against him
Welch now gives Trump "less than a 50-50 chance" of winning in November
"Get back on the real issues," Welch advises the candidate
Sierra Club backs Clinton
Martin O'Malley, whose long-shot run for the Democratic nomination ended after the first nominating contest in Iowa, endorsed Clinton

STAFF MOVES
Trump hires pollster John McLaughlin to focus on New York: New York Times
NOTE: The state hasn't voted GOP for president since 1984; Trump, a N.Y. native, has said he thinks he can put it in play

ETC.
CNBC's John Harwood has a detailed primary autopsy interview with Mike Murphy, who led the $100 million Jeb Bush-backing Right to Rise PAC
Murphy: "The archaeologists will be studying the ruins for a while"
On if he feels guilty he couldn't stop Trump: "I think my powers are overrated and limited"
Washington Post's Paul Kane writes that Republican Rep. Eric Cantor's 2014 primary loss in Va. to David Brat still reverberates in 2016
Kane quotes Rep. Thomas Massie, R-Ky., calling Brat's win "a wake-up call to Washington, D.C., that they didn't answer. And that's why we have Donald Trump"
Queen guitarist Brian May says Trump didn't get permission to use "We Are the Champions" as his entrance music at his June 7 "victory" speech in Westchester, N.Y.: The Hill

CONGRESSIONAL
CO-SEN: A signature-gatherer who helped Republican Jon Keyser get on June 28 primary ballot was arrested yday, Roll Call reports, charged with turning in 34 forged signatures
Winner of five-candidate primary will face Democratic Sen. Michael Bennet
FL-SEN: Rep. David Jolly may withdraw from five-candidate GOP primary race for now held by Marco Rubio and run for House re-election in FL-13, Politico reports
Republican-turned-Democrat Charlie Crist seeking Jolly's House seat
Rubio decided to give up Senate seat to launch GOP presidential bid, but with his White House bid having ended, party leaders are pressuring him to file for re-election before June 24 deadline
OH-SEN: Democrat Ted Strickland campaigns in the Appalachian coal part of eastern Ohio to mixed reactions, Cincinnati Enquirer reports
Newspaper says Clinton's anti-coal comments haven't been forgotten and that hampers Strickland's bid to unseat Republican Sen. Rob Portman
Political arm of United Mine Workers, which had backed Strickland in his gubernatorial runs, is backing Portman
Still, Enquirer says Portman not well known in Appalachian Ohio; quotes locals referring to the incumbent senator as "the other guy" and "what's his face"
FL-11: Rep. Dan Webster up with first ad, Florida Politics reports, says "Washington is broken" and he made his failed bid for speaker in Jan. 2015 against John Boehner to "get the House in order"
Webster running in adjacent district now held by retiring Republican Richard Nugent against Nugent's former chief of staff, Justin Grabelle; Webster switched districts after redistricting made his FL-10 strongly Democratic
NH-1: Shawn O'Connor, who had been running in the Democratic primary against ex-Rep. Carol Shea-Porter, will seek the seat as an independent in Nov. election, he says in WMUR interview
Shea-Porter now has no opposition in primary
GOP incumbent Frank Guinta, who has traded the seat back-and-forth with Shea-Porter in recent elections, has 2 opponents in Sept. 13 primary
Before it's here, it's on the Bloomberg Terminal.
LEARN MORE