Obama Directive on Transgender Students Fuels Cultural Battle
by
Administration tells schools to accommodate gender identity

Guidance follows lawsuit seeking to block North Carolina law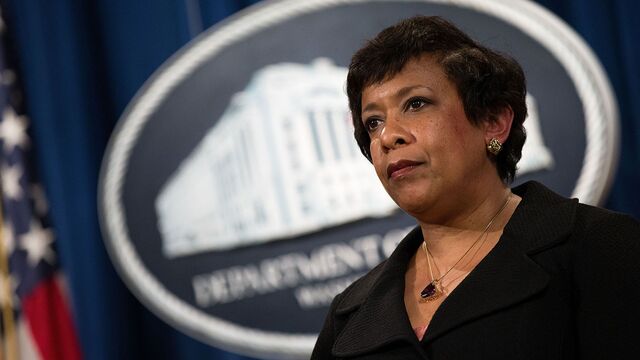 Republicans and social conservatives sharply criticized the Obama administration over a directive instructing U.S. public schools to let transgender students to use bathrooms and locker rooms based on their gender identity, the latest dividing line in the country's culture wars.
The Education and Justice departments released guidance Friday to public school districts across the nation as part of an administration effort to protect transgender rights. Earlier this week, the federal government sued North Carolina over a state law forcing transgender people to use public restrooms based on the sex identified on their birth certificate.
Republican Representative Diane Black of Tennessee denounced the administration guidelines as an "attempt to bully our local schools into submission." Republican House Education Committee Chairman John Kline of Minnesota blasted the guidelines as "a unilateral decree" imposed "by a lawless administration." Texas's Republican Lieutenant Governor, Dan Patrick, said it "will be the beginning of the end of the public school system as we know it."
Cultural Battle
The fight over use public bathrooms and locker rooms by transgender people follows battles between social conservatives and gay rights proponents over same-sex marriage and military service by openly gay members of the armed forces. It's the latest chapter in a heated debate over cultural and social norms that has been roiling U.S. politics since the 1970s.
The split has generally been along partisan lines with President Barack Obama and many other Democrats siding with gay-rights advocates. Presumptive Republican presidential nominee Donald Trump said on the NBC's "Today" show that the administration should stay out of the fight.
"Let the states decide, and I think it's much better as a local issue: I don't think it's a federal issue," Trump said. "Everybody has to be protected and I feel strongly about that, but you're talking about a tiny, tiny group of population."
Civil Rights
Administration officials cast the issue as a civil rights cause in announcing the guidelines.
"There is no room in our schools for discrimination of any kind, including discrimination against transgender students on the basis of their sex," U.S. Attorney General Loretta Lynch said in a statement on the guidelines.
"No student should ever have to go through the experience of feeling unwelcome at school or on a college campus," said U.S. Secretary of Education John B. King Jr.
While the letter to be sent to all U.S. school districts isn't legally binding, it notifies them of the Obama administration's interpretation of what they are required to do under federal gender discrimination laws, implicitly carrying the threat of a lawsuit or federal funding cut-off for school districts or colleges that don't comply.
The action broadens a political fight that has been intensifying in local communities around the country and emerged on the national stage with the North Carolina bathroom law. Since the North Carolina law was passed, companies including PayPal Holdings Inc. and Deutsche Bank AG have announced they were pulling back from plans to expand in the state. Bruce Springsteen and Ringo Starr canceled concerts there.
Local Actions
Several school districts' attempts to accommodate transgender students have provoked criticism from local Republican leaders. Patrick, the Texas lieutenant governor, called for the resignation of the Fort Worth schools superintendent after the administrator took steps to permit use of bathrooms based on gender identity. Georgia's Republican state House Speaker, David Ralston, responded this week to a north Georgia county school system's decision to establish unisex bathrooms with a public letter to the state's U.S. senators urging them to prevent federal funding cut-offs to non-compliant school districts.
Rodney Cavness, superintendent of the Port Neches-Groves Independent School District in Texas, told local television station KBMT the Obama administration letter "is going straight to the paper shredder." The administration, he said, "is destroying the very fiber of this country."
'Ground Breaking'
Chad Griffin, president of the Human Rights Campaign, the nation's largest lesbian, gay, bisexual and transgender rights advocacy group, praised the Obama administration's "ground-breaking" guidelines as "a truly significant moment not only for transgender young people but for all young people, sending a message that every student deserves to be treated fairly."
The administration said it's issuing the guidelines to respond to questions that have arisen from school districts, colleges, universities and others on how to accommodate transgender students.
"Schools have a responsibility to provide a safe and nondiscriminatory environment for all students, including transgender students," the agencies wrote in the guidance sent to schools. "Harassment that targets a student based on gender identity, transgender status, or gender transition is harassment based on sex," which is prohibited under federal law barring discrimination in education.
The guidelines direct schools to treat a student based on gender identity once notified by the student's parents or, as appropriate, the student, even if that conflicts with the gender in their school records or other identity documents. A school isn't allowed to require transgender students to have medical treatment or a medical diagnosis to do so.
Before it's here, it's on the Bloomberg Terminal.
LEARN MORE