Obama Blames Antipathy Toward Government for Flint Water Crisis
by and
Says 'corrosive attitude' contributed to 'man-made disaster'

President says filtered water is safe and drinks from a glass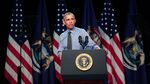 Widespread water contamination in Flint, Michigan, was a "man-made disaster" brought about in part by a political preference for small government, President Barack Obama in a visit on Wednesday to the city.
In a speech to about 1,000 residents, Obama urged them to resist assumptions that their children have been permanently harmed by consuming water with lead, and blamed "a mindset that believes that less government is the highest good, no matter what." He didn't mention Michigan's Republican governor, Rick Snyder, who addressed the audience earlier and professes the virtues of smaller government. Snyder has borne much of the blame for the contamination.
"I do not believe that anybody consciously wanted to hurt the people in Flint, and this is not the place to sort every screw-up that resulted in contaminated water," Obama said. "This myth that government is always the enemy -- that forgets that our government is us, that it's an extension of us, ourselves. That attitude is as corrosive to democracy as the stuff that resulted in lead in your water."
Prior to Obama's remarks, Snyder was booed as he publicly apologized to the same audience for the mishaps that led to the contamination. Michigan Attorney General Bill Schuette on April 20 charged two state officials and one city official with felonies related to the contamination.
The president drank filtered water from Flint's taps at least twice during his visit, including in the middle of his speech when he asked for a glass of water. Obama, Snyder and the city's mayor, Karen Weaver, received a briefing on the lead crisis from federal officials. Obama then met with afflicted families, including a girl who wrote him to request the visit.
"We've got a short-term challenge, which is water," Obama said after the briefing. "But we've also got a long-term challenge, which is to make sure the City of Flint can prosper going forward."
Long before its lead crisis, Flint was an infamous example of the corners of America hurt worst by globalization and the erosion of U.S. manufacturing. Filmmaker Michael Moore, a Flint native, documented the city's economic decline in the 1989 film "Roger and Me." About 42 percent of Flint residents lived in poverty in 2014, compared with 16 percent in Michigan overall, according to the U.S. Census, and the median home value was about $37,000, compared with $120,000 for the state.
Democratic Campaign

Obama said he discussed with Snyder and Weaver a plan to replace lead water pipes in the city, funded by the state and federal governments. The Environmental Protection Agency says the city's water is now only safe to drink when filtered.
"Because the state initially cut so many corners, it's going to be more expensive, much more expensive now than it would have been to avert the disaster in the first place," he said. The program should result in new jobs for Flint residents, he said, drawing applause from the audience.
Obama's visit draws fresh attention to a crisis that has become an emblem of America's decaying infrastructure and official indifference to the plight of poor and minority communities. The prolonged exposure of Flint's largely black population to unsafe levels of lead in their water already has featured prominently in a Democratic presidential primary campaign centered on economic inequality.
Hillary Clinton, the front-runner in the Democratic race, came to Flint in February to declare the delay in addressing the city's contaminated water "immoral." The party held a March debate between Clinton and her opponent, Vermont Senator Bernie Sanders, in the city to highlight the ramifications of the crisis.
Obama visited the North American International Auto Show in Detroit in January without stopping at Flint, about an hour's drive north, drawing criticism from Moore and others.
Initial indifference to the quality of Flint's water shown by state officials has special resonance among blacks, whose enthusiasm for voting in the fall will be crucial for Democrats without Obama leading the party's ticket. The city was 57 percent black in 2010, according to the Census. The high school where Obama spoke is 94 percent minority, according to U.S. News and World Report.
Michigan Senators Gary Peters and Debbie Stabenow, both Democrats, are pressing Congress for $100 million to fix Flint's water system and for access to $700 million in low-interest federal loans for the city.
Snyder's Crisis
"When is the state going to jump in as aggressively and effectively as the federal government has?" Stabenow said in an interview.
The lead crisis has a partisan cast because emergency city managers appointed by
Snyder moved to change the city's water supply to save money in 2013 and 2014, according to a report commissioned by Snyder's office. The state Department of Environmental Quality resisted acting on early complaints about water quality from city residents, the report found.
Snyder, who said last week his schedule was too busy to accommodate the president, met Obama at the airport.
Lead began leaching into Flint's water in 2014; the city advised residents in January 2015 that the water contained certain chemicals but was still safe to drink. The city didn't issue a warning about lead, which is especially dangerous to children and can cause permanent developmental delays.
Obama said he is worried about the city's children becoming stigmatized.
"Do not communicate to our children that they'll somehow be saddled with problems their entire lives," he said, noting that he had probably ingested lead as a child. "They will do fine, as long as we do right by them. And that's my intention."
Before it's here, it's on the Bloomberg Terminal.
LEARN MORE