Sanders Wins Wyoming to Boost Momentum Before New York Duel
by
Vermont senator on seven-state victory streak since March 22

Result means delegates split equally, no net gain for Sanders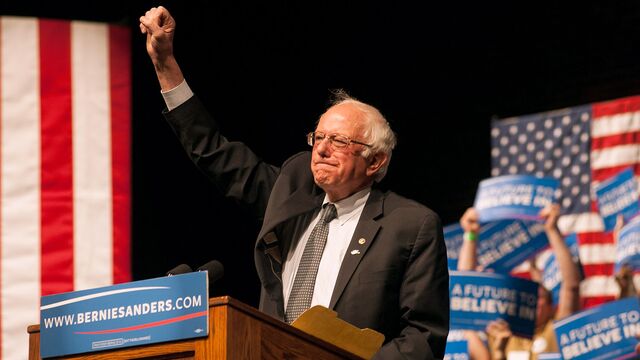 Democratic presidential candidate Bernie Sanders secured his seventh consecutive nominating-contest victory after voters caucused in Wyoming, to give his campaign a fresh shot of momentum heading into New York's pivotal primary later this month.
Sanders's had 56 percent of the vote to front-runner Hillary Clinton's 44 percent, yet the pair evenly split the state's 14 delegates, meaning the win did nothing to narrow the Vermont senator's disadvantage in pledged delegates. Wyoming will also send four superdelegates to the Democratic National Convention in Philadelphia in July.
"All right, news bulletin: we just won Wyoming," Sanders said during a rally at LaGuardia Community College in New York after his wife, Jane, went on stage to tell him the result. "No question in my mind that we have the momentum," he later told reporters.
Double-Digit Lead
The contenders next face off in New York on April 19, where 291 delegates are at stake -- the biggest nominating contest to date. Clinton, the former secretary of state who represented New York in the U.S. Senate, has a double-digit lead over the Brooklyn-born Sanders, according to an average of recent polls compiled by Real Clear Politics.
Clinton captured the Arizona primary on March 22. Since that result was called, Sanders has prevailed in Idaho and Utah, also on March 22, and in Alaska, Hawaii, Washington state and Wisconsin. He held his April 5 Wisconsin victory rally at the University of Wyoming in Laramie.
Sparsely populated Wyoming fits the profile of several states won by Sanders so far -- rural and mostly white -- and he had been expected to win by a sizable margin. Democrats are a minority in the state, which Mitt Romney carried over Barack Obama by 40 points in the 2012 general election. Obama won the 2008 Democratic caucus over Clinton by 61 percent to 38 percent.
Tumultuous Week
The Wyoming matchup capped a tumultuous week for Sanders, during which his campaign was engaged in a war of words with Clinton's team over the candidates' respective fitness to succeed Obama. Clinton said some of the answers Sanders gave in a recent interview with the New York Daily News made it seem like he "hadn't done his homework."
The Vermont senator still would need to overcome a large Clinton lead in pledged delegates and superdelegates -- party officials and elected lawmakers -- in order to secure the Democratic nomination at the July convention. A candidate needs 2,383 delegates to win.
Earlier Saturday, the Sanders campaign said the democratic socialist has more delegates than reflected in recent tallies by the AP. It estimated pledged delegates at 1,088 to Clinton's 1,302. The AP put the contest at 1,287 to 1,037 in Clinton's favor after the Wyoming vote.
Clinton spent Saturday stumping in New York City. She worked the room at Junior's Cheesecake in Brooklyn, where a diverse and enthusiastic crowd at one point started a "Hillary for President" chant.
The Republican National Committee, in a statement, said Clinton had lost her status as "inevitable front-runner" among Democrats after recent losses and termed the former first lady "beatable" in November if she becomes the nominee.
Before it's here, it's on the Bloomberg Terminal.
LEARN MORE