Obama Says Cuba Trip to `Bury the Last Remnant' of Cold War
by and
In televised speech, Obama declares he wants to end isolation

Baseball with Castro draws rebuke from human rights advocate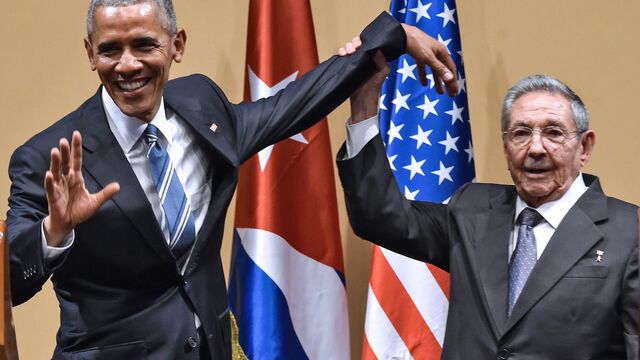 President Barack Obama appealed to the Cuban people to realize their potential with a more open, dynamic economy and leaned on the Cuban government to improve its human rights record, casting his visit to the country as a final repudiation of outdated ideology.
"My lifetime has spanned a time of isolation between us," Obama, born a year after the of the US. trade embargo began, said in a speech directly to the Communist nation's people, broadcast from the baroque Grand Theater of Havana. "I have come here to bury the last remnant of the Cold War in the Americas."
Obama acknowledged the tortured history between Cuba and the U.S., separated by just 90 miles of ocean but "barriers of history and ideology." He promised that the U.S. no longer harbors hostile designs against its neighbor, and that Cubans themselves must decide the future of the relationship between the countries.
The address was a key moment in Obama's visit, the first by a U.S. president in 88 years to a nation that for decades has been off-limits to most Americans. Cuban President Raul Castro, whose brother Fidel was one of the U.S.'s iconic Cold War antagonists, feted Obama with a state dinner last night and watched from the balcony of the theater as Obama delivered his address before over-sized Cuban and U.S. flags.
Obama's criticism of the Castro regime was largely oblique, expressed as a list of values treasured in the U.S. that are all but nonexistent in Cuba, including the rights to free speech, to protest the government and to elect the country's leaders. Yet the speech amounted to a clear challenge to the Cuban people to buck the economic and political conventions of a country visibly stuck in time, with its antique cars and crumbling colonial facades.
Noting that critics in the U.S. had demanded he deliver a speech along the lines of Ronald Reagan's call on the Soviet leader Mikhail Gorbachev to "tear down" the Berlin Wall, Obama made it clear he instead wanted to encourage Cubans to "lift something up, build something new."
"In the United States we have a clear monument to what the Cuban people can build," Obama said. "It's called Miami."
Economic Restrictions
He said his speech was aimed in particular at Cuba's youth, who deserve to be able to more freely start businesses and access the Internet. Economic restrictions including the country's dual currencies and government controls on hiring and firing were hindering Cuba's potential to create opportunities for its people, Obama said.
"There's no secret that our governments disagree on many of these issues," Obama said. He observed that "for many years" Raul Castro has pointed out shortcomings of the U.S. political and economic systems, including "economic inequality, the death penalty, racial discrimination, wars abroad."
"That's just a sample; he has a much longer list," Obama said with a chuckle.
But Obama said that his own example -- a child of modest means and mixed ancestry who achieved the presidency -- shows "what's possible in America."
Baseball Diplomacy
Thousands of Cubans lined Obama's motorcade route to the theater, some with video cameras. Obama was forced to rewrite his remarks in the morning to address terrorist attacks in Brussels that killed at least 31 people on Tuesday, calling the bombings "outrageous."
The visit concluded with a baseball game between the Major League Tampa Bay Rays and the Cuban national team. The crowd cheered and craned their necks for a glimpse when the Obama family entered the stands accompanied by Castro. The players each walked on field holding the hand of a Cuban child, then carried them around the infield. A Cuban girl on the hip of a Tampa Bay player kissed him on the cheek, and the crowd erupted in applause after a chorus sang "The Star Spangled Banner." A flock of birds was released.
In an interview with ESPN in the stands, Obama said that his daughters, Malia and Sasha, spoke with Castro's grandchildren during the visit. He cited "overall support" for his rapprochement with Cuba among the U.S. public and said he would "continue to put pressure" on the Cuban government to allow its citizens to earn money directly through their own businesses and foreign employment.
Human Rights
"The more we can create these pockets of opportunity and hope here," he said. "I have no doubt that eventually change is going to come."
Obama and Castro spoke animatedly throughout the game, and the Cuban leader made an unannounced appearance at the Havana airport to see Obama off. The U.S. leader is heading to Argentina, where he'll meet with the country's new president, Mauricio Macri.
The public events in Havana followed a day of meetings on Monday between Obama and Castro, including a surprise news conference in which the Cuban leader defended his government's human rights record. Castro suggested that gaps in the U.S. health care and education systems were tantamount to human rights abuses.
'El Futuro'
"For all of our differences, the Cuban and American people share common values in their own lives: a sense of patriotism and a lot of pride," Obama said in his televised speech. "I believe our grandchildren will look back at their period of isolation as an aberration."
"El futuro de Cuba tiene que estar en los manos del pueblo Cubano," Obama said in Spanish to his Cuban audience: The future of Cuba has to be in the hands of the Cuban people.
At the end of the speech, Raul Castro remained in the theater and the audience shouted to him, "Viva Cuba! Cuba Si!"
Obama followed his speech by meeting with Cuban political dissidents at the U.S. embassy. On Monday, a U.S. reporter asked Castro directly whether the island nation holds political prisoners, and called for their release. Castro's response: "Give me a list of the political prisoners and I will release them immediately." Dissident leaders planned to present Obama with just such lists at their meeting.
Obama said the dissidents had shown "extraordinary courage," noting that some of them have spent time in Cuban prisons. He said he had previously met some of them in Miami and Panama, and others for the first time today.
Republican Criticism
"Part of our policy with respect to engagement with Cuba is not simply me meeting with President Castro or government to government relations," Obama told the dissidents. "Much of this is a matter of us being able to hear directly from the Cuban people and making sure that they have a voice and making sure that their concerns and their ideas are helping to shape U.S. policy."
Obama has drawn criticism from Republicans for meeting with Castro while the Cuban government continues to imprison, detain and harass political opponents. Ruth Guerra, director of Hispanic media for the Republican National Committee, said Obama's visit is "legitimizing an oppressive regime and abandons the people he says this policy shift is all about."
Obama and his allies say U.S. policy for the last 55 years has failed, and only engagement with the Cuban government can improve the relationship between the two countries.
'Zero Impact'
"The previous policy of isolation had zero impact on human rights," said Jose Miguel Vivanco, director of the Americas program at Human Rights Watch. "Engagement alone is not sufficient. It's important that he listen directly to those Cubans whose life has been ruined, destroyed by a dictatorship."
Carlos Gutierrez, a Republican and former U.S. Commerce Secretary under President George W. Bush who accompanied Obama on his visit, said expanding economic relations with Cuba can improve human rights by creating jobs on the island. Human rights is a "very broad arena" and "the right to earn a living" is important, he told reporters in Havana on Monday.
Cuba would not be the first U.S. trading partner with a poor human rights record, Gutierrez said.
Before it's here, it's on the Bloomberg Terminal.
LEARN MORE