Clinton Strong in South Carolina But Warning Signs Ahead, Bloomberg Poll Shows
by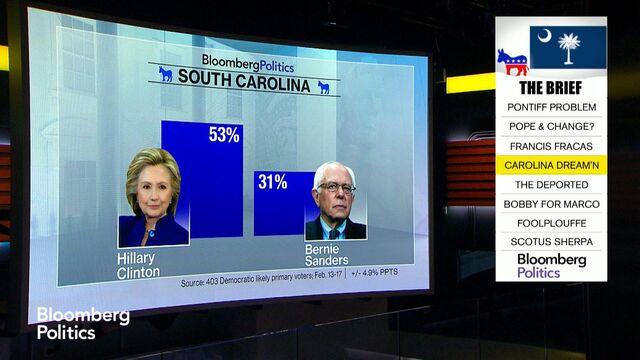 Hillary Clinton holds a commanding lead over Bernie Sanders in South Carolina thanks to a 3-to-1 advantage among African-American voters, according to a Bloomberg Politics poll that shows the Democrats' fourth nominating contest still can be a Clinton firewall to blunt her rival's momentum.
But the survey also carries warning signs for Clinton about where the loyalties of white Southern Democrats lie as the campaigns prepare for the crush of Super Tuesday contests just three days after South Carolina's Feb. 27 primary. And it underscores how crucial it will be for Clinton to sustain her lead with black and Hispanic voters, and turn them out, in those contests and beyond.
The former secretary of state leads Sanders 53 percent to 31 percent in the Bloomberg Politics South Carolina poll of likely Democratic primary voters conducted Feb. 13-17. The survey does not attempt to predict how South Carolina voters may be swayed by whatever happens in the Nevada caucuses on Feb. 20, where polling suggests Clinton is in danger of being overtaken by Sanders, a Vermont senator and self-described democratic socialist.
Read the poll questions and methodology here.

In South Carolina, where African-Americans account for about half of the Democratic vote, Clinton leads Sanders among black likely Democratic voters, 59 percent to 20 percent. But the state's white likely Democratic primary voters narrowly prefer Sanders, 45 percent to 42 percent, and Sanders is the runaway favorite with whites under 45 in the survey, 67 percent to 22 percent.
"It isn't that Sanders has faded. But she's just holding a commanding lead" in South Carolina, said pollster J. Ann Selzer, whose firm conducted the survey.

"If you're Clinton and you've just come out of a crushing defeat in New Hampshire and there's Bernie-mania everywhere with younger people, your footing isn't that sure," Selzer said, adding, "There's nothing to sneer at in terms of how Bernie Sanders is doing."
Clinton dominates Sanders on 14 of 16 questions about leadership traits in the survey, including which Democrat can win the general election and who is the more credible heir to Martin Luther King Jr.'s legacy. They tie on the question of who understands young South Carolinians better, and Sanders only barely edges out Clinton on the question of who can better take on powerful financial interests.
Again, though, it's black voters giving her that edge. When only the white voters' sentiments are examined, Clinton has the advantage on only eight of the 16 traits. Majorities of white survey respondents see Sanders as more likely to take on powerful financial interests, bring about change, care about people like them, be progressive and understand young people. Whites are divided over whether Clinton or Sanders better understands the black community, and give Sanders a slim edge on better representing King's legacy. 
Notably, those white likely voters nevertheless more commonly said Clinton is likely to win the general election. Blacks and whites alike said Clinton can better keep their families safe, be a strong leader, command the fear of U.S. enemies and respect of allies, bring experience to the job, impose gun safety regulations and fit with Southern culture and values. 
Though South Carolina elects Republicans in general elections, the heavily black vote in the Democratic contest makes the state an important early barometer for candidates' appeal in places more diverse than heavily white Iowa and New Hampshire.
Super Tuesday's primaries and caucuses include some states where blacks and Hispanics comprised a majority in 2008 primary exit polls: Texas, Alabama and Georgia. Other states are predominately white: Massachusetts, Minnesota, Oklahoma, Sanders' home state of Vermont, and Arkansas, where Clinton's husband was governor before he became president. Sanders' campaign has said it plans to run hard in Massachusetts and Minnesota, two states with a strong liberal tradition, plus his home state.

The March 1 contests for Democrats also include Colorado, with an increasingly important Latino vote; Virginia, where non-whites were about four in 10 voters; and Tennessee, where blacks and Hispanics were about one-third of the 2008 Democratic primary turnout.
Barack Obama defeated Clinton in South Carolina's 2008 primary, a wrenching contest that stirred up racial tensions. Clinton and her husband, former President Bill Clinton, sought long ago to repair rifts in the state and have been counting on their longstanding alliances with black politicians and preachers to help her hold the state. And while in both Iowa and New Hampshire, independents and young or inexperienced voters could make a game-day decision to participate, South Carolina requires advance registration, so there's less opportunity for a Sanders election-day surge.
Henry Lockhart, 61, a disabled former can manufacturing plant worker from an area near the North Carolina border, said he chose Obama over Clinton in 2008 but appreciates Clinton's subsequent loyalty to Obama and her work for his administration. "She's been overseas, she's been dealing with these countries trying to protect our country," said Lockhart, who is African-American. Lockhart also has an enduring affection for President Clinton and his policies and said, "That's one reason I'm voting for Hillary."
"They try to help the poor," he said of the Clintons. As for Sanders, Lockhart said, "I don't know much about him. He's just a guy running for office. And she's a proven woman. I hope she wins."
Still, the survey shows Sanders' youth fan base isn't all white hipsters. Among blacks under 45 in the survey Clinton held only a modest advantage.
The survey also found Clinton's contention that Sanders' plans are wildly unrealistic hadn't taken hold in South Carolina. Fifty-seven percent of South Carolinians in the Democratic survey say Sanders' goal of passing Medicare-for-all legislation is realistic; 49 percent say he can get a constitutional amendment to overturn unlimited contributions to political action committees, and 46 percent say he can dramatically restructure Wall Street.
"I did not vote for Hillary when she ran in the primary the last time and I really was not looking to vote for her again," said Amy Cue, a 34-year-old social worker from Columbia, who participated in the survey. "Once I read about Bernie Sanders and where he stood in terms of education and economic equality and where he wants to take us, he was my choice. I can't say that I don't like her. I just think that Bernie speaks to issues I'm more passionate about."
Cue, who is African-American, said many of her friends are voting for Clinton and say things like "she's the one who can get it done" but that she likes that Sanders is "unapologetic" about pushing for bigger changes.
She said she also has the sense that Clinton isn't working as hard for her vote. "As it relates to the African-American vote, especially with women, I think Hillary kind of expects it," Cue said. "I have, I think, gotten one phone call, maybe," from the Clinton campaign. "It's like she doesn't have to work for my vote, when, in actuality, 'Yes, you do.'"
Sanders' staunch opposition to free trade also helps him somewhat in this state that has hemorrhaged manufacturing jobs. Those surveyed said agreements like the Trans-Pacific Partnership hurt more than help South Carolina jobs, and they favor import taxes as a way to protect U.S. jobs.
But the Clintons enjoy highly positive ratings among South Carolina's likely Democratic voters, with both viewed favorably by 84 percent. That compares with 94 percent for Obama and 76 percent for Sanders.
As former New York Mayor Michael Bloomberg considers an independent presidential bid, the poll also tested his favorability with South Carolina likely voters. Among the hurdles he may face should he decide to enter the race: Half of likely Democratic primary voters don't know him well enough to determine whether they view him favorably or not, and 42 percent of Republican likely primary voters said the same. Twenty-two percent of Democrats who do have an opinion give him a favorable rating and 28 percent an unfavorable rating. South Carolina Republicans with an opinion were inclined by a margin of 3-to-1 to view him unfavorably, 44 percent to 14 percent. Bloomberg is founder and majority owner of Bloomberg News parent Bloomberg LP.
The Bloomberg Politics survey of 403 likely Democratic primary voters was conducted by Selzer & Co. of West Des Moines, Iowa. It has a margin of error of plus or minus 4.9 percentage points. The poll also surveyed 502 likely Republican primary voters in South Carolina from Feb. 13-16, with a margin of error of 4.4 percentage points.
With assistance from Kendall Breitman.
Before it's here, it's on the Bloomberg Terminal.
LEARN MORE