Who Will Win New Hampshire? Here Are Eight Credible Predictions
Statistical models, betting markets, and the Internet weigh in. The most common pairing: Trump and Sanders.
by and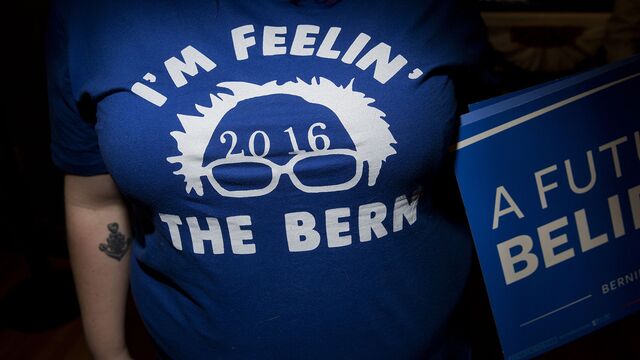 With the Iowa caucuses in their rear view mirror, candidates have flocked to New Hampshire, where voters will cast their ballots Tuesday in the first primary of the 2016 presidential race. Nearly 40 percent of Granite State voters are still undecided, according to a recent university study, a huge bloc of votes whose ultimate disposition could yield surprises akin to what political nerds saw in Iowa. That said, after parsing everything from poll aggregations and betting markets to Google search data, it seems predictions are starting to coalesce. 
PredictWise: Trump and Sanders 
The research project led by David Rothschild, an economist at Microsoft Research in New York City, successfully predicted the winner in 21 of the first 26 primary contests in 2012. As of noon Friday, PredictWise gave Donald Trump a 68 percent chance of winning in the Granite State. That estimate is down from a high of 77 percent before his second-place finish in the Iowa caucuses. Marco Rubio, who placed a strong third in Iowa, was next most likely to win with 23 percent, while the other establishment candidates—Jeb Bush, Chris Christie, and John Kasich—have all lost ground. "Ted Cruz, who never looked great in New Hampshire, is still a long shot," said Rothschild.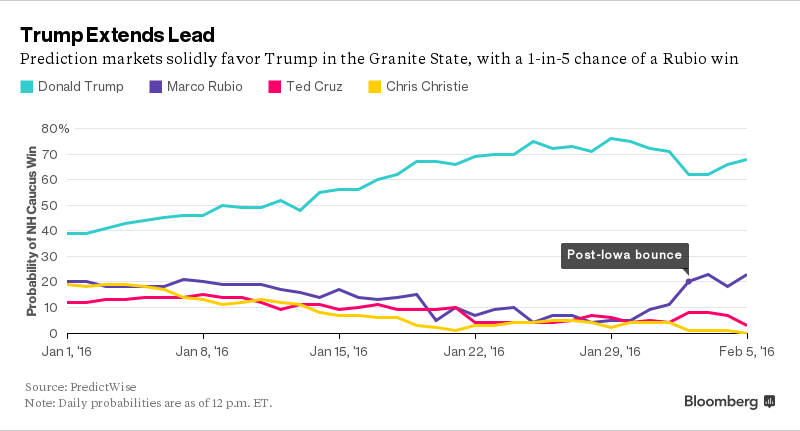 Bernie Sanders' strong performance in Iowa pushed his probability of winning New Hampshire's Democratic primary from an already high 85 percent last week to a commanding 98 percent, according to the site.
FiveThirtyEight: Trump and Sanders
On Wednesday, FiveThirtyEight.com, which is run by former New York Times stats guru Nate Silver, gave Trump a 76 percent chance of winning the caucuses with its weighting of state polls. Cruz, who was seeen as having a 7 percent chance, is in distant second place. An expanded prediction that tries to factor in the impact of national polls and endorsements still has Trump in front, but only with 64 percent and has Rubio in second place.
On the Democratic side, the site gave Sanders a whopping greater than 99 percent chance of winning the Democratic primary in its weighting of polls, including when it factors in national polls and endorsements.
RealClearPolitics: Trump and Sanders
The site, which aggregates and averages polls, has Trump in the lead with support from 31.1 percent of likely voters. For Democrats, it has Sanders in the lead by 55.3 percent to Hillary Clinton's 37.7 percent.
Google Trends: Trump and Sanders
Cruz may have dominated New Hampshire Google searches in the 12 hours following his surprising Iowa win, but it's Trump who  emerges as the most-searched candidate in the Granite State. He accounted for 47 percent of searches for the "top-searched candidates" on Google—others, in descending order, were Cruz, Rubio, Bush, and Kasich—according to the company. Trump even beat out New Hampshire's next-door neighbor, Sanders, who garnered 58 percent of search interest on the Democratic side to become the most-Googled candidate in six of New Hampshire's 10 counties.
Ballotcraft: Trump and Sanders
This fantasy politics game co-founded by two Stanford grads has thousands of players who buy shares in candidates using fake money in an attempt to correctly predict debate and election results. Ballotcraft puts the chances of a Trump victory in New Hampshire at a respectable 42 percent after recovering from a 20-point slide in the immediate wake of last week's Iowa caucus, largely because his poll lead in the Granite State is much stronger than it ever was in the Hawkeye State. Rubio, meanwhile, saw his odds skyrocket from 11 percent before Iowa to around 39 percent now, according to CEO Dennis Jiang, turning this into a tantalizingly tight contest. On the Democratic side, players see a more lopsided race with Sanders' 87 percent probability swamping Clinton's odds.
Facebook: Trump and Clinton
A look at who drove the conversation on Facebook during the week up through Feb. 3 reveals Trump was mentioned in 61 percent of the nearly 470,000 interactions—total likes, comments, posts, and shares—for all eight leading Republican candidates, according to data provided by the company. Trump dominated a similar portion of the pre-Iowa Facebook chatter before ultimately placing second in that state's caucuses. In all, 69,000 New Hampshire people talked about Trump on Facebook, more than weighed in on the other seven candidates combined.
Among Facebook users discussing the two remaining Democratic candidates, Clinton was responsible for around 231,000 interactions to Sanders's 192,000.
Political Insiders: Fiorina/Christie and Clinton
One of the few spot-on predictors of last week's Iowa caucus was the number of endorsements each candidate had from sitting state lawmakers, which showed Cruz and Clinton leading. In New Hampshire, home to one of the country's largest state legislatures, it's former Hewlett-Packard CEO Carly Fiorina who holds a surprising (though slim) edge with 30 current state senators or representatives supporting her, by Bloomberg's latest count. If you fold in former state lawmakers, New Jersey Governor Chris Christie moves ahead with 45 total to Fiorina's 41. (Before he suspended his campaign, Kentucky Senator Rand Paul had the most such endorsements: 47.)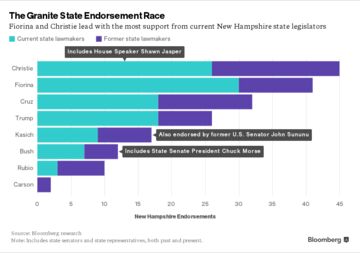 On the Democratic side, Sanders began in November with a respectable 17 state representatives serving on his New Hampshire steering committee. But his lead was overtaken a month later when Clinton announced  78 state representatives were backing her. That's on top of endorsements from New Hampshire's Democratic governor, Maggie Hassan, and sole Democratic U.S. senator, Jeanne Shaheen.
Newspapers: Christie/Kasich and Clinton
Print newspapers may be a dying industry but that hasn't stopped New Hampshire publishers from churning out endorsements or candidates from proudly touting them. Christie, for instance, has the backing of the state's leading newspaper, the New Hampshire Union Leader, whose publisher recently denounced Trump as a "person of such little substance" and Rubio as "too young" on the Bloomberg Masters in Politics podcast. On the other hand, Ohio Governor John Kasich can count at least four publications in his corner, including the Concord Monitor.
Despite his next-door neighbor status, Sanders largely ceded the endorsement race to Clinton, who picked up support from the Monitor and Seacoast Media Group, which publishes several newspapers in the state, among them the Portsmouth Herald. Meanwhile, New England's largest-circulation daily newspaper, the Boston Globe, recently weighed in behind Kasich and Clinton.
(
Corrects x-axis label in last chart.
)
Before it's here, it's on the Bloomberg Terminal.
LEARN MORE