Sanders Goes After Goldman Sachs in Latest Campaign Ad
The self-described democratic socialist's ad also criticizes Wall Street speaking fees, an indirect swipe at Hillary Clinton.
by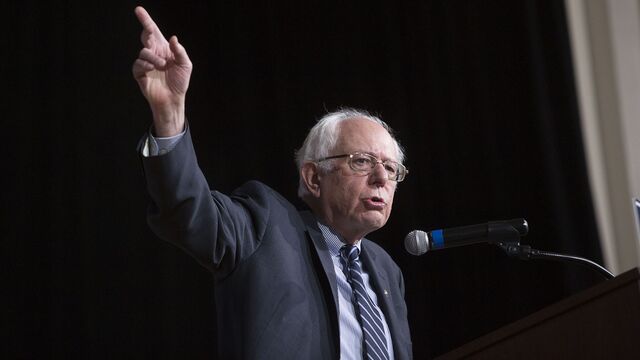 Democratic presidential candidate Bernie Sanders is running a new television ad starting Friday singling out Goldman Sachs Group Inc. for its role in the 2008 financial crisis, as well as indirectly criticizing speaking fees accepted by Hillary Clinton.
While the ad doesn't mention Clinton by name, the Vermont senator has criticized her for the $675,000 she was paid for three speeches she gave to the firm in 2013. It's the latest effort by Sanders to tap voter anger about what he calls a "rigged economy," with polls showing Sanders and Clinton in a close race in Monday's Iowa caucuses.
As the words "Goldman Sachs" appear on the screen, with the firm's Jersey City office depicted, the ad mentions the firm's agreement announced on Jan. 14 to settle a U.S. investigation into its handling of mortgage-backed securities. It helped trigger "the financial meltdown" and put millions of people out of their jobs and homes, the ad says.
"How does Wall Street get away with it? Millions in campaign contributions and speaking fees," the ad says. "Our economy works for Wall Street because it's rigged by Wall Street, and that's the problem. As long as Washington is bought and paid for, we can't build an economy that works for people."
It will air in Iowa, according to the campaign. Goldman Sachs spokesman Andrew Williams declined to comment.
"This last-minute sneak attack from the Sanders campaign is clearly meant to plaster the Iowa airwaves in the days before the caucus with negative ads slamming Hillary Clinton, without giving our campaign time to respond," said Clinton's Iowa state director, Matt Paul, in a statement. "It's a cynical political ploy in a primary that had until recently been characterized by a respectful back-and-forth about the issues, and it's not one that's going to go over well with Iowans."
Sanders has said that unlike Clinton, he's not accepting campaign contributions from investment banks, hedge funds, and pharmaceutical companies. That gives him the freedom to address rising income inequality, stagnant wages and a lack of affordable health care, he said.
Clinton has said that accepting money from Wall Street doesn't make her beholden to it.
QuickTake Electing a U.S. President
Asked at a Bloomberg Politics breakfast with reporters Thursday in Des Moines whether he's unfairly treating all employees at Goldman Sachs, Sanders said he's citing the bank as an example.
"Goldman Sachs certainly is not the only financial institution to have paid huge settlement to the federal government," Sanders said. "Goldman Sachs was the last."
Sanders said at the breakfast that while he won't make negative attacks on Clinton, his criticisms are providing "contrast."
"Do I plan on running more contrast ads? I don't think we do," he said. "But that's something we're still talking about."
—With assistance from Jennifer Epstein in Des Moines.
Before it's here, it's on the Bloomberg Terminal.
LEARN MORE