Karma Police
Few Colleagues Defend Cruz as White House Eligibility Is Questioned
The fiery Texas senator built his brand on confronting his own party in Washington, and now, only a handful seem willing to back him.
by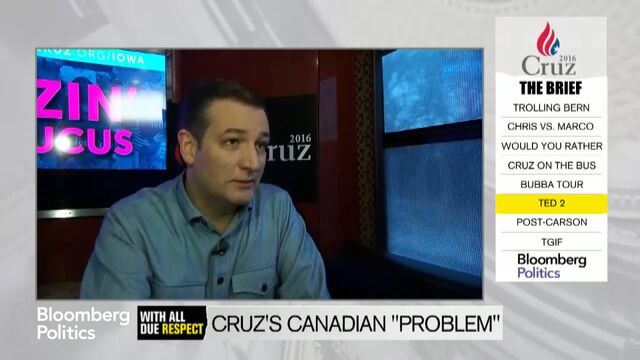 Republican presidential candidate Ted Cruz often talks up his frequent clashes with U.S. Senate colleagues. Now, as he faces questions over his eligibility to serve as president, those scuffles may help explain why so few of his fellow senators are rushing to his defense. 
Last week, Cruz faced a fresh round of questions about whether his Canadian birthplace precluded him from holding the highest office in the U.S. after rival Donald Trump suggested the issue could lead to a years-long court battle for Republicans. Legal experts—and Cruz himself—say he's eligible for the presidency because his mother was an American citizen, but Trump continues to push the issue and a Florida Democratic lawmaker said he would sue if Cruz becomes the nominee.
Yet Cruz's fellow senators have, for the most part, not offered any defense of their Republican colleague. 
"I've made a point of staying out of the presidential race," Senate Majority Leader Mitch McConnell, whom Cruz called a "liar" on the Senate floor in July, said Sunday in an ABC interview. "I don't think the Senate ought to get in the middle of it."
Senator Joni Ernst of Iowa similarly declined to say if she believes Cruz is a natural born citizen.
"Yeah, I'm not going to comment on that. I just think—let's go through the process and see who Iowa picks," Ernst told Bloomberg Politics on Tuesday.
Senator Steve Daines of Montana, who has endorsed Rubio, also declined to answer the question, instead smiling widely and ducking into a senators-only elevator in the Capitol.
Bloomberg Politics sought the opinion of all 54 Republican senators on whether Cruz is eligible to serve, querying offices and presidential campaigns and evaluating previous media statements. Aside from Cruz, only five senators—Marco Rubio of Florida, Lamar Alexander of Tennessee, Mike Lee and Orrin Hatch of Utah, and Jeff Flake of Arizona—offered responses that appeared to support Cruz.
In 2008, by contrast, the Senate passed a resolution saying that year's Republican nominee, Senator John McCain, was eligible to serve despite having been born in Panama. Two of McCain's potential opponents, then-Senators Barack Obama and Hillary Clinton, submitted the resolution, along with three other Democrats.
That kind of bipartisan support doesn't seem available to Cruz. While Rubio said last week he didn't "think that's an issue," McCain himself, who has a history of tense exchanges with Cruz, said the freshman senator's eligibility was "worth looking into."
"Senate Republicans despise Ted Cruz because he won't play their game," said Ken Cuccinelli, president of the Senate Conservatives Fund, which endorsed Cruz more than a year before he was elected to the Senate in 2012. "Nobody expects the Republican senators to come to his defense as they did for Senator John McCain when he was under similar attacks. They would rather see Hillary Clinton win the presidency than Ted Cruz."
Among the 48 GOP senators who didn't respond or haven't declared Cruz eligible were fellow Texan John Cornyn, the No. 2 Senate Republican; John Thune of South Dakota, who is the Republican Conference chairman; Alabama's Jeff Sessions, an immigration hardliner who's backed Cruz on that issue; and South Carolina's Lindsey Graham, who also sought the GOP nod before dropping out last month.
The other Republican senator still in the race, Kentucky's Rand Paul, last week joked that Cruz was qualified—to lead to Canada. He added on Monday that Cruz was "maybe" eligible but that the courts would need to weigh in.
For some in the Senate, the issue is already settled. 
"Birthers in both parties need to move on," Flake said in a statement.
Payback
Cruz rose to national prominence by openly challenging many of these same colleagues, most famously when he spoke for more than 21 hours in September 2013 against a spending bill that didn't repeal Obamacare.
Some fellow Republicans "relish twisting the citizenship knife" against Cruz because of the speech, said Kellyanne Conway, a Republican pollster and analyst who runs a pro-Cruz super-PAC. "There's a great syllogism: America can't stand Washington; Washington can't stand Ted Cruz."
Since declaring his presidential run in March, Cruz has often said that enmity demonstrates his independence, and he's used it to appeal to disappointed conservatives. Democrats see a Cruz nomination as potentially harmful to the GOP's down-ballot chances, and National Republican Senatorial Committee executive director Ward Baker recently said "we can't count on the presidential, we can't count on anyone but ourselves" to retain Senate control.
Cruz also attracts co-sponsorships for his bills less often than many of his colleagues, according to a recent analysis of cooperation that appeared in the New York Times.
Cruz's campaign didn't respond to a query about why he's getting so little support from colleagues, though the candidate has floated one theory about McCain.
"I think it is no surprise to anybody that John McCain is going to be supporting Marco Rubio in this election," Cruz said on Bloomberg's With All Due Respect last week. "It's no surprise at all that he's trying to do what he can to help the candidate that he's favoring who he thinks shares policy positions with him."
A McCain spokesperson responded: "As Senator McCain has said in the past, he will not be endorsing a primary candidate at this point in the race."
—Sahil Kapur contributed to this article. 
Before it's here, it's on the Bloomberg Terminal.
LEARN MORE