Obamacare's Viability On the Line as UnitedHealth Threatens Exit
by
Company says it will lose $500 million on Affordable Care Act

Obama's signature achievement hasn't delivered insurer profits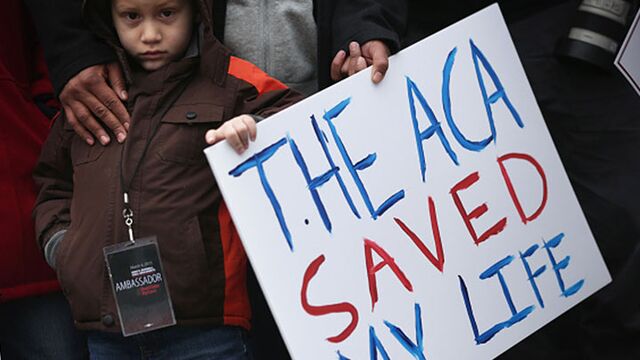 If too many big health insurers follow UnitedHealth Group Inc.'s lead and sour on Obamacare, the industry may finish the job Republicans began five years ago: crippling President Barack Obama's signature domestic accomplishment.
UnitedHealth, the largest U.S. insurer by market value, said Thursday that it expects to lose as much as $500 million selling coverage under the Affordable Care Act next year, and that it may exit the program in 2017. While most insurers don't yet turn a profit on the health law's plans, no other large carriers have threatened to quit the program.
Republicans saw in the insurer's announcement a confirmation of their own warnings about the law. "Even if we don't get a full repeal, I think this shows it will collapse from its own weight," Representative John Fleming, a Louisiana Republican, said in an interview.
UnitedHealth's warning is not enough by itself to panic the White House or Obamacare advocates, and administration officials and health-care analysts say there's no indication that companies with a bigger stake in the Affordable Care Act, including Anthem Inc., Blue Cross Blue Shield plans or Aetna Inc., will follow. UnitedHealth didn't widely offer plans under the Affordable Care Act until 2015, a year after Anthem and Aetna, and covers fewer than 550,000 people out of 9.9 million with private insurance under the law.
'Plenty of Competition'
"I'm sorry to hear one player may pull out, but I think there's plenty of competition," Senator Ben Cardin, a Maryland Democrat who backs the law, said in an interview at the U.S. Capitol.
Ben Wakana, a spokesman for the U.S. Department of Health and Human Services, said that enrollment is growing under the Affordable Care Act and more insurers are offering plans in the law's marketplaces, called exchanges. Consumers shopping on the federal healthcare.gov system can choose from an average of five different insurers, about the same as last year.
"Today's statement by one issuer is not indicative of the marketplace's strength and viability," Wakana said in an e-mail.
Wakana and other federal health officials pointed to supportive comments by other insurers, including Bernard Tyson, the chairman and chief executive officer of Oakland, California-based Kaiser Permanente. He said his company is "strongly committed" to the health law's insurance exchanges.
"American health care is undergoing significant change and evolution, and the health exchanges are part of that disruption," Tyson said in a statement. "While there have been challenges at times, we believe at the end of the day they are causing healthy disruption, and are forcing the health-care industry to respond better to consumer needs."
Still, an exit by UnitedHealth would reflect discord in the insurance industry and may resonate in the 2016 presidential and congressional elections.
Low Enrollment
"The ACA marketplaces are not yet profitable for most insurers," Larry Levitt, a health insurance specialist at the Menlo Park, California-based Kaiser Family Foundation, said in an e-mail. "It's going to take enrollment growth, especially among healthy people, to make it an attractive market for insurers. If enrollment stagnates, we could very well see insurers thinking twice about their participation."
Enrollment is the core problem for insurers. Not enough people have signed up for Affordable Care Act coverage -- especially people in relatively good health. Of 24.1 million people estimated to be eligible for a subsidy to buy a plan on the federal healthcare.gov system or on similar state-run marketplaces, just 8.6 million have actually signed up, the Robert Wood Johnson Foundation said in an October report.
Insurers collectively lost $2.5 billion on their Affordable Care Act business in 2014, an average of $163 per customer, according to the consulting firm McKinsey & Co. Just 35 percent of companies selling on the federal and state marketplaces turned a profit, McKinsey said in a report this month.
Unhealthy People
Before the Affordable Care Act, insurers could avoid covering sick people, or put tight restrictions on the care they would cover. Now, insurers say that they've seen unhealthy people sign up for coverage, get care and then stop paying their premiums.
UnitedHealth wouldn't be the first company to fail at Obamacare. Twelve of 23 insurance companies created using loans under the Affordable Care Act, called co-ops, have already shut down. Several closed their doors after the Obama administration said Oct. 1 that it would pay insurers only about 13 cents on the dollar for claims they made to a program intended to help cover financial losses in the first years of the law, called "risk corridors."
The administration hasn't projected much improvement in enrollment for 2016. The government said last month that it expects 9.4 million to 11.4 million people to be covered by Affordable Care Act plans next year. The Congressional Budget Office, which makes its own estimates on enrollment under the Affordable Care Act, projected as recently as March that 21 million people would be signed up next year -- 10 million more than in 2015.
'Bellwether' for Obama
UnitedHealth's threat to exit the Affordable Care Act "is not the death of Obamacare," said Dan Mendelson, chief executive officer of Avalere Health, a Washington consulting firm. "This is not the collapse of the markets. You have one company that got in late."
UnitedHealth's concerns may be a "bellwether" that "clearly indicates the commercial environment is less hospitable than it has been in the past," he said.
Representative Darrell Issa, a California Republican, predicted that if UnitedHealth "pulls out, the Blues won't be far behind," referring to the Blue Cross Blue Shield plans that collectively cover more than 105 million Americans.
Were those plans to threaten an exit from the Affordable Care Act, "that would make me very, very nervous," Timothy S. Jost, a Washington and Lee University professor of health-care law, said in an interview.
Anthem Inc., which runs 14 of the 36 Blue Cross Blue Shield plans, "is the rock, if you will, when it comes to these exchange plans," Mendelson said. Anthem's chief financial officer, Wayne DeVeydt, has said the company will be "patient" on its Affordable Care Act plans until 2017 or 2018.
"What we thought would be a tailwind going into 2016 is probably going to be a headwind," he told investors on an Oct. 28 conference call.
Before it's here, it's on the Bloomberg Terminal.
LEARN MORE